Wanted in Any Condition
Kodak Supermatic 8 Processor
Kodak Supermatic8 Film Processor
Made in approx 1974
Tabletop or full size version. Also parts and pieces or any information appreciated. Got one taking up space? In bad shape? I'm still interested in it.
I have purchased the below manual and also one more manual for it. I need the machine, parts, and any literature about it.
I'm located in Illinois, USA.
email address: drviragopete@att.net
Phone number (847) 454-7858
Update 2/2013
I am still looking for a Kodak Supermatic8 processor machine and hope that there is still one machine or more in existence. I am also looking for chemical bottles for this machine and parts and books. (Even though I acquired a Bray Magitrak - see below) I still want to find a Kodak Supermatic8 processing machine for Super8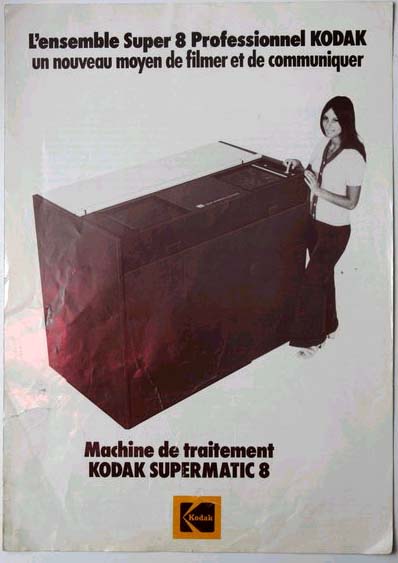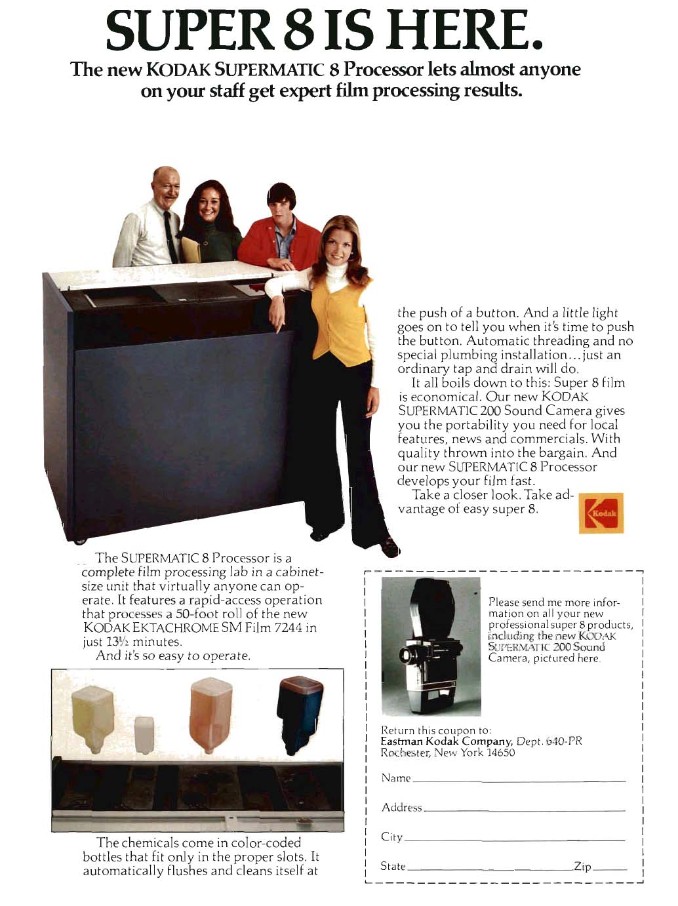 Wanted in Any Condition



Kodak Video Player VP-1 or VP-X Videoplayer.
I already have one VP-1 machine (I fully restored mine and use it for video transfer bsuiness- wonderful machine). I'm looking for a second machine any condition working or not.
I also have the service manual for this (my copy of the service manual is missing some pages and is a copy of a copy- a better one is appreciated)
Update Sept 2011 - I have purchased a complete Service Manual in original Kodak binder which covers VP-1 and VP-X models purchased from big-auction site a few months ago - glad to have found it. very thorough manual shows adjustments calibration schematics etc very very well written service manual. My machine works and glad to have the manual for the future.
. I'm looking for any parts, whole machine, or partial machine, and literature and manuals about it.
See my youtube.com video (shows sample video and second half shows the machine itself)
http://www.youtube.com/watch?v=3Hs4R0-zW04
See my webpage for video transfers using my working machine
http://www.drviragopete.com/super8_film_transfer_dvd.php
I'm looking for another one in
any
condition.
I'm located in Illinois, USA.
email address: drviragopete@att.net
Phone number (847) 454-7858
I am updating this section to say that I have had four responses to this
1 was from another continent where he stated that he had a Kodak Film Processor Supermatic8 (WOW- I would love to find one really) for sale and demanding thousands of $ payment and phoning me but would not provide a picture/photo. Many emails and it was bogus- I'm not going to be scammed and out of non-racial polically cerrectness I'm not going to tell you which continent that guy was from. It seems after that my emails contained alot of requests for paying some kingdom or some official because of some conflict or other bogus scammer type emails. Typical junk mail and the person was shameless enough to call me and make that kind of a scam. I'm not foolish. Nothing came of that. I am still hopeful to find a machine.
Another man describing himself as a reporter from a TV station said he used to have a Supermatic8 at work at th eTV station and after he left in 1980 the machine could still be at the TV station and gave his boss' name and email- I communicated with the boss who was grouchy. He said it was disposed of many years ago and my attempts at finding one is futile. I asked the reporter a few questions about the Supermatic8 Film processor which helped to determine that the phone caller from anoth continent was bogus. Armed with my own real copy of the owners manual and the information provided by the reporter on a few things - the color of the rollers and the shapes of the containers or openings to fit the econtainers- none of these were able to be answered by the scammer. So I do appreciate the reporter who truly did in my opinion use this machine and his love for this machine truly came through in his emails.
Another man who described himself as elderly and in poor health sent me VP-1 /VP-X pictures but never stated a price and several emails including some photos and a description stating that he had some VP-1 VP-X spare parts and that he has had it in his attic all these years- in the end refused to state a price and decided to keep it. His first emails stated he needed money to pay medical bills. Nothing came of that.
Another caller wanted to know how to change the bulb on his Kodak Supermatic VP-1 and I told him there is no bulb- it is 100% electronic and there is a "picture tube" inside with mirrors which scans the image to 3 light sensors. He said that his machine was working and was in the process of transferring his home movies to his computer and the light failed. I told him I am willing to buy a unit in any condition- I have one parts unit which is mostly complete which I could then combine to make a working unit (mine has a working electronics and tube and runs buit is missing one of the two pins that read the sprocket holes and a few non-critical parts like covers.). He didnt want to sell. Nothing came of that.
I am still hoping to find another Kodak Supermatic Videoplayer VP-1 or VP-X. I believe it is possible that some exist still- but the runaround and demanding that I send money without proof is just a sign of a scammer. As of right now, it may be still true that I have the only known working unit. And it may still be true that I have the only units in existence at this very moment and believe me- I'm glad to have my units.
Updated 7/2011
I am updating this section on 6/2012 I am in the process of buying 1 more VP-1 which is a parts machine. The seller tells me that it was purchased for use in his telecine company but it arrived broken (I went there to see and yes it is very smashed) after being dropped by the shipper. I viewed it in an aluminum suitcase which I wonder if this is an original case. The case was padded with foam. The plastic lid is in many many small pieces and the two alunminum panels are removed and at the front of the case. I am interested in these in any condition. It is a real shame it was smashed in shipping. I made an offer for both the smashed VP-1 and also a Rank Cintel 16mm/35mm telecine. At this time I am waiting on the papers for this purchase and payment plan.
(Update Note Sept 16,2012 yes I have this broken parts unit now- glad to have it for spare parts. Yes I have both the Rank Cintel and the Kodak VP-1 at my lab where they are being restored.)
If the reader has a VP-1 or VP-X in any condition good or bad or ? I am still interested in it - don't throw it out. I can use it for parts. My plans for the smashed unit is to combine its' parts with my other parts machine to make a second good working machine. If this deal goes through - that would be 4 total Kodak flying spot scanners for me. 1 of which is my good working pristine unit - which I use on a daily basis to transfer customer films to DVD. The 3 others are in various states of completeness. I have not made any attempt to combine them as I do not at this time have enough good parts to make a second complete machine.
Update Sept 16, 2012 I am in the process of purchasing my 5th Kodak VP-1 (I have 1 pristine one and 3 parts machines - in various levels of completeness) This boxed unit is costing me $<blanked> and am currently making payments to acquire. It is in its original styrofoam shipping form and the seller says it is new and unused. Here is a photo of this machine and I am delighted to be making payments to acquire this beautiful and rare machine. Also my inventory of spare parts has grown to where I may have enough to actually complete one machine - that eases my worry about the fear of my primary machine someday may fail - but it is still going strong.

I would still like to find more parts and additional VP-1 and VP-X machines if they exist.

Update 2/2013 I found a bit/piece from a VP-1 on big-auction-site which is the adapter plate which goes under the film reels. My future machine (am currently making payments on it) seems to be missing that part - so it was a good coincidence to find it and buy it for a few bucks plus shipping (a real bargain).

Update 2/2013 I saw a video on youtube which shows a Kodak museum and the curator of the museum is walking through aisles of old cameras and equipment. He didnt mention anything about the VP-1 or VP-X or Supermatic8. But I see in the aisle just behind where he stopped to talk about something else - I see the side of a VP-1 or VP-X and I cant tell which one it is because the back ports are not visible. But I can tell you for 100% certainty that the Kodak Museum has/had one. Hopefully those museums are still around as I dont like to see buildings torn down and companies going bankrupt. I still like film and Kodak film is great. I did not see any Supermatic8 processor in that youtube video.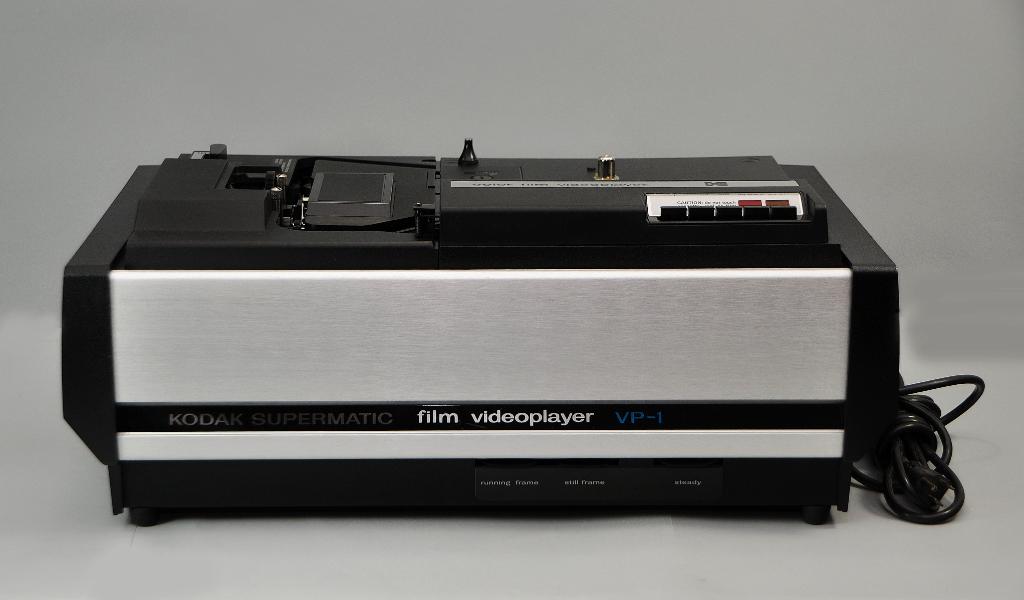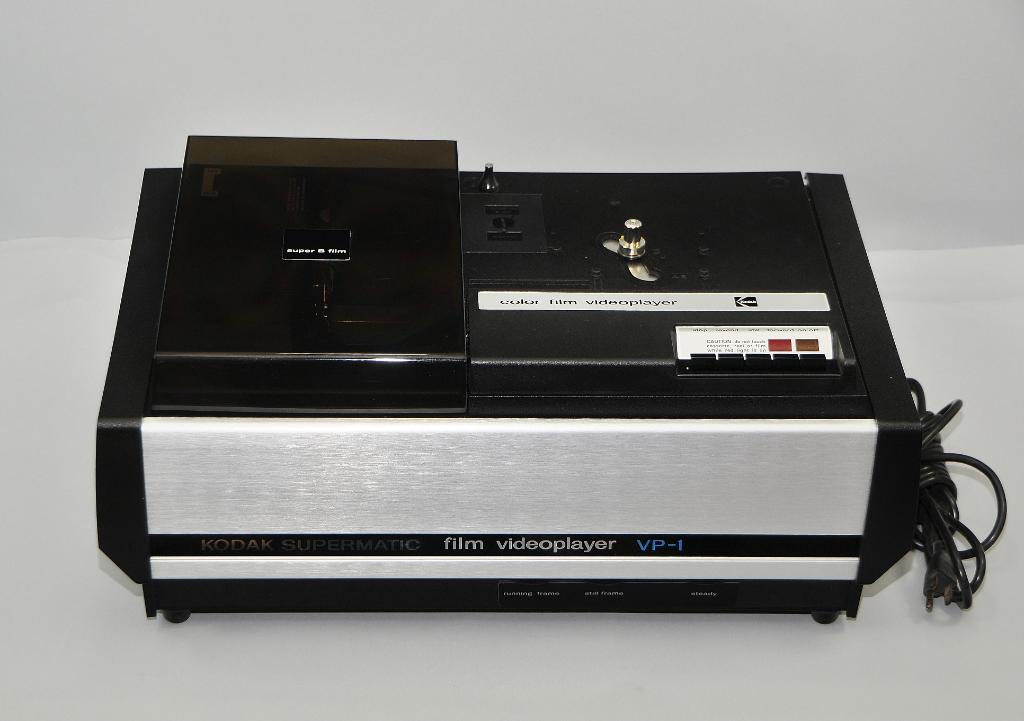 The above is what I saw. Please note that my machine is NOT FOR SALE - I'm just showing you what the ad looked like and will be my second working machine after I am done paying for it - it will be sent. I gladly offered $<blanked> for this beautiful working machine in its original box complete with calibration films and leader trimmer). It is just as beautiful as my working machine. This is a very rare machine and only about 50 were made. To find one unused and still in its foam is quite remarkable. When this machine arrives it will be my 5th machine (and will be my backup working machine - as I am fearful of the day when my primary machine has transferred its last film. I will then have a working spare machine.)
Update 2/2013 I am at the halfway point paying for the above VP-1 machine I look forward to receiving it.
Update 6/2013 I am at the 80% point in paying for the above VP-1 machine and I look forward to receiving it. As I approach the fully paid for point - I am thinking about the safety of transportation of this rare machine. I received 2 other VP-1 machines which were damaged during shipping due to careless packaging at some point in their history. The weight of the machine is enough to crush the lid and damage the sides. Special packaging of this unit in multiple boxes will be needed. The lid being the most fragile. Next is the vintage bakelite-like plastic side panels which are also very fragile and easily broken under its own weight if the box is not upright. I cringe when I see the shippers truck arrive and the delivery person is rolling the box like a snowball. That "rolling a snowball" - was the cause of a damaged VP-1 which I purchased in approx 2011. I can stress and plea and offer to pay for extra shipping etc but some sellers dont listen as to how it needs to be shipped and packaged. I hope this seller will listen to my shipping specifications. It is quite rare to find one new in the box and probably no more brand new ones will ever be found. The best estimate I read was that only 50 of these machines were ever made. I have 1ea pristine VP-1 and I hope this will be pristine unit#2 and be in my possession later this year 2013.
Update 1/14/2014 Yes I have purchased this Kodak VP-1 Videoplayer and it took me a long time to acquire it and it has arrived and is in pristine-looking condition and has a new item smell. But it is not a new item and is used and is non-working. It will need repairs. It was quite a challenge working with the seller as they had a get-it-out-of-my-sight-already attitude and a combination of its-not-my-problem attitude. I hired someone local to go pick it up and send to me. It was double cost for shipping but that was the only way to ensure it arrived undamaged. The hired person packaged it like I requested with wood to protect it and it was worth every penny to acquire this very rare machine. The seller didnt want it or like and it would have arrived broken from poor packaging. He was at his wits end. I offerred him double his asking price 1 year ago if he would work with me on a payment plan and extra shipping/crating needed for safe transport. But in the final moments he renigged on the crating and forgot about how I paid double and I had to pay a local person to ensure it was shipped properly. It arrived unblemished and nothing cracked. The hired person sent multiple boxes with the lid separate so it doesnt get crushed. I'm so glad this story has a good ending. Another VP-1 I acquired arrived broken from careless shipping and I warned this seller about that example a long time ago. DejaVu but the local hired peson saved this VP-1 from destruction. The hired person said the way it was packaged from the seller would have resulted in a broken item - for sure.
Update 2/11/14
I have acquired my 6th Kodak VP-1 and it has arrived. I had been working with this seller for 6 months to acquire this machine. It is a non-working machine and the seller acquired it from a flea market. He never got it to work. He was contemplating having a relative drop it off when they visited Chicago for the holidays but that plan fizzled when the family members plans changed to fly instead of driving. Instead I paid extra for a wonderful and careful packaging job- in which he honored my request for a board to be placed under the unit. Also he honored my request to package the side panels in a separate box. The side panels are fragile black plastic - very much like a bakelite and very very hard rigid brittle black plastic. It is a known fact to me that if the side panels are not removed for transport - they would have arrive broken - as this has happened to me in the past. I was fortunate that the last 2 shippers honored my request for a wood board underneath and also separately packed side panels. This machine is not in pristine condition but I am glad to have it. It is missing the top dust cover but all of the functional parts are present.

I am still looking for additional VP-1 or VP-X Kodak Videoplayer machine in any condition. Working or non-working. Parts pieces etc welcome. Incomplete or complete. Either way. Let me know if you have one. I would like to buy it.
Update 12/20/14
I am working with 2 sellers. I'm going to refer to them as Seller A and Seller B. I made a downpayment with Seller A (VP-X) and have not received the 1ea VP-X . Seller B (due to his moving shorly to anther country in a matter of 30-60 days) has already shipped 2ea VP-1 units to me, and I have the unopened boxes here; But, I have not begun making payments (as he knew beforehand), to gibe some background - I found 2ea units on big-auction site (one of them a VP-1 and one of them a VP-X) and both sellers were willing to work with me on a payment plan. I decided to jump on the VP-X first as my funds are limited and at the time I made the offer - had not spoken to Seller B at that point. So this is a bit of juggling and within my budget as both sellers are allowing for a long span of payments. As it turns out - Seller B also asked me if I was interested in buying a VP-X and when checked on it - he said it was actually a VP-1 which he forgot that he sold a VP-X a long time ago (So at one point intime he had 3ea units) Ok well both sellers told me these are non-runners. And both agreed to ship them as I instructed - with a board underneath and lots of packing material. Seller B already shipped me his boxes and I can see that his 2ea smaller boxes are for the small parts like a a service manual, side panels (broken as pictured - as he received it as a buyer years ago), and he also threw in some Kodak cartridges at no charge. For the sake of safety and space - I have not opened these boxes as I have alot of orders I need to ship and opening the VP-1 boxes from Seller B is not possible at the moment. So in summary, I have here at my lab 5ea VP-1 and 1ea VP-X(I own these) from before. I have received 2ea VP-1 (still boxed and unpacked- I have not made payments on these new arrivals yet) which makes 8ea VP-1 units. 1ea VP-X which I have made a downpayment and seller A will ship it after paid in full. So that makes 9ea VP units. That is nearly 10% of all VP units ever made.
Also as a bit of history in my "Acquiring Kodak VP Supermatic Videoplayer Saga" I found an online reference to a VP-1 unit which was given as an award to someone as a "Dysfunctional Award" (and within 2 years award recipient was deceased leaving the question - what happened to the VP-1 unit?). I found this in my usual search engine search to see if it pulls up Craigslist ads or other ads where a Kodak VP unit is for sale. I did some research and finally tracked down this "Dysfunctional Award" VP-1 unit and it is in a museum as part of an 800 camera collection donated from an estate. The curator of that museum said the VP-1 is not for sale and did confirm the name of the person/estate that donated it to the museum. I'm just recounting this story to show that I followed up on a lead. I would hate to hear of a rare VP unit going to waste or ending up in a landfill because it was unwanted by its owner or non-working. I remember contacting a person a long tme ago and they said they still have the manual but the VP unit was put out for garbage day because it ceased to function. That is no reason to dispose of it.

I am still looking for additional VP-1 or VP-X Kodak Videoplayer machine in any condition. Working or non-working. Parts pieces etc welcome. Incomplete or complete. Either way. Let me know if you have one. I would like to buy it.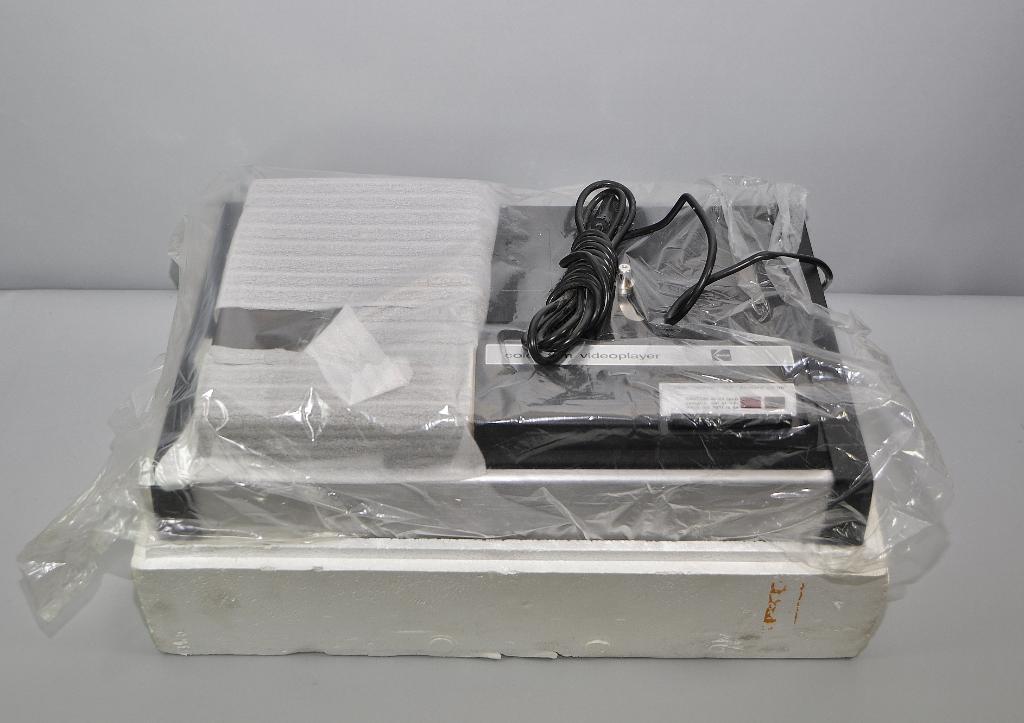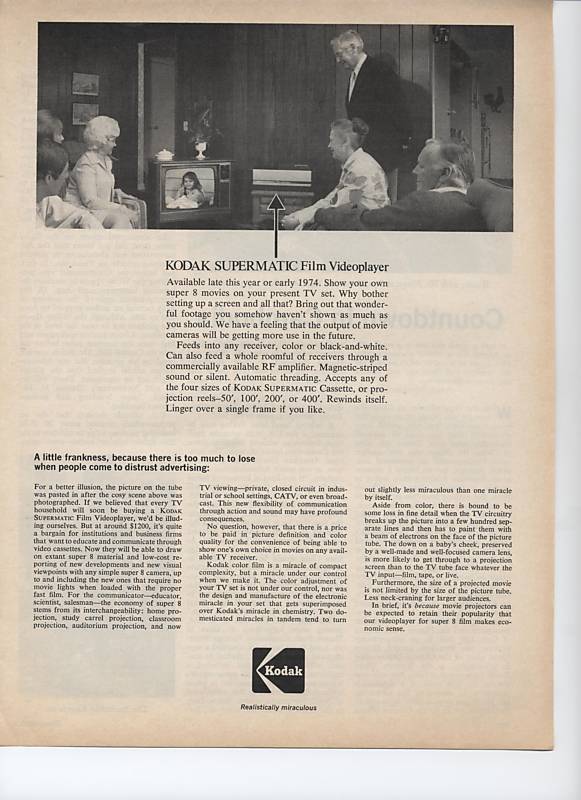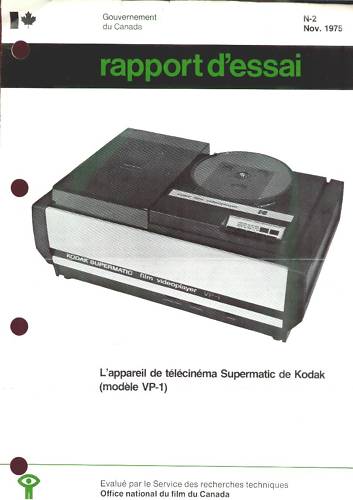 Update 2/16/15

The 1971 December issue of Popular Science magazine contains the magazine page article with PR photo which spelled DOOM for Kodaks beautiful machines. The article shows a photo of the Kodak VP prototype and displayed on the TV is a B&W ugly clown face. This doomed Kodaks beautiful machine for several reasons

1. Clowns are scary to many people
2. Professional quality image is not best portrayed by a clown (silly, comical, sad, scary, etc) - ad was not befitting a truly great machine
3. Photo depicting a COLOR machine was printed in Black and White
4. The article didnt try to persuade diehard film projection enthusiasts on the value of showing a film on a TV set.
5. Home film projection enthusiasts were deeply entrenched in projecting their films on a silver screen and could see no value in showing a film on a TV set.
6. The article apeared 2 years prior to the availability - light colored prototype is shown in 1971 - full production models VP-1 and VPX were available as early as 1973-4
7. A line diagram showing the innerworkings of the machine was not explained or even referred to in the text of the article
8. Only 20-50 were sold - a commercial flop for Kodak - the article and photos were not Commesurate with this truly GREAT outstanding machine.
9. The article said nothing about cost or other options available such as VP-1 or VP-X or Supermatic8 processor.
10. Most people have reels of films NOT cartridges. No mention of being able to play 3" or 4" or 5" or 6" or 7" reels is mentioned in the ad.
11. Much text is spent writing about other potential copycat mfgs who didnt start developing a machine. Here Kodak has a working demonstratable machine and the author is spending time speaking of namebrands who have nothing similar and nothing to demonstrate in 1971. Ultimately Normende produced a machine called a Normende CCS - but that the time of this article had nothing in the works.

My point is - this article was harmful to Kodak's sale of the VP series.

As a hindsight bit of advice to the author of this ad/article. At the very least - a photo showing something truly inportant could have been shown on the TV screen. People truly wanted to record to film family events such as family, kids, personal events, etc. How about an image of a child blowing out a brthday candle? Or some other family type event? In Color. Showing the machine mechanism with a 7" reel of film loaded and playing. The article elaborating on the line drawing diagram. No mention of manufactures without any competing products and nothing in the development stages. How about a price and expected date of production? Or if this article is aimed at the TV reporters - why not show a TV reporter holding a microphone? Who is the article's target audience?

Update 4/18/15
I am continuing to make payments for the 3ea VP units that I am in the process of owning. 2 of these units are here at my lab. 1ea unit I am making payments and then after all payments are made it will be shipped. I am alternating payments between sellers - every-other-month and both sellers agreed to these terms.

Update 7/10/15
I have received Kodak VP-X from Seller A yesterday (minus the black panels which will be shipped next week) and have paid the remaining balance for this in full today. Seller B on the otherhand informed me today that he has new terms for the payment of the 2ea VP-1 units already received. Seller B had alot of "hoopla" in his email that I dont fully understand. I am still trying to work out my finances. the heart of the matter is that Seller B has changed his mind about payments and wants extra fees to continue sending payments. I am trying to see what I can do to payoff the remaining balance as a lump sum. This turn of events is a hardship. Im glad to have one seller's payments done-with.

Update 2/25/16
I have finished paying off monthly payments for 2ea VP-1 units and some other things which the seller called "goodies" such as microfiche sheets and a manual and some cartridge shells for small film reels. The seller would post a listing on big-auction-site in which I purchased monthly to make installment payment. I feel that these 2 units and book and other materials would be lost as the seller was moving and needed cash for his expenses. I am glad that these 2 units are here and paid in full.

I have purchased another VP-X unit from a different seller. I found this unit on big-auction-site and the seller's ad stated that he will not be available to answer questions until the 18th- the auction ended a couple days prior and I won it at the starting bid. I have paid for the unit and also the specified shipping in the ad. The seller is giving me a hard time and I think the ending price was to low and regrets it. I hope the seller doesnt renig and cancel.

Update 3/2/16
I was very surprised to find my big-auction-site Kodak VP-1 in a large U-Haul double box. There was a plywood board under the unit like I asked. The 2ea side panels were not shipped in a separate box - I asked them to ship in a separate box and I was wiling to pay extra. Somehow the box arrived with the unit with minimal damage. Very little packing material - a few sheets of small bubbles - bubblewrap and some crumpled newspapers. The box had a very gentle journey for the most part. I suspect (but Im not sure) if the shipper gave it a BIG THUMP and dropped it - or it was like that before. The reason I say that is all 4ea rubber (or a plastic?) feet are mushed in and resemble a mushroom. Also a small 1" piece of the side panel was chipped off (I used epoxy to fix right away). Otherwise it survived the journey A WHOLE LOT BETTER than some other units (some I bought knowing full well they were broken). The mechanism is stuck and some rust. The bottom circuit boards are pristine and untouched and even have the black drop of paint that the factory used to lock the potentiometer's position permanently. I am very GLAD to have it- any condition even with a chip or other damage. Of course I prefer it arrive safely and have no chips or other damage. I was very willing to pay extra and even made a followup phonecall to make sure I have paid for the board and labor. This board saved this unit. The shipper wasnt awful but it may have been dropped- 45lbs is alot of weight- bubblewrap and 2 layers of cardboard isnt going to prevent any damage. The rugged aluminum internal chasis and those 4ea rubber/plastic feet took a beating. I havent dissembled to see if the aluminum chasis survived the beating it took in its travels. None of my other units have any damage to the feet and none have the mushroomed out crooked apearance of the feet. Could this have been caused by shipping or possibly sitting on extreme heat/hot?

Update 3/2/16

I was only able to buy one of the 2ea Kodak VP units listed on big auction site last week. The one unit arrived today. The other unit was drastically more expensive and had a "make offer" click button. I made an offer on it but was turned down and the seller decided to sell to another buyer at a higher price but still nowhere near the big advertized price. This buyer contacted me a few days ago asking about service manuals and parts etc. As it turns out - he was about to return it to the seller as it didnt work and he was only interested in the unit for actual use. He expressed an interest in selling it to me and a day later said he got a 70% refund from his seller. So he decided to keep it (temporaily) and sell to me. I am currently working with this recent owner/seller to purchase his Kodak VP-X. He said that it has a 2" crack and it doesnt make a green glowing flicker from the leftside just behind the black plastic side panel's vent grate. He said that it loads and pulls film through and the loading arms extend. But no green scanning light is visible. He said that he has located a source for spare parts- which means that he may have found a seller who is willing to part out his/her unit. That may be an important contact information to acquire more parts/machine(s) and save them from destruction.

Update 2/16/2017
As I read through my above last paragraph - I see that I never updated regarding the "auction lost but buyer sold damaged unit which he got a 70% refund from his seller..." you know that unit- yes I purchased this unit from the seller.

To be honest - the last 3ea Kodak VP units I purchased are still in their shipping box. As I had run out of room (currently making shelf units for them). Nevertheless, I have been following another Kodak VP-1 on big-auction site and the seller is not an individual - but is a company with employees selling equipment on auctions. So this unit has a high price with a high shipping cost. I have made several offers on it, spoke to them by email and phone over the last several years. You know advertising something that doesnt work - is normally unproductive because - people only buy stuff that works USUALLY and every once in a while someone like me who is willing to spent time/money to repair it - may or may not buy it. So that unit is advertised as "plugged it in a smell smoke and burning" - so no-one but me would buy it.

My problem is that the item stopped being listed on Feb 2 2017 and Im concerned that they are about to dispose of the unit. They would not budge on the price and their hoopla of phone reps that change my question from "I want to buy this right now and can send money immediately" becomes a request to their mgr to relist it - something that the mgr has already pulled. Im trying to pay immediately and the phone reps are trying to relist it on the big-auction-site so I can make my offer there. So the Ridiculous method is circular- and getting nowhere. Unfortunately - the safety of the unit is at stake. I cant pay their skyhigh price. And most people who peddle junk "junk peddlers" have a mentality - Id rather junk it than go lower on my price.

They got a smoker burning unit, unsold for almost 3 years and they are not willing to budge on their price. Frustrating for me.

Update 2/18/17
Well yesterday I got a phone call from the big-auction-site seller and he told me they relisted the item per my request and that I should enter my pre-approved offer and note in the description that it was preapproved. I also put in the notes that the top plastic pieces should ship in a separate box to avoid damage.

This VP-1 was probably an inch shy of being dumped in a dumpster. Im glad it was saved. Hopefully it arrives safely.

Update 2/28/17
The good news is the Kodak VP-1 arrived. The bad news is that the AC cord side plastic panel is broken and a broken piece inside the box looks like a white round drive wheel/gear broke off inside somewhere. Also the Super8 Adapter plate is missing but shown in the ad picture. Seller sent a partial refund for damage and missing part.

I believe that makes 10ea or 11ea units counting VP-1 and VP-X units that I own.

Let me know if you have a Kodak VP-1 or VP-X in any condition. I would like to buy more.


I'm located in Illinois, USA.
email address: drviragopete@att.net

Telephone(847) 454-7858



Wanted Rhino XR-2 or XR-3 Parts
I own 2ea XR-2 Rhino robotic arm units and 3 Mark III controllers. One of the arms is fully restored. The other one is missing the large aluminum square base. It has a broken hand motor and the wrist gear is plastic and cracked. The other arm is an earlier version and has a metal wrist gear. Any parts for sale would be appreciated.
I am proud to have all of the Apple II software and books for the Rhino XR-3 and works wonderfully. Remembers positions and homes properly. Amazig what a vintage computer can do and sometimes surpasses more sophisticated products.
My XR-2 robots are compatible with XR-3 commands etc as they have the version 4 motors and I suppose the owners either upgraded the motors as a kit or bought it that way. I could use a square base the most as I have purchased several motors and may try to modify it. I would prefer to find the original motors (I need one small one and one large one) as mine have broken gears inside the gear train. I would like to buy even broken motors as there are duplicate identical gears inside and I can combine two bad motors into one good one.
I am missing the hand controllers on my robots but the software operates it fine from the Apple IIe keyboard. Let me know if your have the remote control.
The first B&W photo below shows how mine is - without the base.
The next photo shows it with the base.
Located Illinois, USA
email address: drviragopete@att.net
Phone number (847) 454-7858
I am updating this section to say I have received a few emails offering to sell their units. Nothing came of that as I don't need another arm- I need parts. I am also wondering if a person out there has a metal sintering machine and could create a gear from a scan. SInce the gears I'm replacing are sintered or pressed from particles and made in 1980s technology- that may be a solution to a couple of replacement parts to get my #2 arm up and running.
Updated 7/2011

Update 2/2013
I have not found and source for sintered gears and these motors rarely show up on big-auction site. I still hope to find replacement motors or a few gears to install. It may be possible that a vulcanized jewelry rubber mold can produce a wax copy and from there a spin case metal object can be made from it. I do not have a spincasting machine but I hope to find one when my current projects are completed. Casting a gear from silver may work just fine as jewelry casting produces intricate detail. Also my 3d wax printer may be able to produce this wax original once my 3d wax printer is restored. From there a spin casting process would be needed (I already have a burnout oven) I have also acquired some IC Testers which will help me troubleshoot one of my Mark III controllers.

Update 6/2013
I purchased a controller card for use with an Apple IIe computer. This card is for use with one of the Rhino Robotics Arms in the XR series. This is my second card- and since I have 2 fully complete arms - it would make sense to run them both the same. I truly see no difference in running from the Super Serial car or from the Rhono card. But I have read thatthe Rhino card has a few extra comands built-in. When using the RHino Apple IIe sooftware - you need to select from a list the type of control card you are using. This card is called the Rino Language Card. I look forward to its arrival. I plan on using the arms simultaneously- two arms at once. I am experimenting with using robotic arms to develop/process film.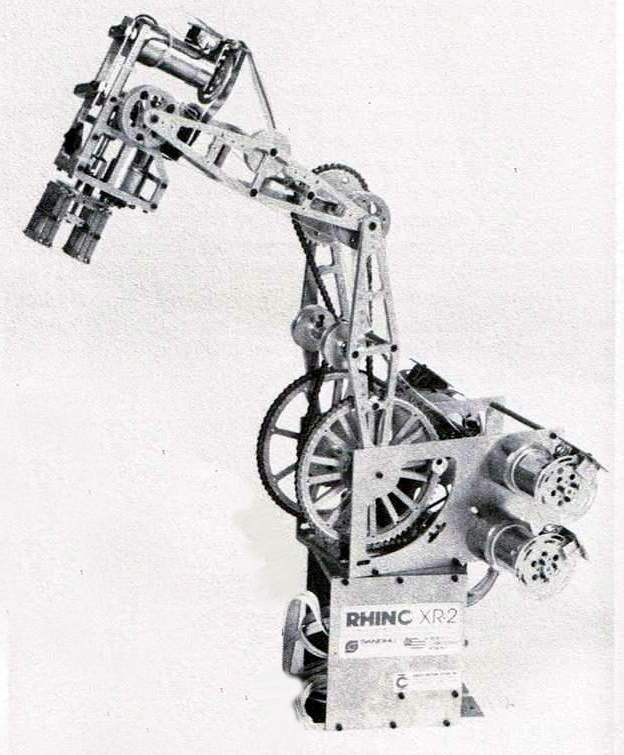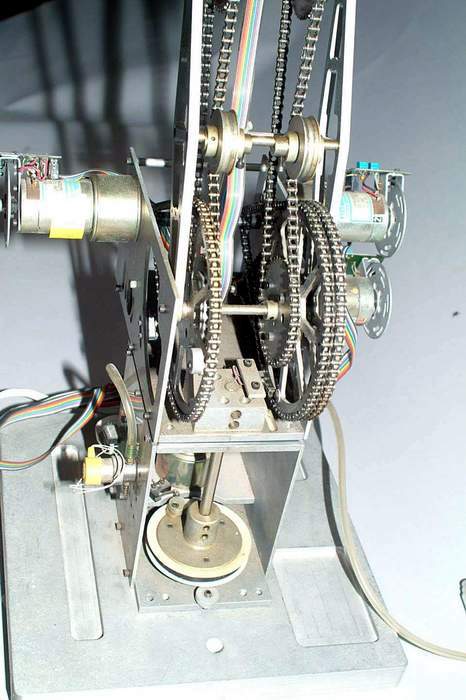 Wanted Any Condition
Princeton Ultrasync 12" or 14" monitor
I used to have the 12" monitor around 1990-1996 and loved it because it had a 25 pin port on the back. I had two cables one for CGA and one for VGA and I could plug it in and use it for whichever computer I wanted to test.
Mine blew out and I had it professionally repaired- it came back with a note that they fixed a "cold solder joint" which means they just reheated a the solder connection on the circuit board. It lasted a couple months and then died again. I ended up throwing it out but I should not have because it can do modes which other monitors can't I would like to find another one dead or alive any condition.
I don't know if I have the cables still - if you have cables, literature, pinouts, or parts etc I would like to get another one.
It had a very small screen 12" diagonal but the body was long. The colors were excellent except red looked like brown. The maximum resolution was 600x800 and if you went to a higher resolution the screen would distort and have no picture. It looked super sharp and clear having 600x800 on a 12" screen. Very small dot pitch I think it was .28 or maybe .26 even as it surpoassed the resoluton of other monitors which had oblong shaped dots- it had small very hi-res dot pitch - the .28 dot pitch as written below may be a mis-print as it was truly a great monitor. For its time, it was a very good monitor and I got alot of use from it. The top would be very very hot as it packed alot of electonics in a small case.
I had the one with 12" screen. the next model up was identical in features and was the Princeton Ultrasync 14".
I would be glad to find either the 14" or 12" in any condition.
I'm located in Illinois, USA.
email address: drviragopete@att.net
Phone number (847) 454-7848
Update 6/2013
I am still looking for this Princeton Ultrasync 12 or Ultrasync 14 monitor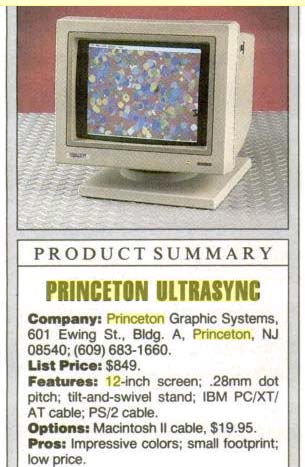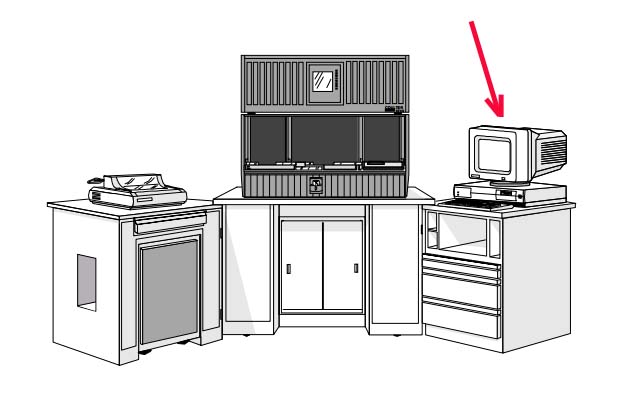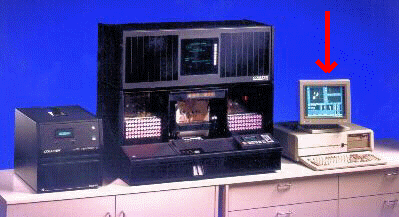 The above pictures show a Coulter STKS Analyzer with Princeton Ultrasync 12" color crt monitor. This was a factory provided monitor and came with the analyzer package. I am looking for this monitor - any condition working or not. I would appreciate this monitor even in non-working condition. I have read some online forums refer to this machine as a "Beckman Blood Reticulocyte Analysis CD4 CD8 Lymphocite hematology differential, graded RBC morphology and reticulocyte counting automation"

I am looking for this CRT monitor "Princeton Ultrasync" which was also available for PC and MAC consumer and business and medical users in approx the early to mid 1990s estimated. This monitor was sometimes packaged into systems. I am hoping someone still has one in their lab, storage, home or other place. I am hopeing to find this monitor approx 20 years later.

I found a video showing the machine working - it is not my video - the link is included as a reference. Unfortunately the video does not show the monitor - which is the part that I need.
Update 1/3/16
I have purchased a Princeton Ultrasync 12" monitor which has the swivel base, a VGA cable with 25-pin connector on one end and VGA on the other end - black cable with silver ends. Also included is the original grey power cord. I remember these items and I konw they are the originals as they are just like the one I had years ago. The power cord has a rubber-like feel. Missing is the manual and the TTL cable (I have to check my storage in my shed as I think I may still have some cables from my old monitor)
It was driven to me from Wisconsin to Illinois by a kind seller who I paid to drop it off. I see no breaks or cracks of any kind and the seller says its does work. I received a couple of pictures of this monitior displaying Windows 3.1 from the seller. He was quite surprised that I was glad to have it and expected me to plug it in and see if it works. I told him I want it whether it works or not and prepaid for it. I am writing this 1 day later after receving and is on my shelf acclimating/climatizing so any moisture or condensation has a thorough chance to evaporate/dry out. I dont want to risk blowing out this monitor which is VERY VERY rare and Im glad to have it. I gladly paid the full asking price plus delivery fee for this monitor. It may be the last one left in the world. Or close to the last one left.
I am looking for 1 more Princeton Ultrasync 12" or 14" or 16" monitor - let me know if you have one. Any condition - working or broken or any condition.
Here is some photos showing the monitor I bought yesterday. 2 pictures are from the sellers demo. The one showing the moniitor on a shelf is the photo I took today- monitor climatizing/drying out in case it has some moisture (no visible moisture or issues - but just in case)
Click on the thumbnail photo to enlarge it:

AGFA Vision 35 Scanner
I own the (pictured below) scanner and was purchased used on ebay. It was not recognized by any of my SCSI cards and I even tried a SCSI Miniport which basically uses the parallel port and makes it into a SCSI. None of those recognized the scanner being present. I carefully disassembled and cleaned everything. I found a bad component inside and ordered an identical part from Hong Kong. It took a few weeks to arrive. Now the scanner is recognized by the SCSI cards and yes the miniport recognizes it too.
Windows sees it as a "Vision 35" SCSI device. I could not locate any driver for it online. I tried to download the Nikon drivers and none are the correct one for this scanner. I built my own PCs from way back when. My current office PC has a removeable hard drive caddy system and I swap out the operating system regularly for special applications or to run older software. I have all versions of operating systems from 3.1, 95, 98, ME, XP etc on a hard drive caddy. So having an older piece of sofware doesn't really make it obsolete.
I would like to find someone who still has the disks or diskettes or CD or whatever the software came on for this scanner. I'm a packrat regarding software disks and have a drawer with nothing but my old disks . I wonder if you have the driver and software disks for the AGFA Vision 35 scanner (It is essentially a Nikon 3510 or 3500 or 3510AF scanner) but the eprom chip feeds the line "VISION 35" to the computer. Any help in locating the software or driver would be appreciated. Let me know the fee for your disk or manual etc - whatever you may have for it. I have one 35mm slide holder for it. I believe my scanner is fully functional after having repaired it- but have no software for the machine. I look forward to getting it to work due to it having a projection lamp it should be a brighter image especially on dark 35mm slides or underexposed or night-time photography.
Sept 2011
I am updating this Wanted Section- I found the driver myself for my Agfa Scanner and it is the real software and driver for it. I am very impressed with the scanning results, Approx 10,000 x 10,000 pixels resolution beats all scanners hands down that I have seen. It is a 3-pass scanner and operates by SCSI interface. Unbelievably good scanner for 35mm slides and especially since it has an extra large window- it can scan the very very oversized 35mm slides. It is especially good for astronomy scanning since it uses a bulb and has a very high level of black gradients. I'm very impressed with this old machine.
The software is better than Nikon standard software- I have several Nikon scanners too. Nikon doesn't include essential things like rotation and more. The Agfa software is WOW packed with not only essential but also color calibration and more high end features. What a good piece of software.
I can now scan very high resolution slides - just ask if you need a scan in this ultra high resolution. I can't do lots of slides for you due to manually scanning one at a time. But I can scan a few of your best or most precious for a fee- let me know what you need.
The back of this unit has a round port labeled "autofeeder" The same port is found on the Nikon 3510AF which is identical physically. Do you have the autofeeder for this unit? I would like to find the autofeeder for it.
drviragopete@att.net
(847) 454-7858
Update 2/2013
I am still looking for an "autofeeder" which plugs into the back of the Agfa machine or Nikon machine as there is a port there. Either brand of autofeeder would work as the machines are alike.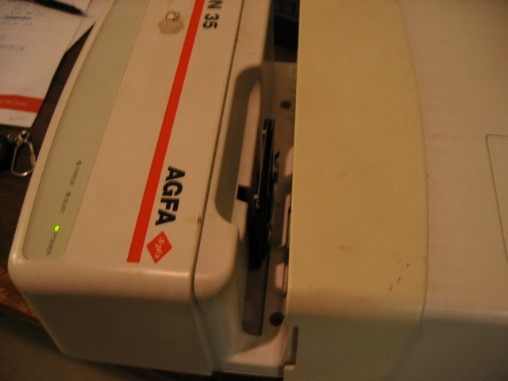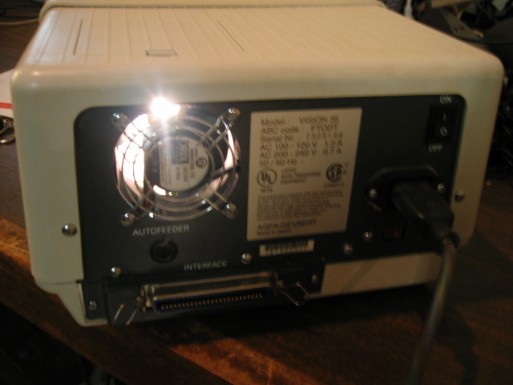 Bray MagiTrak or Magi Trak
I recently acquired a full size film processing machine from ebay. Between the shipping and the cost of the item it came to be approx 1000 dollars in cost. I'm please to have made the purchase. It had a mfg defect in that one of the sprockets was drilled crooked and caused the chain to run slanted. When I found it for sale and missing parts - the chain was derailed and twisted and it was missing the sprockets. I could tell that the sprocket fell off in early photos from the previous owner. It was crated and shipped to me in Illinois and sustained some minor damage during truck shipping. The minor damage amounts to a few hundred dollars in plastic cost and will probably set me behind about a year or so in making the repairs in my spare time. Nevertheless- I'm glad to have it as it is huge but compared to other machines it is truly small for what it will someday do again. Its overall size about the size of a large projection TV and weighs about twice as much.
When I unloaded it from the crate I paid 4 people to help me carry it to my shop and I had one corner. It was very heavy as it is constructed well. I welded a rolling cart for it and fixed some of the broken areas caused by poor crating. PVC is easily repaired as most plumbing stores carry PVC cement and bonds well.
I have included some photos of the machine. It is missing the front loading system and the rear spooling system is incomplete. The lid over the Dryer section is missing. Also the magnetic "wishbone" is missing. It seems all the main components are present.
The request I am making is for anyone with any photos of this machine or drawings or if by any one in a million chance you own one too - I would greatly appreciate communicating with you about this well made machine. I have all of the tools and skills to make any part it needs. I just don't have any photos of how it is supposed to load or unload film. I have studies the few very small photos in 1980s brochures of the MagiTrak series of film processors- but the big model was not emphasized and had the tiny photos while the small machines were very emphasized. Any photos or leads or help would be appreciated. My goal is to develop Super8 film in 2011/2012 using e-6 chemistry. This goal is attainable whether I receive any help or not.
I have contacted the MFG, and basically got told it is not supported. PVC is timeless and doesn't age like other plastics and is chemical proof. It is very possible that I have the only machine left of the full-sized model. If you have used one or remember anything about it- or can send me a sketch of how the loading or unloading system should be- it would be appreciated.
Dr Virago Pete
drviragopete@att.net
(847) 454-7858
The photos are below
1. Photo of the machine at seller's location (missing dryer section cover & more)
2. Photo of machine at seller's location (missing rear spooling system)
3. Photo of machine at seller's location (missing loading system)
4,5,6 The Misc small pieces I received that are part of loading/end spooling system but missing substantial protions- your help would be appreciated in how it goes and what the missing parts look like. I need to aquire a plastic sprocket and length of chain- any tips on where to find - otherwise I will need to make/duplcate this sprocket by hand
7. Photo of machine still at seller's place I pointed out sprocket which fell down and was assured that they would make sure it didnt get lost- which it did and also the sliding door on photo 2 with knob is also missing.
8. A photo of the rolling cart I made from scratch with Menards Hardware store steel and heavy duty casters. $150 cost just for the materials for the cart (square tube steel and 6ea solid steel casters with bearings) . A sheet of plywood is carriage bolted on top and the very heavy machine sits on top and actually rolls pretty easily now.
Communicating with anyone with any size or shape Bray Magitrak or other model of film processor made by Bray will help me better understand how the loading and unloading system is supposed to be. Also the brochure mentions an optional sump system. Also the magnetic dogbone and how it is supposed to be. The very very small and grainy photo of the bruchure has a handle and looks like three part dryer section cover- some sort of air filter system? The door that is missing on the side covers a hole- is that an air circulation system opening - what is supposed to go there? Any videos or books or instructions for any of the machines would help me understand.
The skull in the photos is something leftover from a previous owner. I still have it on there as it is part of the machine's history. Just like my motorcycle still has the leather laces on the handlegrips - a bit of history of who owned it before. Part of the character of the machine.
I am updating this to say I have not found any person to communicate with about Bray Magi-Trak. I found a (big auction site- nameless) listing where one was sold in Great Britain in March 2011 approx and I contacted both the seller and the buyer but have gotten no response- see last picture of forklift/tractor - that is the Bray Magitrak which I got no response. It is the clearest picture I have of a complete unit to date - as blurry as that picture is. The base and some loading and unloading areas of the machine are visible. Still not enough to help me with completing my machine and knowing how it is supposed to look. I do now know there are 2 units in existence. This tractor picture and online auction proves it. That unit looks complete. If that owner looks online for information - they're sure to see this ad as it comes up in the search engines- please contact me as photos of your unit and dimensions would truly help. I am willing to pay for dimensions and photos and drawings etc so I can have enough info to complete my drying area top lid which is missing, my loading area which is missing and my film exit area and drying area etc. It sounds like alot is missing but it is not- the design is basic and made in panels. Almost like you would construct something from wood- but instead is PVC sheet.
Updated 7/2011


I am updating this section to show a link which shows a Brak Magitrak medium-sized unit in the UK. The video is very shakey, and I have left a message hoping the uploader will contact me. I have requested a video of the unit that is steady so I can see the loading box and more. I have also included in that message a willlingness to pay for pictures, sketches, videos of the machine. I have also answered her questions as how the film is pulled through - with a magnetic "dogbone" which mine is missing (dogbone is shown in brochure). I hope to find someone to correspond with regarding any model of Bray Magitrak.

Here is the Youtube link and I am not affiliated with this video at all



http://www.youtube.com/watch?v=ni5FX884Zqg





at 23 seconds shows the loading box at far left





at 39 seconds shows lid being opened on loading box and film reel visible - until I saw this video I didn't realize that the lid lifts up and over. Very ingenius design (light-tight) but I still can't see enough of it to see how it is supposed to work.





at 2:39 more is shown but the camera is so zoomed in and shakey I can't see anything.





I see dryer lid for a brief instant- looks like it comes completely off and is laying on top of unit unlatched. It is at far right at 3:32 and a very brief 1:48 - put on pause there to see at far right.





Also not shown is the hole at the right side of machine- not sure what that is for - see my photo (second from top) which shows the output area and there is a door which slides up revealing a hole. What goes in that compartment?





Anyways I'm glad to have seen this video whether or not I get a response for more videos and pictures - it still helped alot. This video wasn't intended for me. But I learned from it.



That machine is big- mine is twice the height. It is like 2 of that machine stacked. I would say the design is the same- except the electronics and control on mine is on the exit area and all displays are consolidated into one display and one control knob. (see skull graphics area- a remnant of previous owner and adds to the machine's heritage- I keep that sort of stuff- it adds character.)

I would like to know about remjet removal/carbon antihalation layer removal which I have been doing manually after the film is dried. At which point is the antihalation layer removed- as originally instructed by Bray? How did they remove that anti-halation layer in 1980ish when this machine was made? There was a loading box shown in the Magitrak brochure - it looks like a shoe-shine boy box. I don't see that box in the video. I don't see any mention of that box in anything online.

I may be the keeper of the faith regarding this machine as I am just really searching for answers to restore my magitrak- maybe not too many still exist. This uploader's video looks like the machine was kept outdoors and may be doomed. But PVC is chemical resistant and the outdoor kept medium-sized Magitrak may be tougher/resiliant than the weather can dish out- I hope it survives. The type of PVC is type I light grey which is brittle. Type II PVC is dark grey and is not brittle (would have been a better choice in my opinion)- maybe at that time PVC type II was not yet invented?

For example Type I grey PVC if smacked with a hammer will crack and shatter
Type II grey PVC if hit with a hammer will just have a mark/scratch. Cutting Type II dark grey PVC smells like a skunk very strongly of skunk- but 1 minute later it doesn't any more and is everything proof- that is why machininsts use it alot for prototyping and fabrication of chemical resistant parts. I have cut and fabricated Type I light grey PVC to make a few pieces for my Magitrak and it is the same except brittle. Not the best choice when you have drilled and tapped holes. That is why mine is broken and in my possesion now- someone bumped into it is my hunch and the brittle exit area broke. I had enough pieces to recreate those parts. I used Type II Dark grey PVC to make my first homebrew CNC machine decades ago.

I did communicate with a former salesman for Bray, and he said it has been 10+ years and doesn't remember much. He did say that the back of the unit has a PVC back. Mine is missing that panel. Seeing any version of Magitrak photos would help me recreate that missing back PVC panel. Does it it have vent holes? Does it have a fan there?

I wonder if there was a Demo video carried around by salesman/saleswomen that someone still has? An owner's manual? Anything?

Updated 12/31/11

Update 2/2013 I am communicating with a man from UK who has send me detailed photos of his Bray Magitrak full sized machine which is slighlt different than my machine in that hisis for C41 processing and mine is for E6 processing. His machine is not as wide and not as long- but the construction and design is amazingly similar. I had questions of how the packside shouls be and I saw how his backpanel and loading cartridge and top cover is- so now I have a better understanding and have the necessary knowledge to complete mine. He has agreed to sell me his loading cartridge loading box and dogbone for $1000. I am planning on buying when I have finished paying off my above Kodak VP-1 machine as my finances are limited right now. The downsideis none of these items are the correct size (his items too small) but will serve as a guide in making my own replacement parts.

I would like to find a source for these plastic gears as I am missing 2ea (see picture of black gear). I have the skills to make these from brass or other plastic but original is always best.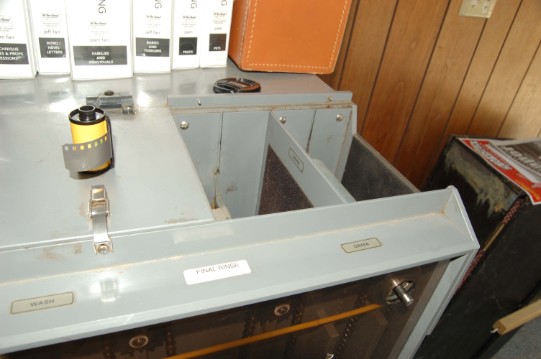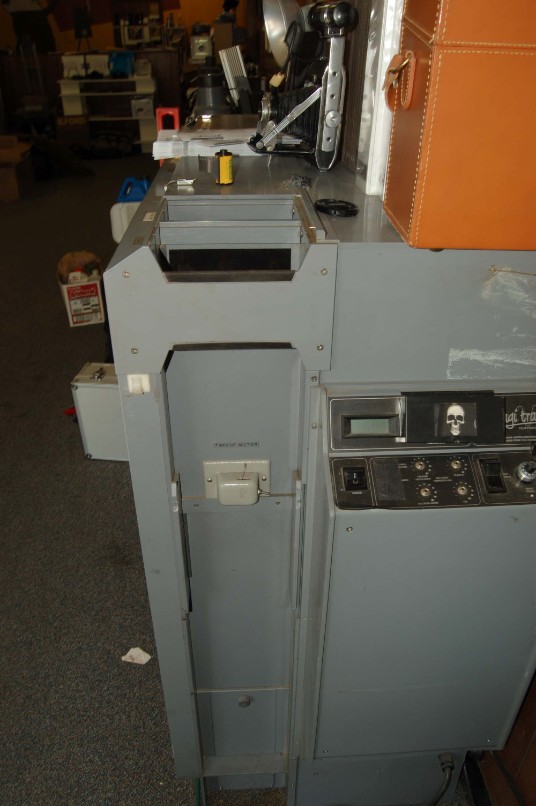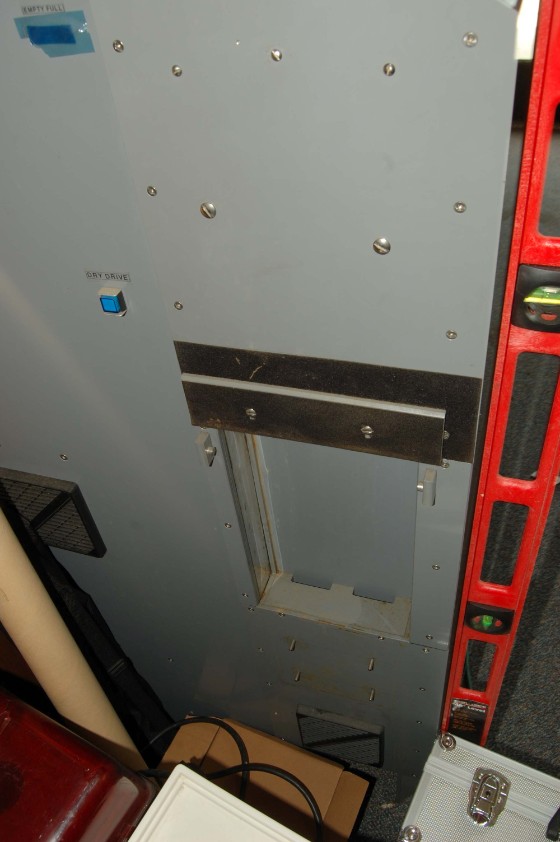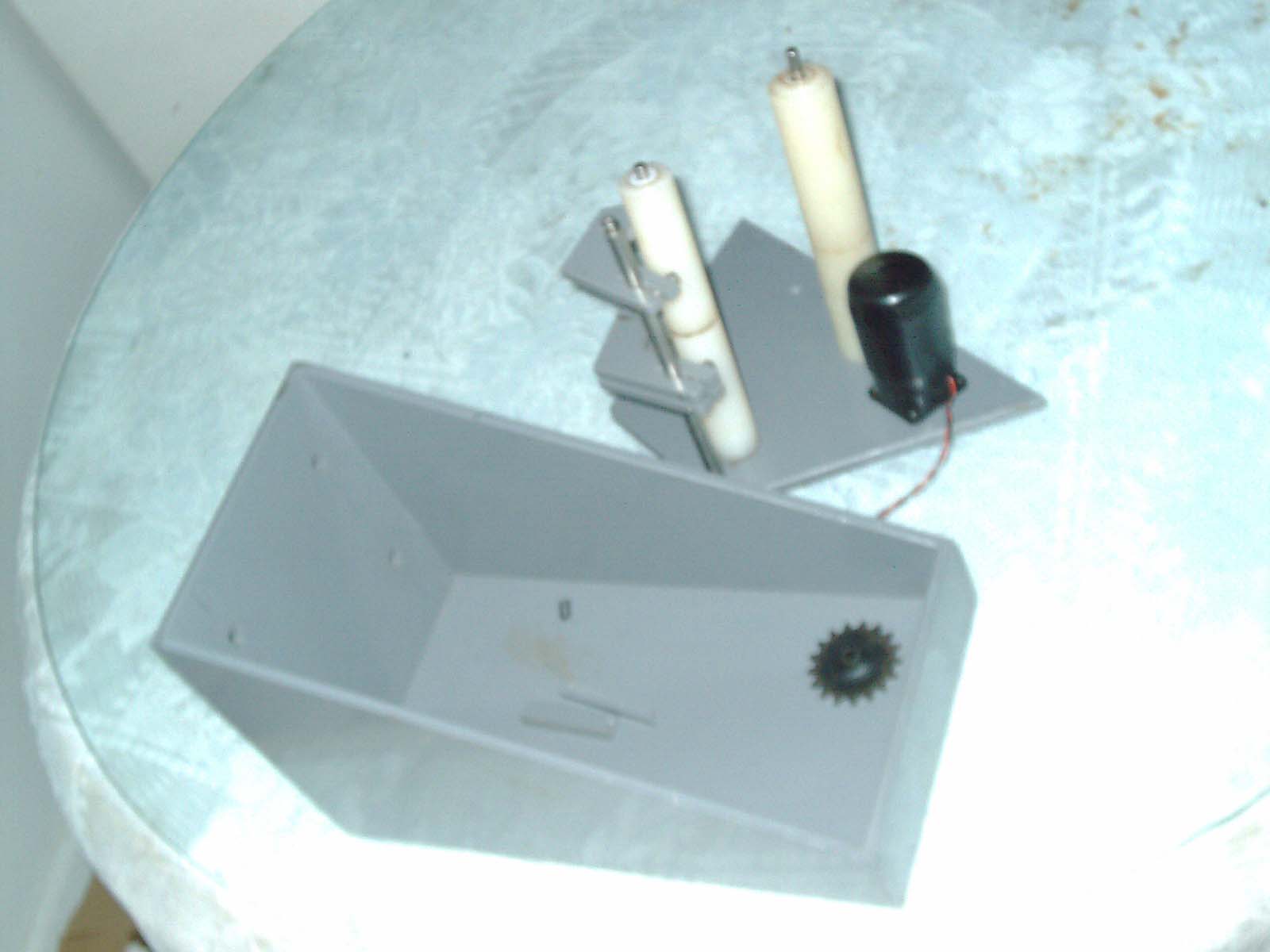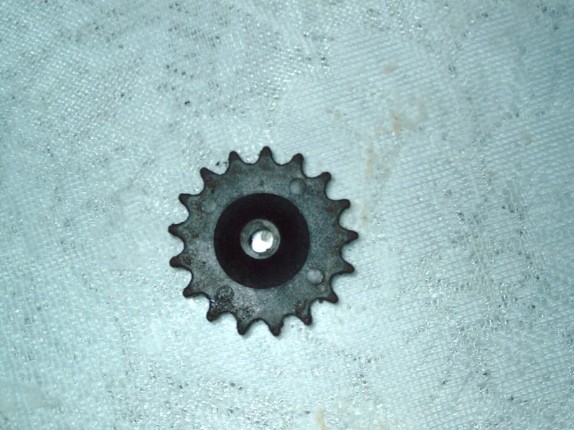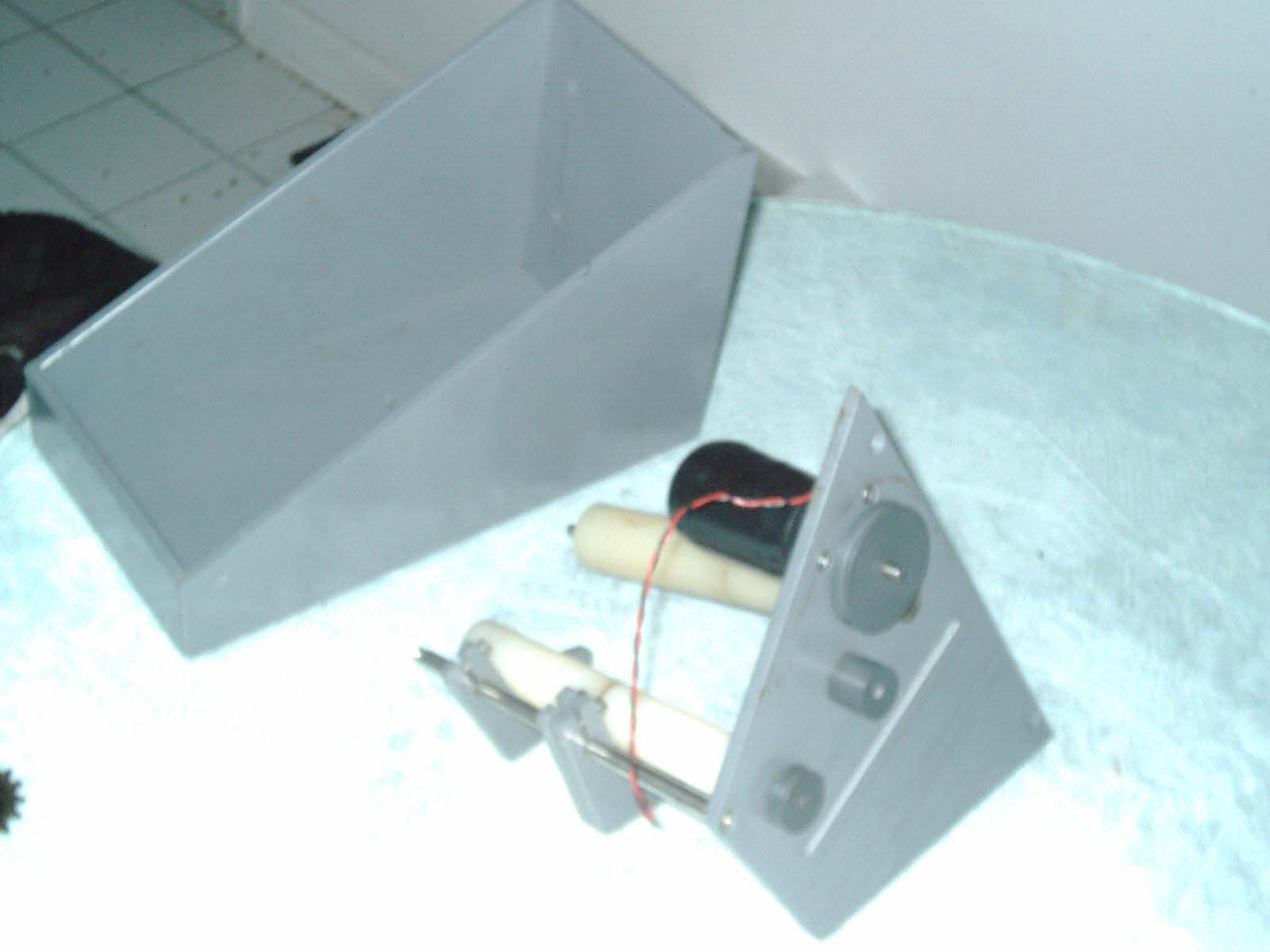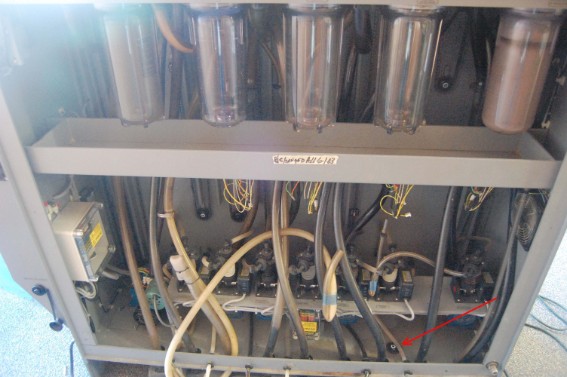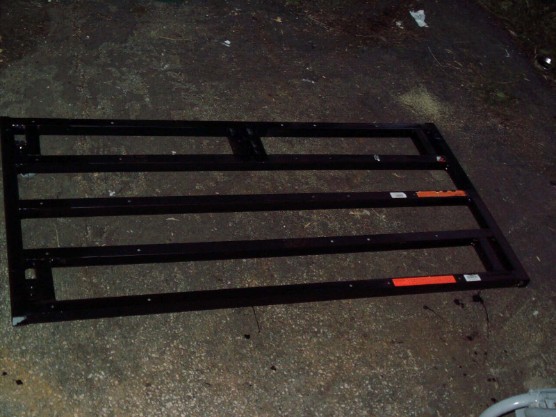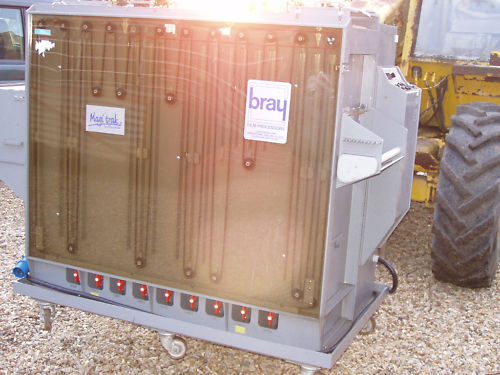 Vmax 540 Snowmobile Reverse Kit Wanted for 83-89
SRX 440 Snowmobile Reverse Kit Wanted for 81
Vmax 500 Snowmobile Reverse Kit Wanted for 82

Since the engines of the three snowmobile models are alike I would greatly appreciate any leads on use/broke/parts any condition. Photographs of this reverse kit or installed would also be appreciated- I have never seen this reverse kit- Have you? I know it was available from dealerships approx 1981-1983 estimated and then discontinued. Original price of kit was $500? I would like to find the kit or a sled with it installed or parts/pieces etc. Whatever I can find.

I ride my 1986 Yamaha Vmax 540 snowmobile regularly in winter months, and it is fully restored. Every nut bolt and rivet was removed by a man in Wisconsin who did this job for me on the body/tunnel/chasis. The engine was also rebuilt using new parts I purchased from a well-known auction website a piece at a time. The engine bears its original numbers and body also has original numbers as those key parts were painstakingly original and supporting parts were replaced. It is in as new condition as humanly possible. I paid a shop to restore the suspension and several wheels replaced with new. Also track is replaced (old one had a few tears and new one I wanted to be without spikes as the old spiked track tore up the heat exchangers which had to be painstakingly replaced and riveted back in place). A friend of mine redid the engine and has done quite a few snowmobile engine restorations. For me this sled was turn-key in the sense that I paid others to repair it for me. In the end, I did do some work on it when the body sled mechanic basically demanded more than the $3000 originally paid and then I got back the sled without skis installed and no track or seat or suspension installed. So I reassembled the components making it a sled again. Despite the grief, I'm glad to have had the mechanics work on it as I physically saw with my own two eyes every single part from this sled spread scross a vast Wisconsin barn on a concrete floor- my sled in a million pieces literally. Every part was bead blasted and repainted. It truly is a ground up restoration and every rivet painstakingly drilled out and then replaced after beadblasing that part. The tunnel is straight and true and runs beautiful and looks beautiful. $3000 total restoration/parts/sled cost about 5 years ago was big money but in today's prices is peanuts. I scrounged and hunted and searched for the parts I needed to complete this sled right down to the brand new in the box side panels I paid $300 for.

In order to fully complete my sled, I want to someday find a rare Yamaha Reverse kit for this beautiful sled. It was only offered by the dealerships in 1982 or 1982 or 1983 or 1984 for a short time then discontinued- I believe the original price for this reverse kit as approx $500 but no definite figure to go by.

Got a reverse kit for Vmax540 1982-1989? Or for a 1981 SRX-440 (same sled different seat and bore was smaller- that's basically about it) let me know your price. As these sleds are mostly alike- a reverse kit for 81-1989 will work perfect.

I'm glad to have paid for this entire restoration when I did as there was a moment in time when finances allowed and several people looking to do work. That window of opportunity passed before I got my sled fully redone and had to complete it myself. If I had done that myself - I wouldn't have done the restoration as completely and would have taken me years. Sometimes a full service shop is your best bet as that double decker Wisconsin barn really was lined wall to wall with old sleds either being worked on or fully restored. Even the loft had several parts sleds. All I can say is that even beadblasting on a big machine such as theirs would have taken forever for every part. My own shop concentrates on small parts 12" or less either fabrication/welding/cnc or other detailed work. My sandblaster would never fit the body panels or sled tunnel or other parts due to the extreme size. Gotta use the right tool for the job- you might say.

I wanted the entire sled in black original and no graphics. It is one mean looking and performing sled with plenty of muscle for its weight. Hold on for dear life fast. Instantaneously taking you to highway speeds on this factory stock lake racer. You'll never hear anybody who has ever owned a good running Vmax say anything nasty about this well designed and built sled. I love my sled too, and I got one in brand new condition by rebuilding it - buying parts, paying others to do work and working on reassembling it myself. It is a comglomeration of effort, time, and money well spent.

Here is a video of this beautiful machine - which I believe may be one of the very best condition 1986 Vmax 540 snowmobiles in existence. I had to fight every step of the way right down to the title for it.

Dr Virago Pete (847) 454-7858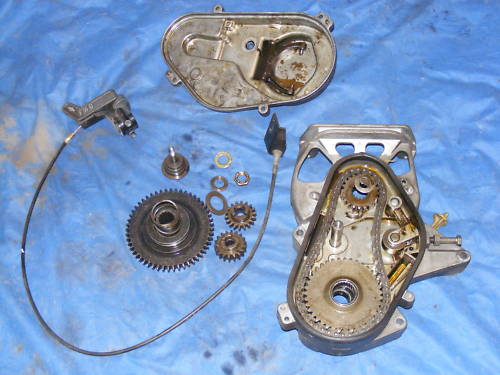 The above example of what a typical reverse kit looks like for other models/brands of snowmobiles. I have never seen any photos of what the Yamaha Vmax 540 reverse kit looks like but would imagine it looks somewhat similar either with a linkage or cable system. No-one I have ever spoke to actually saw a Vmax 500 or 540 reverse kit. No one hads ever seen a SRX 440 1981 reverse kit that I have ever talked to. It was a factory option available in one particular year. I read it myself looking through service manuals and manuals. I know it was available as an option. It was not a big seller and I'm hoping one person has one still left in the world. It is my hunch that the reverse kit would have added $500 approx to the price tag of the sled. These sleds were the fastest factory stock sled ever made at that point in time. It was considered a lake racer. A reverse kit would have added a couple of pounds to the weight. I hope to find this kit with or without a sled attached to it.
The above photo is not a photo of the Vmax 500 / Vmax 540 / SRX 440 reverse kit. It is a photo of a typical reverse kit - just so you know what I'm talking about) The reverse kit I'm looking for may look different- I never saw one and there are no photos of it anywhere.
Look at all of the "Impossible-to-find" items on this page I have already found.
Update 2/2013 I am still looking for a reverse kit. I would also be willing to pay for a 3-d laser scan of your reverse kit so one can be built from scratch. I own a 3d scanner and would be glad to finally find a reverse kit which quite rare. 9My 3d wax printer would then be able to build the parts from wax and then a lost-wax casting could be made) I'm hoping there is a reverse kit still in existance somewhere in the world.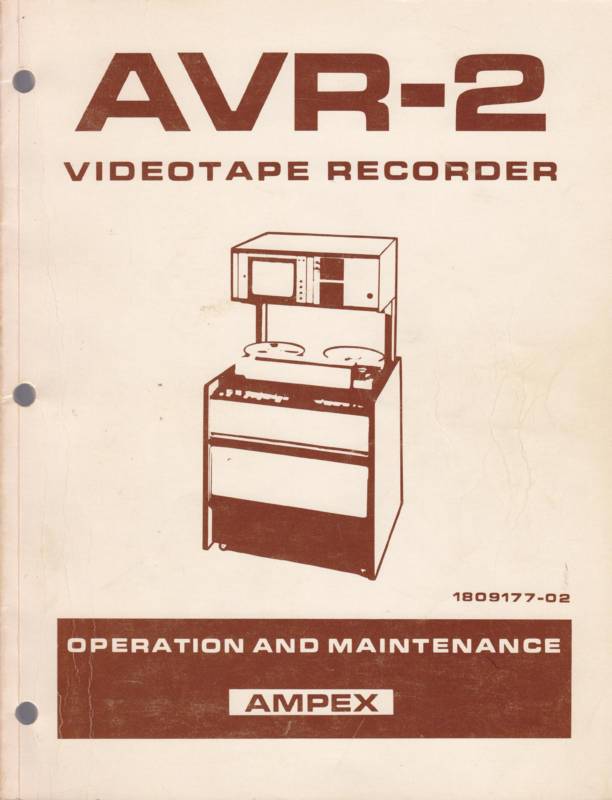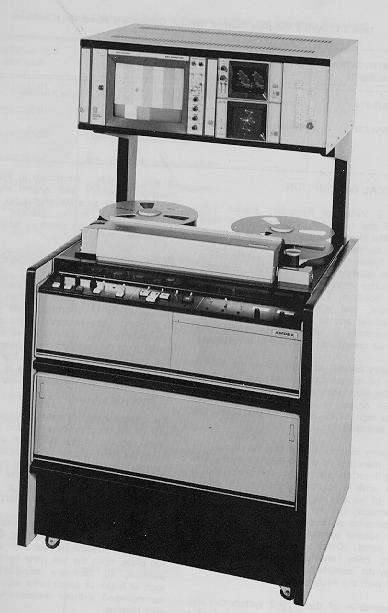 This is a photo of the Ampex AVR-2 in console configuration 600lbs weight approx. See it has the same of similar 3 modules mounted in the cart. Ampex AVR-2 was popular in mobile camera trucks for news and reporter applications. 1974 approx model.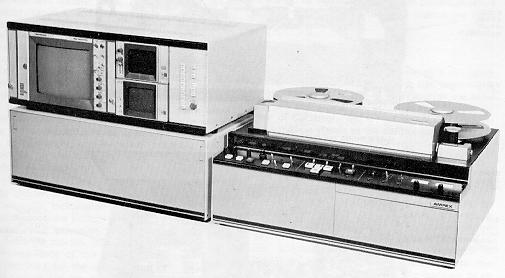 This is a photo of the Ampex AVR-2 in tabletop configuration 200lbs approx weight for each module = 600lbs approx weight total. See it has the same of similar 3 modules except without the cart. Ampex AVR-2 was popular in mobile camera trucks for news and reporter applications. 1974 approx model.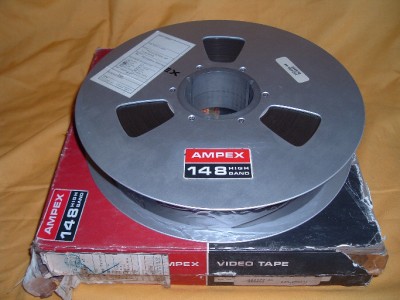 Ampex High Band 2" Video Recording tape model 148 12.5" diameter reel. This tape fared better than those in a dumpster. The content is savable. Many reels have deteriorated foam liners. The adhesive which binds the foam to the inside of the reel is a gooey sap-like sticky liquid which contaminates the spool of tape on many but not all 2" reels. The use of foam liner in so many things like cameras and Video recorders and cassette tapes/8-tracks was such a bad idea. The mfgs back then didn't realize foam has a short lifespan. Foam crumbles and adhesive rots and oozes out or dries up or other destructive process. Before old tapes can be played- they must be inspected and cleaned of foam particles and sticky residues.
I personally have cleaned a videotape lost in a lake (8mm camcorder tape which I charged the customer $42 in 2010 to restore. Only 12 seconds of content could not be restored as there was a crusty lake crystalization of substance etc which ate away part of the tape leaving that portion ruined. The remaining 2 hours of video was cleaned carefully and transferred perfect. My ebay feedback was (was for a 8mm camcorder tape not a 2" quad)
| | | | |
| --- | --- | --- | --- |
| | Great | | Oct-27-10 19:15 |
| | 8mm Camcorder Tape Clean & Restore (Dropped in Lake) (#160493827788) | US $42.00 | View Item |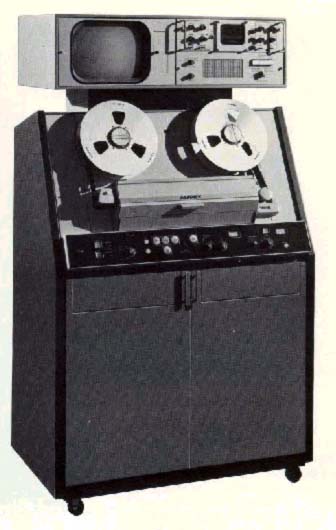 Ampex VR-1200 is a smaller version of the Ampex VR-1200 series
(for example VR-1200B and VR-1200C are larger)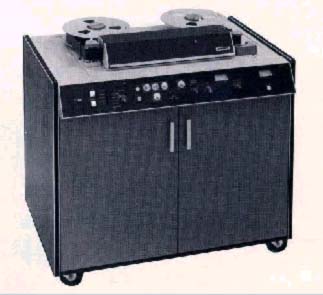 Ampex VR-1200E is the smallest version of the Ampex VR-1200 series
(full featured and intended for use in news vans and trucks)
This may be the ideal choice for my videotape and film transfer service as it plays back most or all quadruplex tape formats - yet is small in size.

I would like to find a Quaruplex 2" Quad VTR Video recorder. Will consider any make or model. I have been researching the various models which were made from 1950- through 1980s
Ampex VR1200 or Ampex VR1200E
Ampex 1200E (compact model) looks like the best choice for full compatibility with all qudruplex tapes ever made. Hi-band Lo-band and pal/secam/ntsc and color/monochrome selectable from the front panel. I have recently found a brochure describing these machines and have become my machine of choice over all the others. See my pictures of these two units. The 1200E is very short and small and looks about the same size as the AVR2. I would very much like to find a Ampex 1200E due to small space and big on features. I do not know if it has super-hi-band compatibility as the brochure is from 1960s- probably not. (updated 2/2012)

Ampex AVR-2

Ampex AVR-2 seems like the smallest full feature color model and is Hi-band only record and play (super hi-band and Low band was an optional upgrade) A big plus is AVR-2 operates on 115 volts AC normal power for USA. I believe the AVR-2 may be the best choice for my small film/video transfer business. My understanding is that plug in cards determine the Low/High/SuperHigh band recording and playback capabilities - almost impossible to find rare cards so for all practical purposes is Hi-band only.

Other full size 2" Quad Machines

I have seen a few pictures of other brands/models such as Ampex, Merlin Engineering, Fernseh, Toshiba and RCA and more which seem like excellent choices also. Several other full size units can handle multi formats such as low band, high band, and super high-band. The downsize is sheer size and weight and some are not solid state and need daily tedious calibration. The plus side is able to handle various formats and really and truly size and weight would be the same as having multiple smaller machines - just to handle all of the formats. For their size they really were very versatile. Another downside is power requirements 220v 3-phase is something many industrial businesses have to run machinery. I would need to get a 3-phase converter if I find a big quadruplex. Most quadruplex machines ran on Hi-band. A few very old units which ran on Vacuum tubes were B&W only Low-band.

My hunch- most content from TV stations and reporters as early as 1964 approx to 1970s and 1980s was Hi-band format. An approx 15 year span.

My hunch is that 2" Reels from 1957 to 1967 were of various formats. The dominant being Low-band B&W or Low Band Color (color broadcasts were special events - color tv owners had mostly B&W broadcasts to watch).

Portable Quadruplex 2"

The Ampex VR3000 or VR3000 are Hi-band and Low band and would fit my video transfer business needs.

RCA TPR-10 is Hi-band only and would fit my video transfer business needs.

Any make of model of Quadruplex 2" VTR would be appreciated. Will consider any voltage or phase requirements if the price is right.

As an experienced pro electronics technician and former electronics college instructor I can fix most electronic items with or without schematic. My ability to create parts from scratch in my workshop using scratch-built machines means I can make my own replacement parts as often is needed on discontinued items. So even parts of pieces of a machine or a disassembled VTR would be considered.

Low band = B&W only

High band = Color/B&W (400 lines resolution approx)

Super Hi Band = Color/B&W with pilot tone
VTR= Video Tape Recorder

Let me know if you have a 2" quadruplex machine in any make/brand or model any format color or black & white for sale or giveaway. Any condition even fixer upper or junk appreciated. Willing to rebuild. Located in NW Illinois and willing to drive to pickup or have truck shipped. Don't scrap it. Too few machines still around. Many businesses which call themselves "museums" online part out their machines or sell them or trade them etc. This further destroys the few remaining units for profit. My goal is to obtain one and fix if needed and use it for transfering the remaining 2" quadruplex video tapes still in existance. Many TV stations and more scrapped their equipment and tapes. Some fortunate reels are on the shelves at TV stations, collector's homes, universities etc in pristine condition. I would like to perform transfers to DVD or Blu-ray when I find a Quadruplex machine of my own to restore/use.

Dr Virago Pete (847) 454-1612
drviragopete@att.net
I am updating this section as I have had a few conversations by email and phone calls
A caller phoned to let me know he has 2 Ampex VR3000 units and wasn't sure if he wanted to sell. Just a month prior I saw a PAL version on "big auction site" (nameless) and it looked and was described as rusty and found in a dumster as the new boss of that TV station went on a rampage throwing out equipment- that was the description of that PAL unit for sale. The bids started at $100 for a while then $200 and ended up at $600 approx. Since that was in another country- the ending bid was in their monetary system but on my screen in USA was approx $600. I mentioned this to the caller and said really that one was worth getting for parts and also because it had a PAL board which is swappable. I just didn't have spare money at that time. THe caller didn't have a price and wasn't sure if he wanted to sell. But I did aski him about some details. I asked about the "confidence mode" and how I had read it was a jerky unstable B&W picture. He said no it is a stable solid picture. I bet that although it is B&W the picture is good and clear and sharp enough to DVD record. The instability of the picture was a fact in many documents and websites etc. But it turns out that is false bit of information. I was expecting the caller to say yes it is a shakey jerky jittering picture with tearing etc. See that wasn't the case. He mentioned that the machine only plays small reels- but I said that external reel holders can be made for larger reels. I have not purchased a 2" Quad and am still hoping to find one.
Updated 7/2011
Update 2/2013
I was contacted in 2011 by a man who had a RCA TR4 in bad condition and was asking $600 for it. He was located in Illinois 400 miles away and I emailed him and said I would like to come and pick it up and pay in person. He replied that he ended up just scavenging as many parts from it as possible and discarded the remaining chasis. I replied that it was a real waste of a machine and that I would have bought it. I even replied again saying that if you still have it please give me an opportunity to buy. That was a year ago. Two weeks ago I saw on big-auction-site some TR4 parts from the same seller. I wrote that if you still have the TR4 can you send photos of it. He sent me a photo of just the barebones chasis on the back of his pickup truck. He said I had perfect timing and that if I wanted it - he was just about to take it for scrap. I said no because there is nothing left. This is an example of a wasted machine - I would have gladly purchased and restored it. Its too bad for the machine- it was a rare machine and there probably isnt too many left.
I am still looking for a quadruplex VTR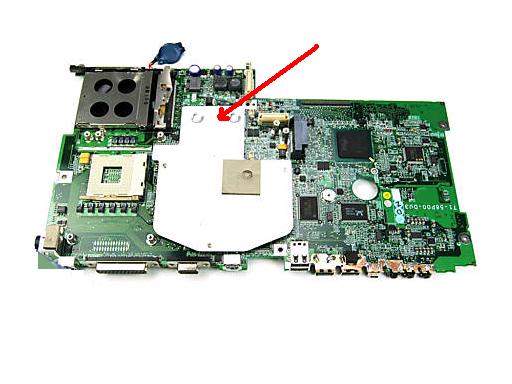 NoteBook Brand Motherboard Wanted or laptop for parts

I have a "Notebook" brand PC also known as Sager or Alienware or Prostar or Clevo.
"Notebook" is a difficult brand name to look up on search engines. "Sager" "Clevo" "Alienware" and "Prostar" are excellent words to look up on search engines. "Notebook" is too generic a word and pulls up too many unrelated topics. All of these company names have an identical laptop except for the colors of the case or name plates or a sticker underneath identify it for their own brand. One of my "Notebook" laptops has the word "Sager" on its underside on a sticker but is otherwise identical on circuitboards and dimensions etc.

"Notebook" brand model 5600P It is a Pentium4 Notebook with a 1.6 or 1.7 GHZ approx processor and CDRW/DVDROM combo drive and floppy disk built-in. I have purchased 2 of these and have gotten one to work but the other one is in need of a motherboard replacement. I am looking for either a used working motherboard 71-56P00-D03 (It could also be 71-56Poo-Do3 as I'm not sure whether it is a zero or letter O).
I have attempted to revive the bad motherboard with a heatgun unsuccessfully. I get some response from the LED lights when powering up/down but no boot and black screen without any display. The LCD panel and buttons operate the CD drive to play a music CD fine. The computer portion does not function.
I have an identical working laptop and was able to swap out all memory chips, BIOS chip, drives, etc and found them to all be in working condition. The motherboard is bad. The root cause is a metal plate which was supposed to be a heatsink - was bent up and not resting on two chips. I'm sure those chips are cooked.
Someone with a laptop with a broken screen or a good motherboard for sale would be appreciated for 5600P as I could use your parts.

I have put a red arrow showing where the metal plate was not touching two chips underneath which is ultimately what I see as the cause of the motherboard going bad. This very same aluminum plate has a "nut" which is soldered to hold the aluminum plate in place- one of the nuts became unsoldered
I inhereted these problems and bought the laptops as parts units fixer-uppers as-is.
Problems with this design

1. Nut became unsoldered and thus the metal plate lost contact with the chips
2. Metal plate had a slight curl which gave one chip full contact while the other chip had little or no contact. I made a slice in this metal plate with a hand nibbler- curled the aluminum slightly to give contact with the two chips. The slice gives it an independent "springness" I feel that if there is a defect with this very well made laptop - the thing it needed was a slice which I made with a nibbler. Otherwise it is a very well made laptop. I would like to find a replacement motherboard or parts unit so I can have another of this very good laptop for my slide scanning and photo scanning business.
This laptop design has a high quantity of cooling fans and heatsinks and vents which I like alot.

Dr Virago Pete (847) 454-7858
drviragopete@att.net
Update 2/2013
I am still looking for a motherboard for my 5600P laptop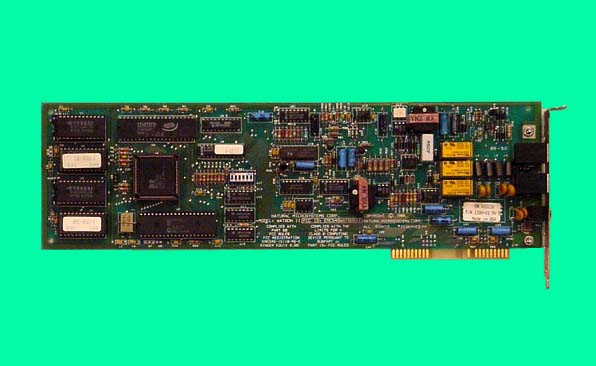 Wanted "Natural Microsystems" Voicemail Card
8-bit full length card for ISA early PC or Compaq PC or PC clone use.
The manufacturer's name is NMS for short.

Natural Microsystems.

I use one of these terrific cards to run my daily voicemail mesages and would like to find another spare in case something ever happens to it. I have the software already and know how to program it. The card and software is currently running a program I wrote which responds to telephone keypad touchtones.
It is called a Watson II 1200 or Watson II 2400 and some are labeled as VIS (Watson II VIS 2400 for example) The VIS signifies upgraded eprom chip which has some additional commands. I once a long time ago ordered the VIS chip from the MFG for mine and simply unplug the old eprom chip and plug in the VIS eprom chip and that made it a VIS model.

I would like to find any version of Watson II card which resembles the above picture. There may be slight differences depending on card version.
The 1200 or 2400 signifies 1200 baud modem or 2400 baud modem built-in.

I remember using my Watson II VIS 2400 to log into Bulletin Board Systems in the late 1980s and early 1990s- before the internet there was Fidonet accessible by BBS. Fidonet probably still exists today and was a great system- sponsored by people who had a PC in their home and left it running all day/night etc for others to log-in and access by modem. The messages and ads etc were passed on from one BBS to another making the rounds as it took days to weeks for the information to travel round the nation. The For Sale Echo was my favorite and bought and sold things online there- was text based and graphics could be uploaded/downloaded manually when a picture was needed. I once got free access to a BBS by being the first one to ientify a Nissan Z as the name of new car on the market back then. Whenever I see a Nissan Z I remember the BBS that I won free access to decades ago.

The modem portion is slow by todays standards (compared to 56k modem a 2400bps model is 2.4k speed) and unuseable. But the voicemail portion is top notch and a racecar by today's standards. Even though the modem is Hayes compatible and all 56k modems will negotiate a connection 1200, 2400, 14.4, 28k, 36k, 56k etc most current BBSs will not allow a 1200baud connection rendering it useless due to operator setting limits. Many older computers had slow modems and hobbyists of those other computers sometimes oeprate an old BBS to support their favorite vintage computer.
I use my Watson board and Compaq portable PC 4.77MHZ to support my Motorcycle parts and services and also my Santa hotline which is popular during the holiday season. Yes that is my voice, and I do an excellent Santa impression. The card records in compressed audio and hardly uses any hard drive space. It was many years before MP3 audio and the record/playback quality is very good over the telephone line.

It is truly a wonderful card and would like to find another one in any condition.

Pete (847) 454-7858
Update 2/2013
In 2012 I purchased a Watson II board from a seller who saw this page. He didnt have any software for it and what he wanted in trade was an older motherboard with a BIOS that had a certain HDD type built into the BIOS Menu. I replied that I have a motherboard and would gladly trade for his Watson II board. I received his board and then he proceeded to tell me by email that he no longer needed the motherboard and found one locally. I sent him payment instead for his Watson II board. I have not installed this Watson II board and it does not look like it is the VIS version- but I'm still glad to have it as a spare.

Update 2/2013 I was contacted by a recent buyer of a Watson II board from big-auction-site from a seller who recycles electronics. I saw that ad awhile back and made an offer but was turned down. This emailer had purchased for just above what I had offered. The emailer also apeared to have the non-VIS board. I made an offer to buy this board and he said he would consider it.
I am still looking for another spare Watson II board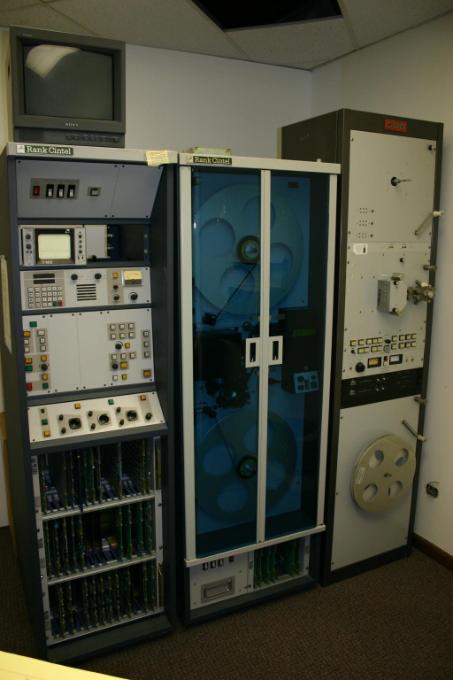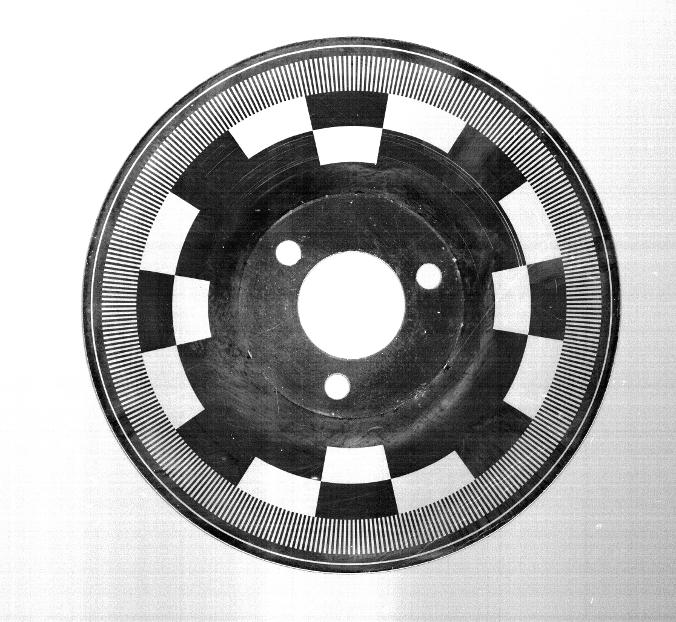 The above file is a 9MB image of this encoder disc. The image size is 4464 x 4112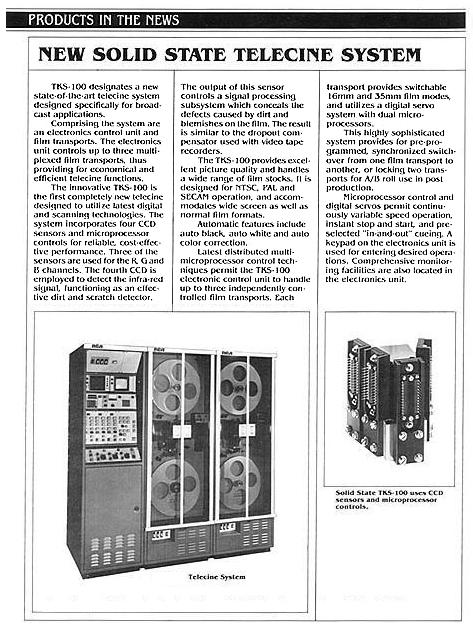 The above pictured machine is a Rank Cintel ADS2
ADS2 stands for "Advanced Digital Scanner" and is a 4-CCD optical film scanner. It scans at any film speed and has Infrared Dirt and Scratch Concealment.
I purchased this machine in fixer-upper condition and is now very complete and now almost fully running. The machine is presently more complete-looking than the above picture shows - as this is how it looked the day I bought it. It now has front doors, the correct monitors (waveform and picture monitor) installed and several boards that were missing are now installed.
I am looking for spare parts, boards, pieces, books etc - anything you have for this machine would be appreciated.
I would like to find
1. Optical encoder disc which goes inside the sprocket tachometer (or a complete tachometer)
2. Boards and power supplies and misc parts as a spare
3. 2ea additional transport units (as this machine is capable of running three 6000ft 23" reels of film simultaneously - or smaller reels too)
4. Anything related to this machine would be appreciated
Here is a 600dpi PC scanner scan (using a flatbed Canon LIDE scanner) of the encoder disc which the encoder has a blemish - I would either like to find an original encoder disc or have a brand new one professionally made. The optical disc is made of clear plastic and one one side is a photo emulsion. The photo emulsion was made by the factory photographically to produce the pattern of lines on the optical encoder disc. My blemished disc was tinkered with by a previous owner and needs to be replaced.
The measurements of this optical encoder disc as measured by a dial caliper (inches)
The outside diameter of this optical encoder disc is 2.960" od - as measured the plastic disc itself. The thickness of this disc is .060" (The actual scan of this optical encoder is the above file Encoder4.jpg My Canon scanner is 600dpi optical and it is scanner-software scaled up to 1200dpi - that is the highest resolution image I have of this encoder disc)
Any help in obtaining a replacement optical encoder disc is appreciated (a brand new one custom made or an original)
Any help in locating the needs parts would be appreciated.
I have included a magazine ad which shows this telecine with 2- transports. Rank Cintel ADS2 was sometimes purchased origanally with 1,2, or 3 transport units "Transport Cubicle" is the correct terminology.
This equipment is from the early 90s and not too many were made. From email comversations - I have been told that approximately 15ea machines were made of this model - it is quite rare. I hope that someone sees this Wanted ad and that spare parts or even a whole machine is not disposed of due to age or condition.
I would like to find parts/machine in ANY condition - working or not/complete or not.
The purpose of the 3 transports is to transfer 35mm Cinema films in real-time (or 16mm films too). 3ea 6000ft reels are synchronized to play one-after-the-next using the digital keypad to memorize the starting and ending frame of each reel. So a 2 hour cinema movie can be transferred in 2 hours. I dont know of any other machine which can do that.
It is a miracle that I found so many of the needed parts to complete my machine. I hope to correspond with someone in obtraining spare parts, books, and additional Transport Cubicle(s).
I fixed many boards by checking and changing out bad ICs, capacitors (using Capanalyzer II capacitor ESR tester, and several IC testers of various brands - to identify weak/bad IC chips - testing them one-by-one and BK Precision 815 parts tester for diodes, transistors etc in identifying bad parts and replacing)
The Rank Cintel ADS and ADS2 looks very similar to RCA TKS-100 shown in the ad. The TKS-100 inthe B&W ad has 3ea control panels installed so it was capable of using 3 - transport Cublicles too. I have 2ea control panels and ribbon cables (uninstalled) so I can install them if I ever find another Transport Cubicle or even 2 more.
Currently - my machine plays in color and frames the video but there is an image hiccup - which I believe is due to this encoder disc having a blemish. It is essential that I replace this encoder disc with a perfect condition disc. My encoder disc has visible lines which means it was rubbing something - there is no reason for this disc to have any abrasion marks on it. It should never have contacted or rubbed against anything.
Update: Oct 20,2013
I have purchased 300ea LM3046N IC chips to replace the worn CA3046 chips. Replacement chips were very difficult to acquire since some online sellers are selling defective chips. I made my own CA3046 tester which tests the 5ea internal NPN transistors (with a selector switchbox and transistor tester) so I was able to assertain the good seller from the junk-peddler and bad chips from the good chips. The Rank Cintel ADS2 has literally hundreds of these CA3046 chips on numerous boards and all were weakened with heat and age and after I tested them one-by-one I was sure they needed to be replaced. I got a good price on the lot of 300ea replacement chips, and I was fortunate to have assembled a professional tester to screen these before the shipments arrived. One shipment - I returned - as they were all defective (all but 2 chips) and seller was trying to sell as brand new unused. The second seller had chips which on some chips had hfe gain which was excessive (300+hfe gain on a 110hfe gain specification part). The previous seller had Hfe gain which was way too low (40 hfe gain on a 110hfe gain specification part). My hunch is this chip was difficult to mfg and some mfg have discontinued it. I bought mine while there are some good ones left to buy. I observed first hand - discarded ones or rejects - from one unscrupulous seller 0 and there are more out there - some sellers put in their ad hfe gain of 40 as they know it is - tested - below specification. The high reject rate on the "good" shipment also led me to believe that I was fortunate to have 200 good chips out of 300. The lot price was great so I feel fortunate to have replacement chips now. It is my judgement call that the chips should have all 5ea transistors between 110 and 160 approximately to be considered new. I found that certain circuits inside the Rank Cintel ADS2 require a hfe gain of 68 to operate at a minimal level. Anything below this and the circuit does not operate. So sellers - selling parts with hfe gain of 40 is definitely a bad part. So after much testing and return - I have 200ea chips which are between 110 and 160 hfe gain and no leakage and I am confident that these parts will be just-right replacements and tested a-ok as brand new ICs. Regarding the 100ea which are way above specifications - those will go in my inventory - they may in fact be good too but I am playing it safe and installing the reasonable ones as it is common for new parts to be slightly above the ratings. I have never seen brand new parts be below specs or 2x or even 3x above specs. The extent of over spec or under spec is a big issue when acquireing CA3046 and LM3046 chips from online vendors. A phonecall to the mfg revealed they dont make anymore and they point the blame elsewhere on the vendors as they were discontinued over 13 years ago etc.

February, 11, 2014 I have made alot of a purchases for ADS and ADS2 from a helpful California seller and I feel that I am winding down to the last of the sales. The seller told me that he has no other parts for sale at this time - following my purchase of a spare 35mm/16mm gate/lens assembly. The few extra boards he has and power supply - he is leaning towards keeping for his own machine. I am glad to have purchased quite a few rare parts which fills in alot of things that were missing. At the present time my machine runs and rewinds and plays and everything - with the following hiccup - the video image has a very slight banding in which the digital image is imperfect. I have traced this issue to a few possibilities - it could be that my optical encoder disk is blemished which causes this or it could be that the MC6840P chip is bad as my IC tester says it is bad - but I have with-held buying a new chip as somehow I want a second opinion on that chip condition - I am looking for a second IC tester to verify that. I also have purchased 500 (yes 500) LM3046 ICs as I tested and found a great great great many of my ICs are weak. I have had a hard time finding replacements and feel lucky to have found 500 brand new ones - which I personally verified on my analog tester that these are good. I returned many bad chips purchased from dishonest sellers selling worn bad chips as new-unused. I can confrim that yes I do have 500 brand new chips which are in top condition - I will replace my bad ones. I feel fortunate that the MFG had forsight to socket all of their ICs. I feel that I have acquired the rare parts for my machine and smaller things like tha back panels - are standard items which I can acquire from everyday sellers as these covers are standard 19" rack plates etc.

Dr Virago Pete (847) 454-7858 between 11am and 7pm daily
Illinois, USA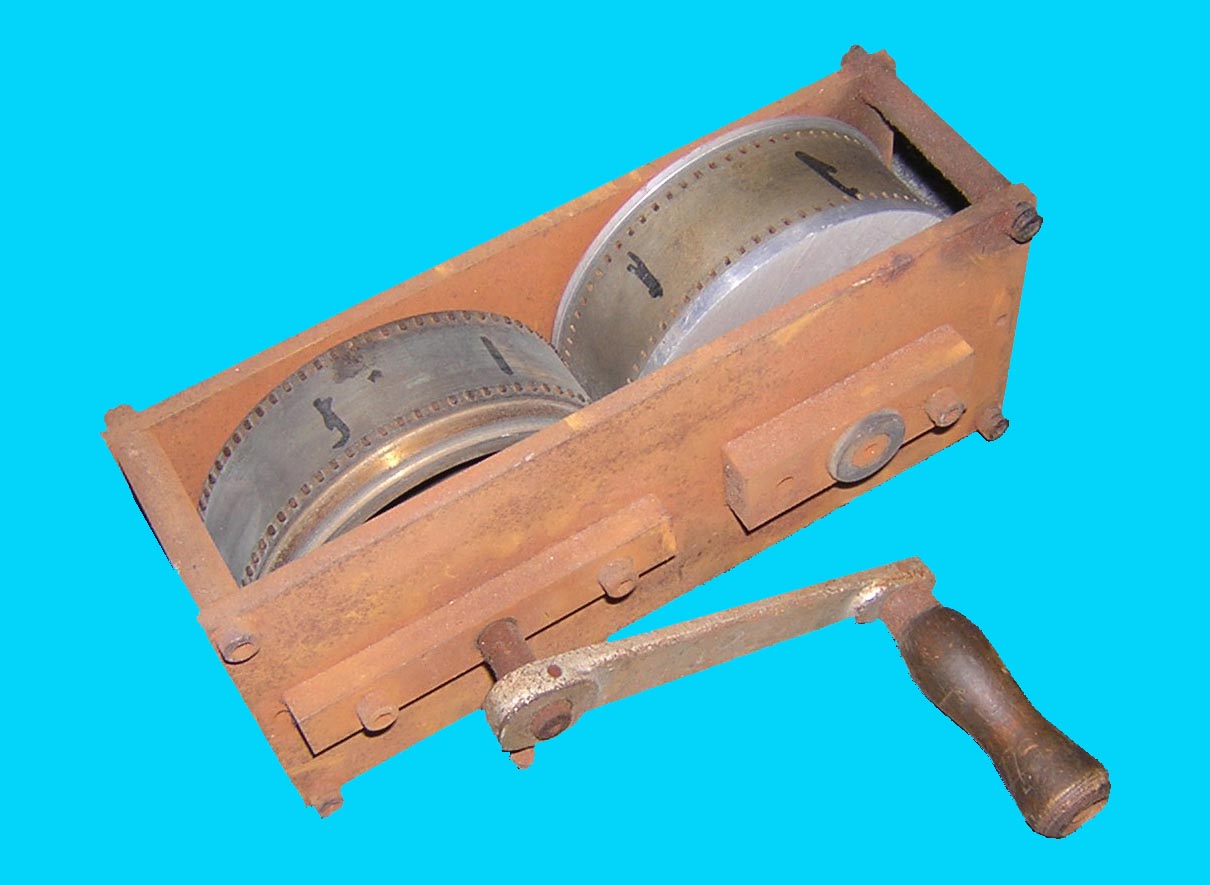 Wanted Film Perforation Machine
The picture is an unknown model brand machine and is possibly homemade and one of a kind. I am interested in purchasing a 35mm film perforation machine or die set or contraption. (picture shows a very rusty machine but is restorable- I dont own this machine - I am looking for one any model or brand or whatever you have which makes perforations in movie film stock)

Some designs use a up/down reciprocating punch, some use turning dies (see pic with blue background) some are of other designs. I wish to use 35mm unperforated 100ft rolls as a cost savings but at present do not have a way to perforate it- So I have not purchased any unperforated bulk rolls.
Also interested in 8mm and 16mm and Super8 punch/die/machine/contraption for slitting and or punching film from scratch.
Let me know what you have

Bell & Howell film punch machine in 1908, Newman Sinclair film perforation machine, World War II improvised film punch machine, homebrew punches and dies. Something else not mentioned that you may have gathering dust or rusting?
Also wanted film slitter for any film size.
Update 9/24/11 I came across a reference to a device called an "Eastman Sprocketer" which perforated film for use in a camera. I would like to find this machine.

Dr Virago Pete
(847) 454-7858
Illinois

I am also interested in purchasing a film slitter for 8mm, 16mm and 35mm let mw know what you have.
Update 2/2013

I am still looking for a film slitter and film perforator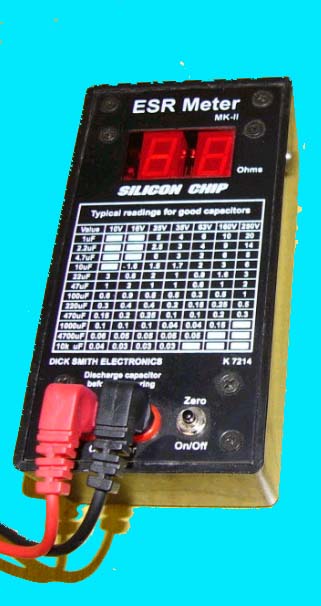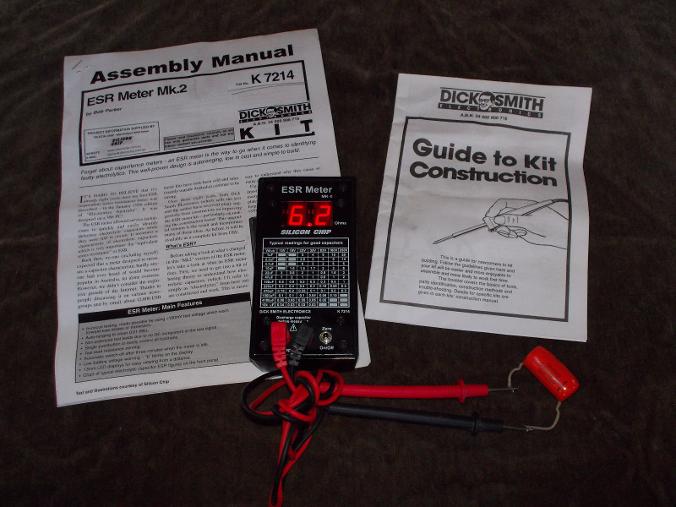 Wanted: Dick Smith Electronics ESR meter model MK II K 7214 or model MK-II K-7214 designed by Bob Parker
(I would also consider a MK I Kit K 7204 as it is very similar)

This is a capacitor checker tester which was sold in kit form by Dick Smith Electronics and is now discontinued. I would like to find a kit either built or unbuilt. My understanding is there was a Mark I Mark II and Mark III.

My preference is the Mark II as I have watched several very good videos on Youtube on TV repair (in which this meter is used in the troubleshooting process)

See the following link which contains demo of ESR meter Dick Smith Electronics MK-II K 7214

http://www.youtube.com/watch?v=VYSoDazI5tE
Another very good video from same author

http://www.youtube.com/watch?v=NFSFK_muSVs&feature=relmfu

I am not affiliated with the above links. I have watched several of the videos from this author and all are done very well. If you like retro electronics and devices- you'll like watching the authors many videos. I like vintage electronics and machines and find this sort of thing interesting. I'm handy with electronics and people come to me regularly to repair electronics for them.

(ESR means Equivalent Series Resistance)
This device will help me when I'm checking vintage electronics as faulty capacitors often test good on a standard capacitance meter. The ESR meter measures resistance within the cpacitor while in-circuit. This eliminates or reduces the need to desolder the part before checking it. The concept is that bad capacitors have a higher than normal resistance as the fluid inside dries up. It is normal for a good capacitor to have 0 ohm resistance or very very low resistance. I look forward to finding one and putting it to good use in electronics troubleshooting.

Also wanted back issues of these magazines which show construction of the MKI and MKII ESR meters (MK1 and MK2)

April 2004 Silicon Chip magazine (shows MKII plans and construction)
August 1998 Elestronics Australia magazine (Shows MKI plans and construction)

Dr Virago Pete

(847) 454-7858
drviragopete@att.net
Update 2/2013 I am still looking for a Dick Smith MKII ESR meter. I realize the newer version is the 'BLUE ESR Meter" sold on big-auction-site as a kit. But I would like to find the old one.
Update 2/2013

In 2012 I purchased the 'Capanalyzer model 88A" and it surpasses my expectations. It is an amazingly professional tool and I have repaired several LCD monitors and several other items which were not obviously bad - with it. The Capalyzer has a unique feature not found in any other ESR tester - it self-discharges the capacitor before testing. This prevents damage to the meter itself. Although I have this wonderful super great Capanalyzer 88A I am still looking for a Dick Smith MKII. I dont dont have any reason to look any futher as my Capanalyzer 88A is super great. But I still want to find this older ESR meter Dick Smith MKII.
Update 11/2015
I bid on a MKII K7214 (with paperwork instructions too) on big-auction-site but was outbid- you know how that goes... Im still looking for a Dick Smith ESR tester (see pic above which was from that auction)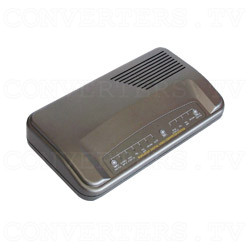 Universal International Video Standards Converter Box Wanted
The above pictures are

1. Com World CMD-1200 (PAL/NTSC/SECAM to PAL/NTSC/SECAM excellent quality video output - full automatic input signal sensing)

2. Emerson EVC-1600 (PAL/NTSC/SECAM to PAL/NTSC excellent quality video output - full automatic input signal sensing)
I have one of each of these worldwide international video signal format converters. I use them as part of my camcorder tape transfer business. I would like to acquire more of these so I can do more international tape transfers simultaneously to DVD. I get boxfuls of tapes for transfer and having some extra converters would be helpful.
Both have TBC built-in and fine full detail picture quality- both much better than other units in my opinion. The better of the two is Com World due to outputs in any format including Secam. Otherwise they both have identical same video output details and resolution.
The boxes I already have allow me to convert any camcorder videotape from any country to any format of DVD. (VHS, VHS-C, MiniDV, 8mm/Hi8/Digital8, MicroDV, Betacam, and many more as I have quite a few worldwide multi-standard video players)

NTSC 3.58 or 4.43 (USA, Canada, Mexico and Japan)
PAL (For PAL B/G, D/K, I - Secam D/K, B/G, K1 Countries)
Pal M or Pal N (for Argentina, Brazil and other parts of South America)

Secam (Input only for Emerson EVC-1600) (Input/Output for Com World CMD-1200)



Dr Virago Pete (847) 454-7858 Illinois, USA
drviragopete@att.net
Update 2/2013 I am still looking for Emerson Pal/NTSC converter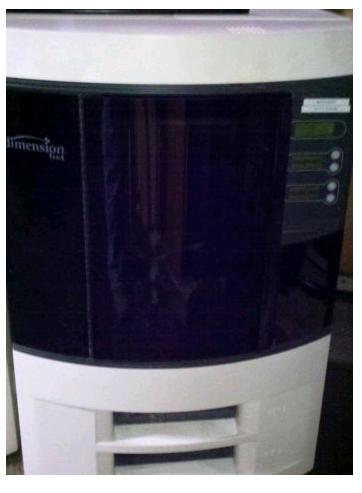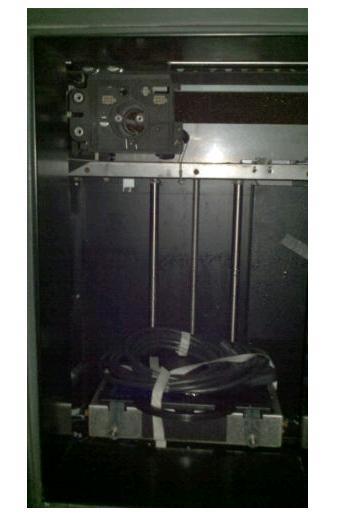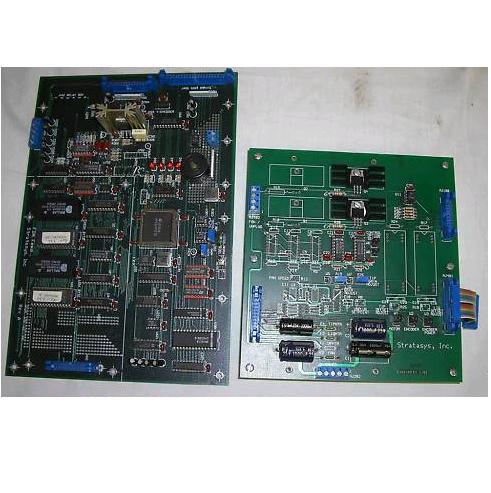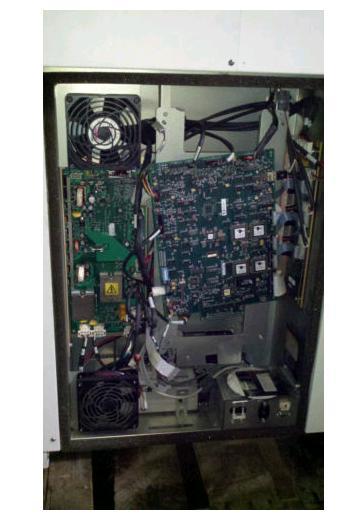 The above pictures show a Stratasys Dimension SHDM1000 machine stripped for the printhead and circuitboard in order to receive a discount from Stratasys on a more current model. This renders the machine useless to a future buyer of this machine. This is not my machine- I am looking to buy a machine and parts and spare parts- any model considered.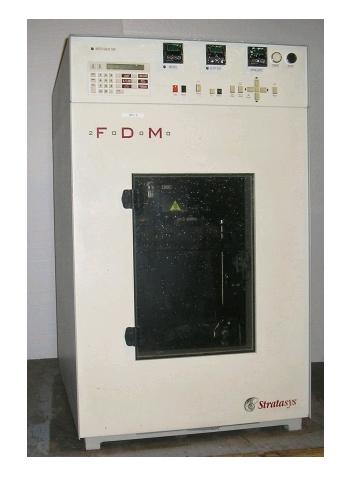 Stratasys FDM 2000 model SH200001 is shown above.The outer appearance of the model 2000 and model 3000 is very similar.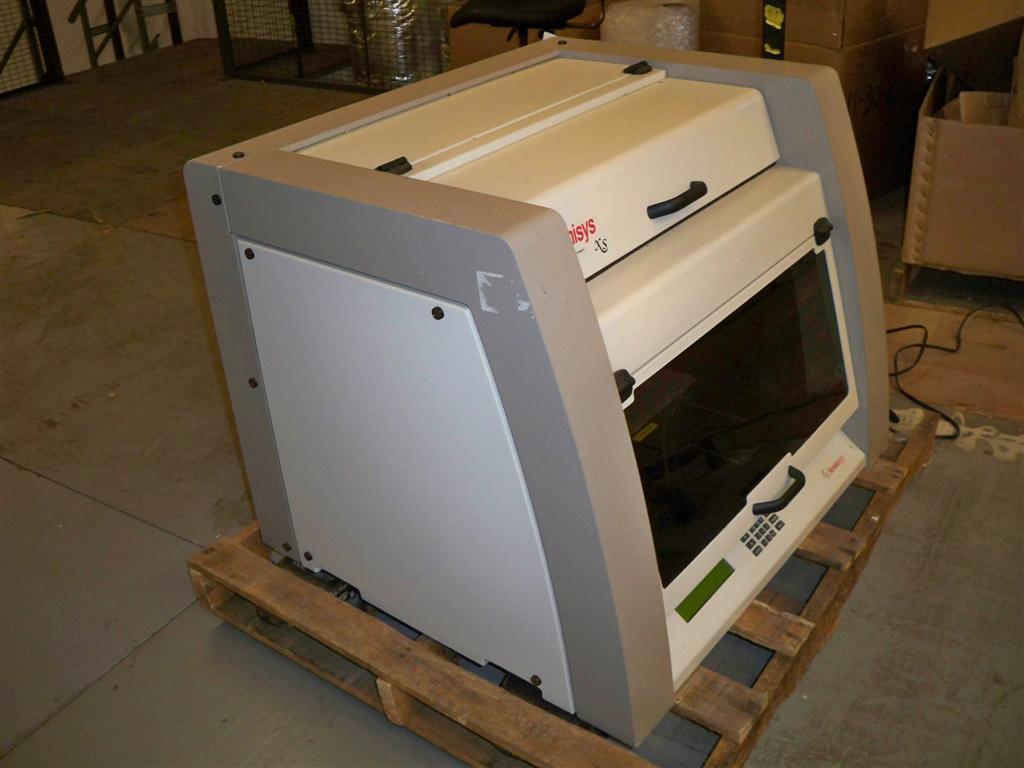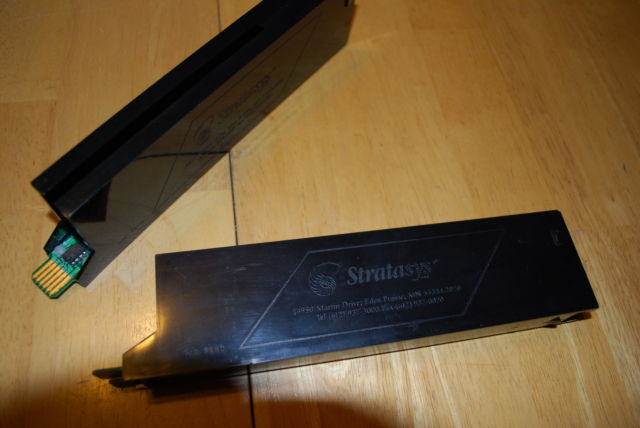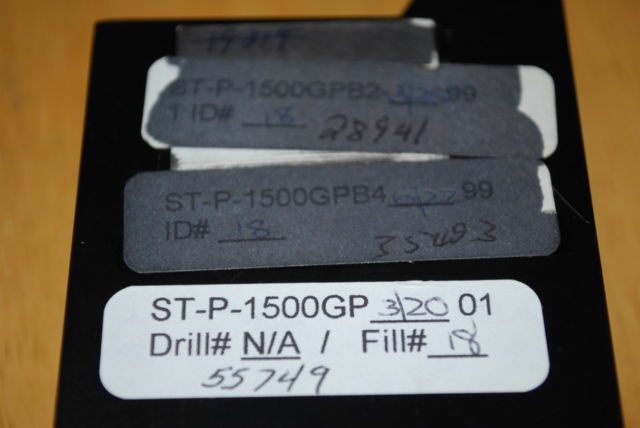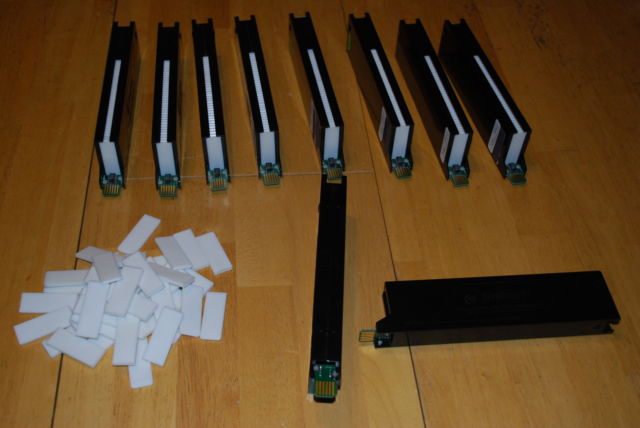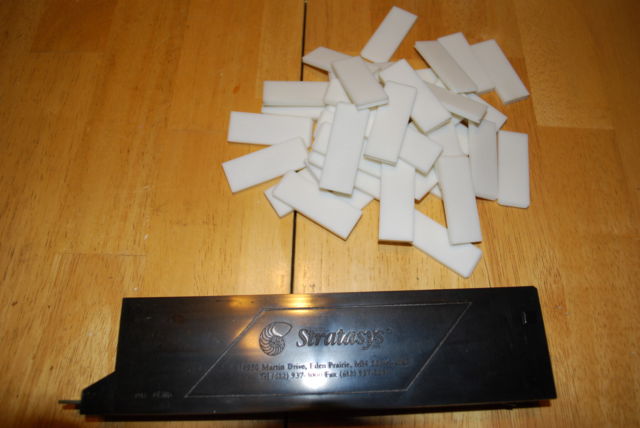 Here's a few more pictures of the wafers I purchased this week 3/2012 and still looking for more wafers and cartridges - let me know if you have some in your storage. Don't throw them out I will gladly buy them from you. These photos ahow 2 full boxes I have - the sealed in pink bubblewrap cartridges have a black soft styrofoam piece in the backside. This black foam reminds me of camera foam but a little harder - almost like humidifier filter foam but not quite as hard. It is a packing material I think- so really the foam would get discarded by the user. The cartridges that I received wrapped in brown paper didn't have this black foam insert. Instead a pink styrofoam packing material "popcorn" is inserted there. See my picture as it shows this pink popcorn. The brown paper, the "popcorn" and the stickers with dates- makes me think these were refilled. The pink bubblewrap sealed ones- those I believe are new old stock NOS and never used or opened. It was a good find - I need more wafers and cartridges.
I missed a deal this week too as I was communicating with a seller for a Genisys printhead and circuitboards and hard drive etc- which he then posted on big-auction-site and someone else swiped my sale within hours of posting and before I received the email from seller. Seller lost out because that auction site and related moneypayment site get 50% from the seller. I was going to buy direct- the half twist in the story was - posting it as an auction. So I lost out and the unknown buyer will probably use the printhead for a DIY 3d printer and discard all of the powersupply boards, circuitboards, etc I was asking the seller for. (Maybe the buyer will put it to good use to fix up a blown/bad Genisys) So it will probably be lost due to that half twist. Unfortunate. On the bright side- I found nearly 2 full sets of wafers. Machines show up on big-auction-site maybe 2-3 times per year (usually without any wafers)- but as full machines and what I was hoping to find is

1. complete machine (truck shipping cost)

2. replacement parts like powersupply, heating elements, printhead etc (normal carrier can transport these)
The seller told me that he didn't have the heated platform that was sold sometime earlier when the machine was first parted out. My hunch is that buyer's heated platform burned out and needed replacement- and was one of my list of things I asked that seller for. With all of the other parts avail to that 1st buyer- that first buyer only bought the heated platform. It is not pictured below as this is what the seller had leftover. I did the footwork to find these and someone else bought it- bad news for me.
The boxes of wafers & catridges etc that I have now (but need more) are p1500 but as I read in a Genisys User's Guide PDF file which was downloadble online - I see the cartridge material is P1000. I would like to find either type of wafers or cartridges P1000 or P1500. Maybe something else was available that Iam not aware of- if you see anything in your inventory - let me know even if the part number is different.
Update June 17, 2012 I have purchased 1 more full cartridge for Genisys XS and included is one empty cartridge. The seller is looking to see if he still has any of the books or documentation or software or anything else from a machine he had a long time ago. This was overlooked when he sold the machine to someone else years ago.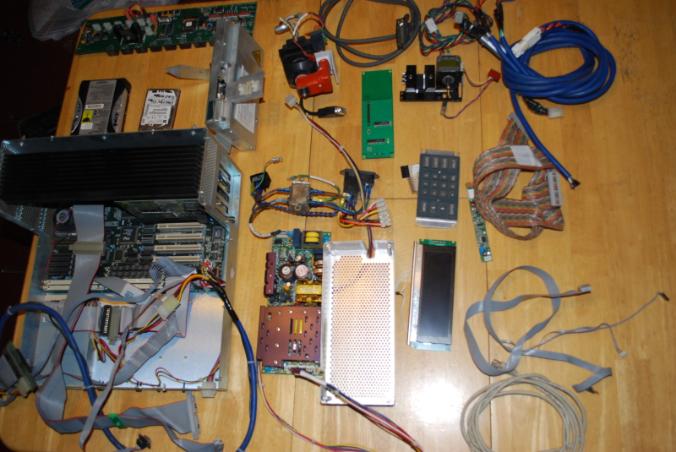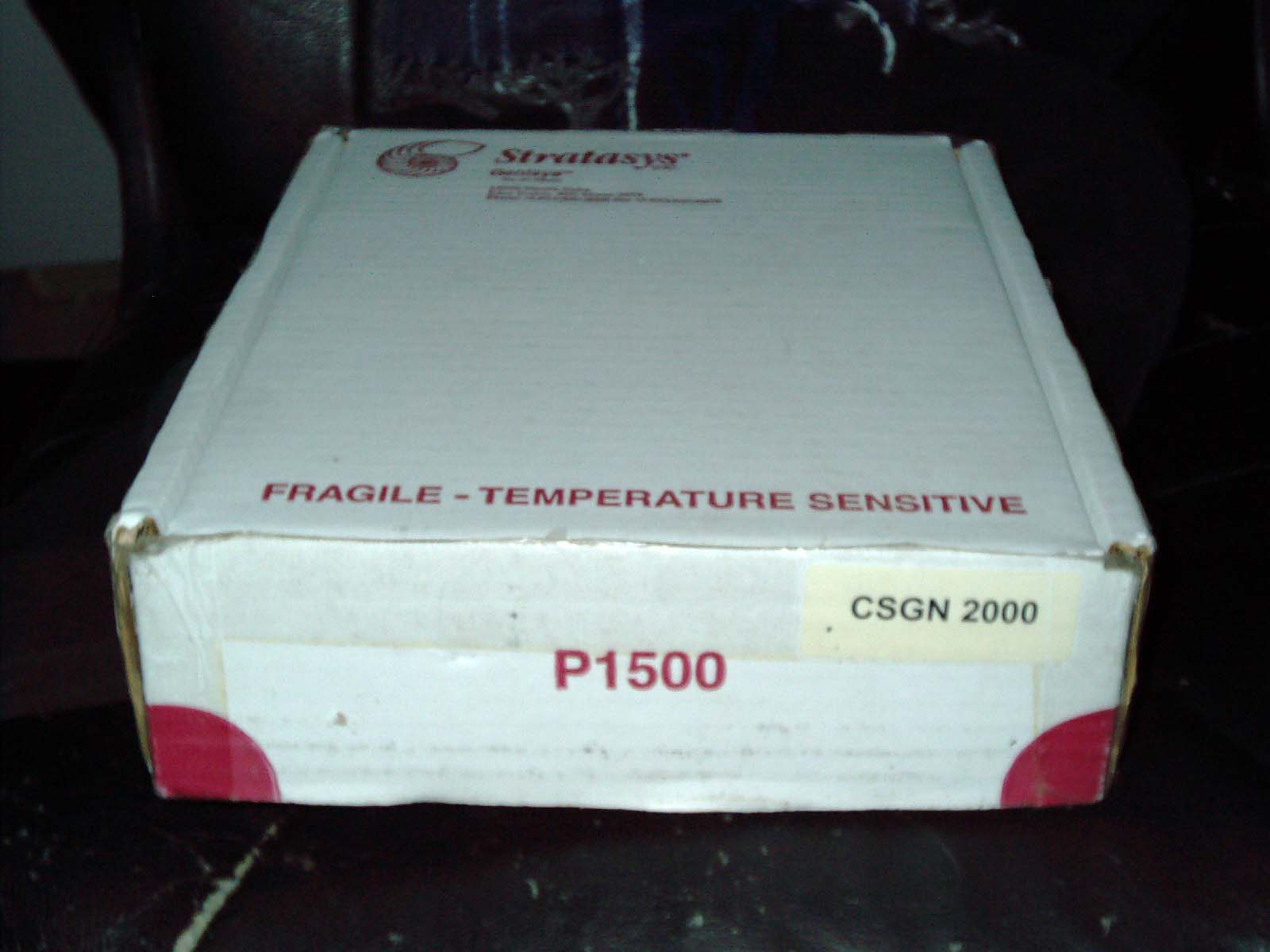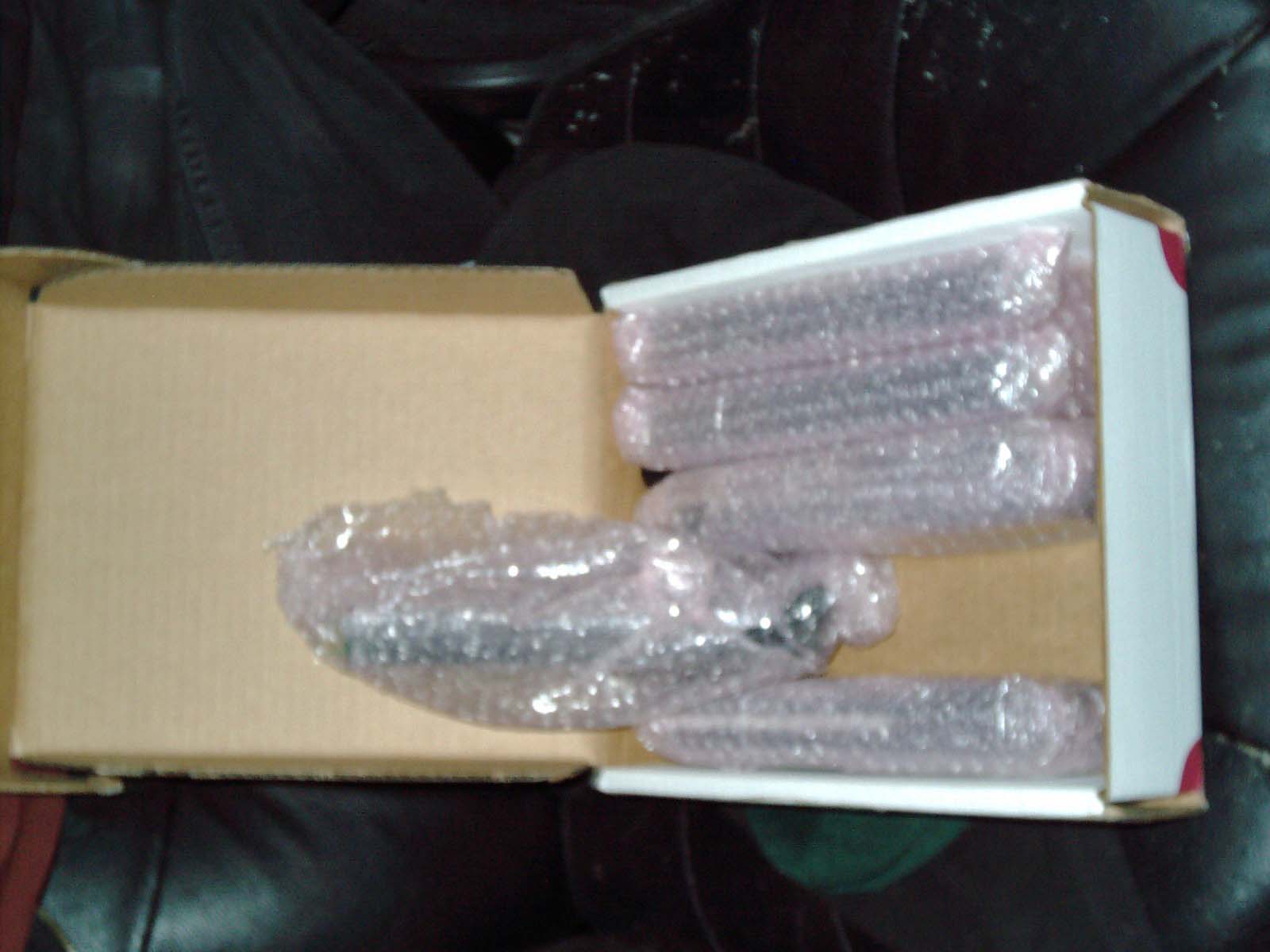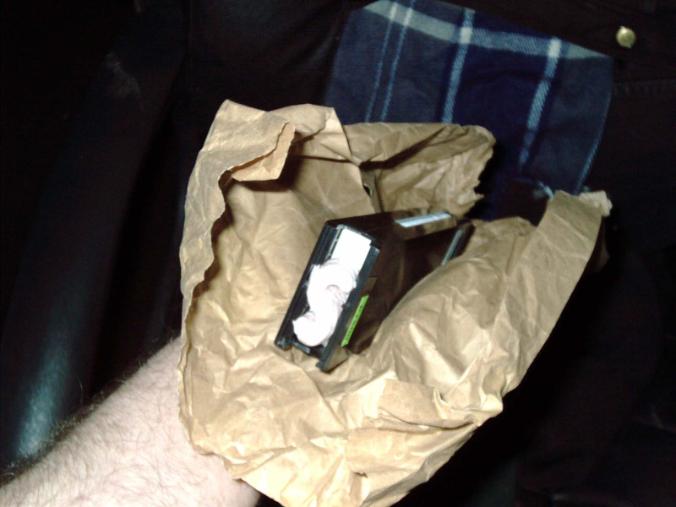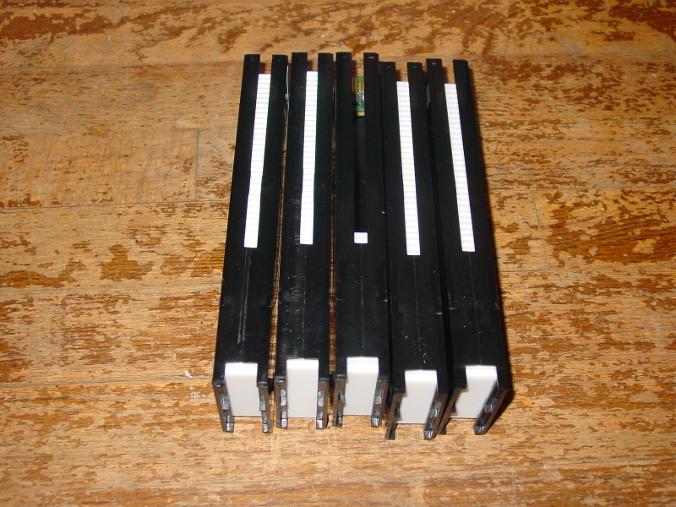 Stratasys Genisys XS pictured above (top picture). There were some units called Genisys also which looked similar in style . The thin flat stacked "wafers" of "durable polyester" plastic or other plastic in the loading magazine (material was loaded by opening the area at the top handle cover which I believe flips up). I wonder if someone has some of this material in their inventory?
Update 2/13/2013
I am updating the above paragraph to say I bought a few full cartridges on big-auction-site (P-1500 or P1500 material) and bought a few more from the same seller giving me a total of approx 19 full cartridges. I am looking for more cartridges and or loose wafers (I have a couple empty cartrides also). I have added the above photos to show what these cartridges look like for use on Genisys or Genisys XS 3D printer. By the stickers on some cartridges it looks like these were refilled. The white plastic pieces are called wafers and a stack of 50 wafers are in each cartridge. These wafers are the build material. The manufacturer's literature calls this wafer material polyester. on each wafer - there is a triangle groove on one end and a triangle opposite on the other end. Like this <====< I sometimes buy things backwards - I found the build material so now I need to buy the machine that will work with it. Otherwise I would get some machine and not be able to find the build material for it - that would do me no good. I see Genisys machines for sale on big-auction-site about 3 times per year. Let me know if you have a Genisys or Genisys XS for sale. I am also thinking about whether this material can be obtained in sheet form and cut on my laser engraver and then the triangle ends routed. I have read that Stratasys had problems in the first batch of machines of Genisys and 1st sets of wafers produced would bind and clog the printhead etc (I see injection molding flash- on some wafers I inspected- I plan on shaving these very veryvery minor bump were the injection molding gate was- with a razor blade before use so wafer doesn't get stuck). I'm wondering if my wafers are the bad ones or the updated good ones which were reformulated to solve these issues. Some articles state that early wafers were produced on injection molder equipment and there was some residual other plastics still inside the injection molding machine and that was a contributing factor to early wafers causing problems. Hopefully my wafers are clean and 100% polyester and not contaminated with other plastics mixed in. See attempting to make ones own wafers may just clog the printhead. I hope to find some more original wafers to buy. Some of the wafers I bought were inside a catrridge and looked factory original - wrapped in pink bubblewrap. Some were wrapped in brown paper wrapping- both of those looked original. I also have about 100 wafers just loose - I'm not sure what the story is there and why those are not inside of a cartridge- maybe they were sold loose and the end user inserted into the empty cartridge? There is a chip which tells the machine the type of plastic and the temperature etc- I wonder if this chip prevents refilling - as many modern printers have a chip which prevents refilling empty cartridges. Can someone write with their recollection of refilling or getting refills for Genisys cartridges? drviragopete@att.net

I also found someone selling a used tested good circuitboard for FDM2000 and price is ok (I did not purchase that circuitboard). I would also consider buying a FDM2000 which is needs a circuit board if it is a good value. (Update 2/2013 - the seller saw my interest in this FDM2000 circuitboard and daughterboard and after I paid for this circuit board - refunded my money and said he can't sell it to me for that price but offered to sell it to me for a few hundred more- than originally discussed by phone. I have not resent any money at this time.)

I have found some online references to build quality regarding Genisys and has a print nozzle of just under 4mm and layer thickness of .013" approx and my interpretation is - should be about the same layer thickness as DIY open source reprap type 3d printers. Professional machines have a layer thickness of half that or better. What I'm betting on is the back/forth/up/down/XYZ movement of the Genisys and Genisys XS is profesional and accurate. But the same layer thickness as the DIY reprap type machines. Therefore giving straight walls and less misaligned/ ragedy layers. This is a hunch only as I have only seen photo so Genisys output - none of these pictures were crystal clear. I have read that the Genisys and Genisys XS had alot of "stairstepping" in its' printed parts. This was criticised alot online and in articles. I would imagine by the specs that it is the same as RepRap type machines which are being heralded as wonderful by many people here about 12 years later.

The use of 4mm nozzles on Reprap type machines are considered very very fine and many people have used these reprap machines with bigger nozzles and 4mm is considered a modern upgrade for them. Slightly less than 4mm was available standard on the Genisys series 12 years ago and got badmouthed in articles a decade ago etc about stairstepping and roughness. My opinion and my point is the article writers were overcritical and and destroyed a decent 1st generation 3d printer machine's reputation. I choose to search for a good used professional/semi-professional machine from a decade ago to restore/repair if needed as it seems to me to be a better investment than DIY type machines.

Youtube.com video showing Genisys printing search for "Genesys 3d printer working on a part" notice the mis-spelling- I am not affiliated with that video. It is the only video I can find of this machine running. The build material is not attached well to the heated platen in this video- from what I see and is a glob. The description states that it is building a wrench.
Update 10/20/13 My cat used the Stratasys P1500 box as a scratching post so the box is mangled. I put it away so no further damage will result. The cartridges are fine but only the box is damaged now. It is amazing how ripped the box got from enthusiastic cat claws in just one day. My P1500 box is safely in a closet away from cat claws. The damage is only to the box and the cartridges are fine - not a scratch on them - so to speak.

Update 11/25/13 I was emailed by someone who wants to sell me his printhead and electronics boards as he plans on stripping down his Stratasys Genisys XS. I am trying to acquire the whole fixer-upper machine if possible. That would be a waste of a Stratasys Genisys XS. It is in discussion and hopefully the price is not skyhigh.

Here are a couple of youtube videos which was posted by someone else

The above video show a Stratasys Genisys printing sample parts. I dont know if these are showing a Genisys or Genisys XS as the machines are so similar I cant tell which.
Update 8/18/2014
In my Youtube.com search for "Stratasys Genisys" I noticed a new video which someone uploaded. It is a video I am not affiliated with. The video explains "concept modeling" and concept modeler" and contains video segments showing a Statasys Genisys or Genisis XS 3D printer running. It also shows print samples made on this 3d printer. I estimate this video was made in the early 2000s and to the best of my knowledge it is the clearest most detailed video I have ever seen of this printer and its end results and also shows software. It is not my video and I have no affiliation to it. I am still looking for parts and a 3d printer and wafer cartridges to purchase. I do not own a Stratasys Genisys or Genisys XS at this time. I would like to find this machine in any condition and parts and supplies complete or incomplete.

Wanted Printhead and CPU board for Stratasys Dimension SHDM-1000 or BST-768 or Genisys or Prodigy or 2000 or 3000 or other model.
Parts Wanted:

I would like to find a spare printhead and a spare CPU board as there are many machines disabled through this "upgrading process" I would consider buying a used printhead in working or non-working condition.
Stratasys 3d Printer Wanted

I would like to find a machine for sale whether it is stripped of these parts or not. If you have a different Stratasys machine for sale let me know as I have no 3d printer at this time. Sometimes I buy things backwards - finding a set of printheads before buying a stripped machine is a backwards approach. If you have software or parts or materials for sale for these machines let me know.
Dimension BST 768 .......................................(variations BST768 BST-768)

Dimension 1200 ....(Variations BST1200 BST-1200 BST1200es BST-1200es SST Elite)

Dimension SHDM 200001 .......................(Variations SHDM20001 SHDM-20001)

FDM 2000 ..............................................(Variations FDM-2000 FDM2000)

FDM 3000 ..............................................(Variations FDM-3000 FDM3000)

Genisys .........................(Variations Genisis Genesis XS or other model)

Prodigy ........................................................(Variation Prodigy plus)
others

Wanted

Print head, circuit boards, build material, cartridge, dongle, wafer, plastic, abs, or other consumable items, or whole machine or stripped machine, etc. Any condition.

Dr Virago Pete (847) 454-7858
Illinois, USA
Update 2/2013 I was contacted by a man who bought a Stratasys Genisys on big-auction site and plans on converting the wafer chip mechanism to use spools of plastic. I dont know if he made good on his plans. He was originally contacting me if I kne of a source for wafers. he said if he couldnt find wafers that he would make his own mold for the wafers. I dont know if he made good on his plans.
Update 2/2013 I was contacted by a man who is willing to sell me his 4-1/2 cartridges if he doesnt sell his machine for his asking price on big-auction-site. As of this writing he said he turned down an offer as the person offering - had not come close to his asking price. The printer which includes cartridges is still up for sale by that seller but his total asking price is too high. I hope he will sell me his 4-1/2 wafer catridges to me. (Update 3/8/13 yes I have acquired these 4 full cartridges and one almost empty cartridge with 9 wafers in it - I added the photo to the above - the partial cartridge looks like it is half full - but when you top-off the rest - really it is 4 cartridges plus an extra 9 wafer chips - so when I bought it I asked for a count on the number of wafer chips in each cartridge - so that I knew exactly what I was getting) An interesting thing about one of the wafer chips is that it is snapped in half (a previous owner did that). The break is very clean and has a slight curve to it. The break is shiny and the 2 halves are not bent or curved. This tells me that the wafer chip material is made of a very very hard and brittle plastic. Also this seller sold me his wafer cartridges but is trying to sell his machine separately. He said that the machine has a full PC computer inside (hard drive, disk dive etc) which you can attach a monitor and keyboard to. He says the Stratasys XS has the software built-in and by hooking up the keyboard and monitor - then you can run the machine. His machine says "calibration needed" on the LCD display which he didnt know how to solve. I have never seen a Stratasys Genisys XS or Genisys in real life so I dont know what to expect. I am acquiring the wafer chips as I know someday I will find a good deal on a working machine. I often buy things backwards - for example buying the wafer chips/build material before acquiring the machine itself.

Update 4/3/13 I contacted the seller who sold me my most recent purchase of wafers and cartridges - and asked if he still had the heated build platform and other misc parts. He said that he has completely parted out his machine and there was nothing remaining - not even the case was left. It is unfortunate that the machine was destroyed like that. I'm glad to have the print-media cartridges. I'm sure other people were glad to obtain the printhead and other parts. It was done to a working machine - which was unfortunate as these machines were sold for a few years and I read that the first year the mfg sold 150 units - so as a guestimate 500 were made? How many machines survive 10-15 years later - probably not too many.

Update 2/11/14 I have purchased from Canada seller an original CDROM disk for Stratasys Genisys version 3 and also a few diskettes. One of the diskettes is for hard drive backup and also one CD-R disk containing a hard drive backup. I have tested most of the diskettes and cds and I see that it is readable. I see no scratches or blemished areas on this software. The same seller sold a metal handle spatula with a rigid phenolic scraper tip. My understanding is this spatula is used to detach the 3d printed object from the Stratasys Genisys build plate. I'm glad to have purchased these rare items. I am looking for the 3d printer itself (I dont have a 3d Genisys or Genisys XS yet) and wafers and cartridges and parts and extra pieces. I usually buy things backwards - finding the hard-to-find parts and wafers first. let me know what you have for sale regarding the Stratasys Genisys or Genisys XS 3d printer.

(I am still looking for more wafers and cartridges and a Genisys or Genisys XS machine.)
Update 9/3/16
I purchased 7ea full Stratasys Genisys p1500 cartridges and 1ea half full cartridge from big-auction site. I also purchased approx 20ea empty cartridges for a few bucks more from the same seller. He also included the original 3-ring binder Genisys XS operating manual which shows installation of cartridges, and use of software on Windows NT and Unix.

The same seller told me he was converting a Genisys XS to be a reprap and I tried to buy this machine (which has a homing error on one axis but otherwise worked) but he refused to sell to me. He has suggested that he may be willing to sell me the parts leftover from his conversion. Its too bad this machine will be destroyed- I would have loved to own it and repair it back to original.
(I am still looking for more wafers and cartridges and a Genisys or Genisys XS machine.)
Update 9/6/16

I received 7full cartridges and 1half-full cartridge plus 20 empty cartridges ( p1500 ) for Stratasys Genisys or Genisys XS from a big-auction-site seller. He was selling his whole machine for about 2 months unsuccesfully and decided to gut it and make into a reprap. I tried to convince him not to destroy the machine but he did anyways. I purchased 3/4 of his leftover parts and hes still debating whether to sell me his power supply and a few more parts. His machine had a homing error on one of the axis and he decided to gut it. He said he checked the reed switch and wire and was fine for continuity. So one of the PCBs I bought today may have a bad component on it. He said otherwise with machine powered up and all other functions worked. But without one axis home - the machine was out-of-order.

So far I have approx 3 full tanks of cartridges and some spare parts including a printhead, cartridge feeder, several PCB, LCD and keypad, Complete internal computer, misc screws/brackets/wires, etc the 3-ring binder instruction manual, spatula. I dont yet have a power supply and seller is considering whether to sell it to me or keep it.

Im missing the actual machine and as many spare parts and cartridges as I can buy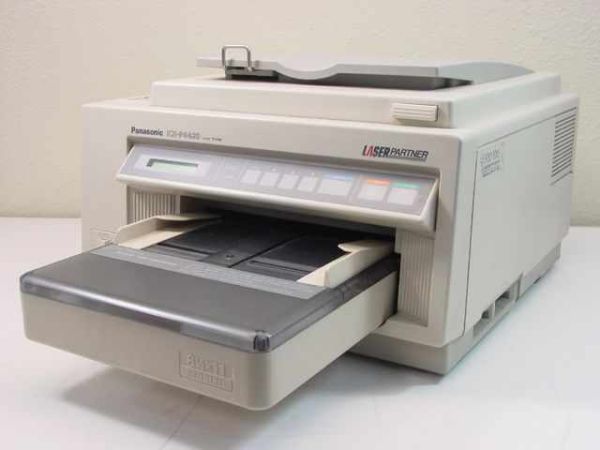 Wanted Panasonic KX-P4420 Laser Partner B&W Laser Printer
I used to have one and gave it away. I wish I had not done that as I loved that old printer. It had 300dpi, Laserjet II emulation, Epson MX-80 emulation, parallel port, 8 pages per minute. Compatible with Windows 98 and below, compatible with DOS.

I would like to find a KX-P4420 in any condition. Parts pieces, memory board, etc working or not. (Or sister printer Roland DG LP800 which I have never seen but I read uses the same consumables so it may be a rebadged sister printer ??? - I would like to find either the Roland or Panasonic)

I have the technical ability to fix it.
I have the manual and the service manual for this Panasonic printer. I don't see any hits online for this printer- I think there may only be a handful left in the world. The rest are in the landfill. That's probably where my old printer is- I should have kept it and fixed it. It was a real gem at a time when most printers were 9-pin dot matrix and 24pin dot matrix. (BTW I offer a dot matrix ribbon cartridge re-inking service)
I see some incorrect reference to this model number online. The correct model is KX-P4420. Sometimes I see it written as KXP4420 or KXP-4420

Dr Virago Pete (847) 454-7858
drviragopete@att.net

Illinois, USA
Update 2/2013 I am still searching for this printer and have replied to several messages in websites that deal with forums for repairs of electronics. I'm hoping to find someone willing to sell their printer in dead or alive condition.

Update 4/24/13 I have purchased a KX-P4420 laser printer - it originally was listed on Craigslist in Oklahoma (I initiated contact for it and searched online for 4 years in all kinds of auction sites and more) and the seller listed it on big-auction-site and contacted me to purchase it. I have quite a bit of cleaning to do as it has what looks like a very hard to remove tar-like film over the whole outside and possibly the inside too. I spent a few hours today cleaning most of it on the outside surfaces with "green cleaner". The inside of the unit is just full full full full of spilled toner which is just beyond words. The toner pickup bottle was probably full and when the box was shipped it spilled all over inside and outside the printer so there was just an incredible amount of tonor to clean up. Right now the outside looks like brand new and will take alot more hours to clean the inside too. The seller said it works and I have not tried it. I am glad to have it in any condition. Also it came with three feed trays (8.5x14, 8.5x11, and envelope) and unknown amount of memory. I feel fortunate the outside was covered with dark brown - possibly tobacco tar or something else. Usually plastic yellows with exposure to sunlight/age but the brown coating over everything - once removed- revealed a brand new looking printer with no plastic discoloration at all.

Update 4/27 I finished cleaning it up both inside and out. It does not power up at all, and I changed one rear big belt which had turned to goo. I need to go through it piece by piece and check electronic components. The seller was not honest at all but I'm still glad to have it and left positive feedback - as I have looked for one for 4 years. I'm in exactly the same boat as I was in when I gave away my original one - sitting on the same shelf with a machine that does not power up.


Update 6/2013 I found an old ad from 2011 while searching online and I called the phone number on it to find that she "put it out for recycling" and that machine is no longer in existence. I'm not sure why search engines sometimes resurface old ads - I dont know why it didnt come up before - on search engines as I didnt find that ad until now. I didnt see this ad in 2011 unfortunately.
Update 2/11/14 I have purchased a non-working Panasonic KXP4420 laser printer from big-auction site and the seller was kind in honoring my request to pack the paper tray in a separate box from the main printer- as I was worried that the paper tray would get crush by the weight of the heavy printer. I paid a few dollars extra for this extra shipping and arrived fine (Have not opened the big box yet) Strangely the packages were sent by Fed Ex yet the tracking number shows that it was transistioned to a delivery by the US Post Office. The paper tray came right away within a day or 2 after I paif for it - I was amazed at the speed of delivery. The big box took awhile to arrive and arrived after about a week. I can tell these boxes wre shipped siumultaneously because they were marked 1of 2 and 2 of 2 but arrived separately.
I would like to find one more KX-P4420 printer or parts and pieces in any condition. Working or not.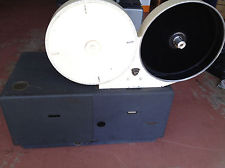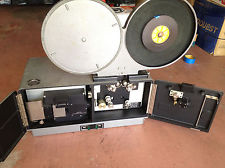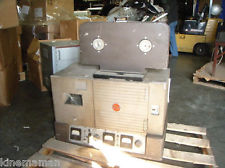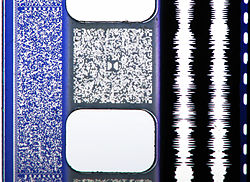 Wanted 16mm or 35mm Optical Sound Recorder
(Sometimes these are referred to as a sound recording camera)
The above 2ea top-most pictured items are made by Westrex and some models handle 16mm and some handle 35mm film. The 3rd photo above shows a 1940s RCA PR-31 missing quite a few parts and in rough shape. I do not own any 16mm/35mm optical sound recorder and would like to find one in any condition.

These sound recorders make the analog or digital sound stripe (as seen on the 4th photo) I would be pleased to have a machine that can do this whether vintage or newer ( mono or stereo or digital - any would be fine). The transition to digital cinemas/movie theaters means that these are no longer required by hollywood studios to put sound on film - as film will soon no longer be projected in movie theaters.
Sometimes the vintage recording equipment is referred to as a sound recording valve. Even a vacuum tube machine would be appreciated.

Dr Virago Pete

(847) 454-7858
email address drviragopete@att.net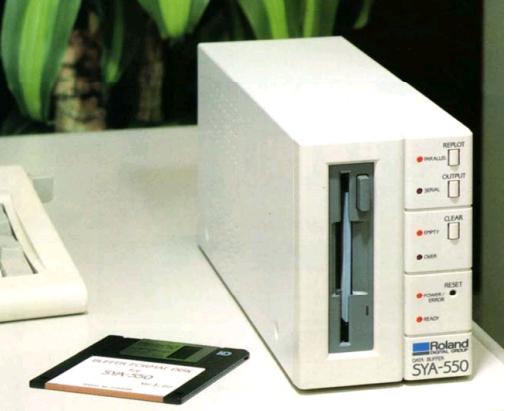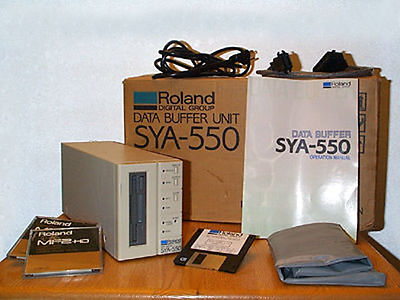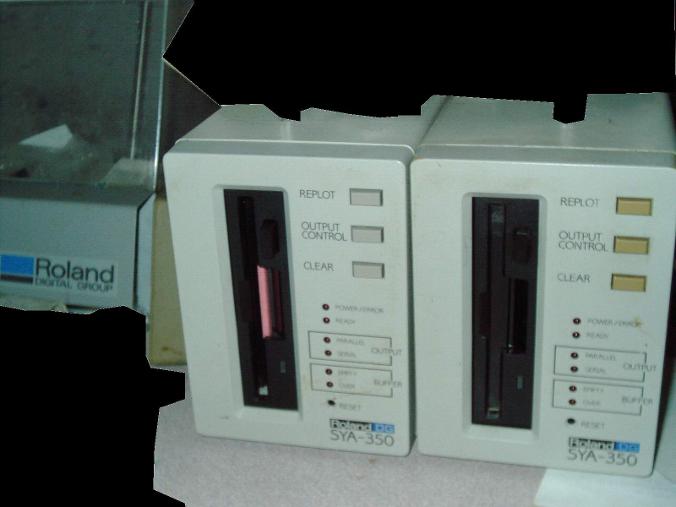 Wanted RolandDG SYA-550 or SYA-350 Buffer
The photo above shows a SYA-550 buffer which has a 1.2 megabyte capacity
The model SYA350 has approx a .6 megabyte capacity (not pictured but looks similar).
The purpose is a print spooler (has both serial & parallel) and these were used with Roland DG Plotters and Vinyl Cutters and CNC CAMM units typically. It basically records whatever your computer sends to the output machine onto diskette. Once you have saved the file on diskette - you really don't need the computer anymore - the machine can be run from the diskette - like a player piano. But most output devices are USB nowadays and very few things run on the serial or parallel port. These Roland buffers were serial and parallel but not usb.

I own 4ea SYA-350 units and they work excellent for running a machine standalone - style. I insert a diskette which contains the data file I want to print. These machines use a special cable with an odd connector. I would like to buy an extra unit with or without cables - or if you have just the cables I can use that too. These were good machines but hardly anyone uses floppy diskettes anymore. I still use my SYA-350 units and glad to have them.

I am seeking
1. SYA-550
2. SYA-350
3. Odd-connector Cables for it

I bought all of my units from big-auction-site; But, I have not seen any used ones for sale for a few years and thought I would post a wanted page. I can use 1 or 2 units more.
Update 4/2014
I have purchased 1ea SYA550 Data Buffer (see picture above) from big-auction-site and was complete wth manual, diskettes, cover. The data cable was missing but is the same as my other units. A long time ago I purchased the 2ea strange end connectors so as I have time I will make my own data cable using those 2ea connectors- using my existing cables as a guide. The SYA550 can store more data on a diskette than SYA350 - otherwise they are very similar in apearance and function.
I have added a photo showing 2 of my SYA-350 units - I blanked out some of my working clutter and current prototyping projects. One of my data buffers is connected to a Roland Modela MDX-3 (I replaced the worn out motor - if you need that contact me) which I am using to carve out type2 dark grey PVC sheet. Some of my units have developed yellowing plastic on the buttons. All of my units still work just fine. The diskettes are readable on a PC and I can save the data itself and move/truncate/combine/modify data betwen disks using a PC. Very handy devices. Not too many people use diskettes anymore- they work just fine.

I am still looking to buy SYA-350 or SYA-550 units. I would like to have more of these.

Dr Virago Pete

(847) 454-7858
drviragopete@att.net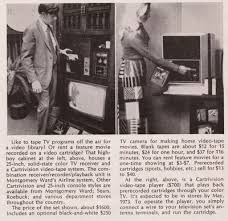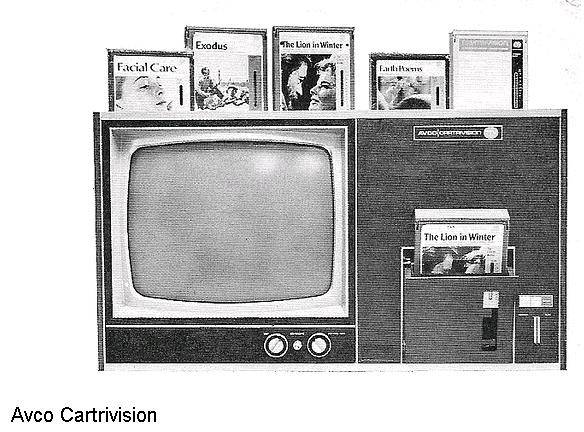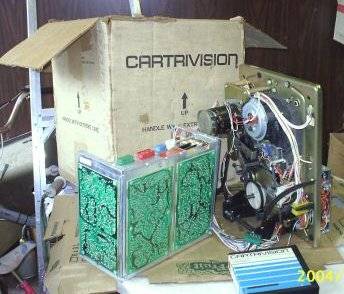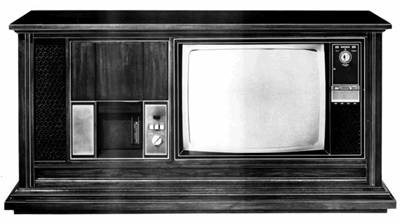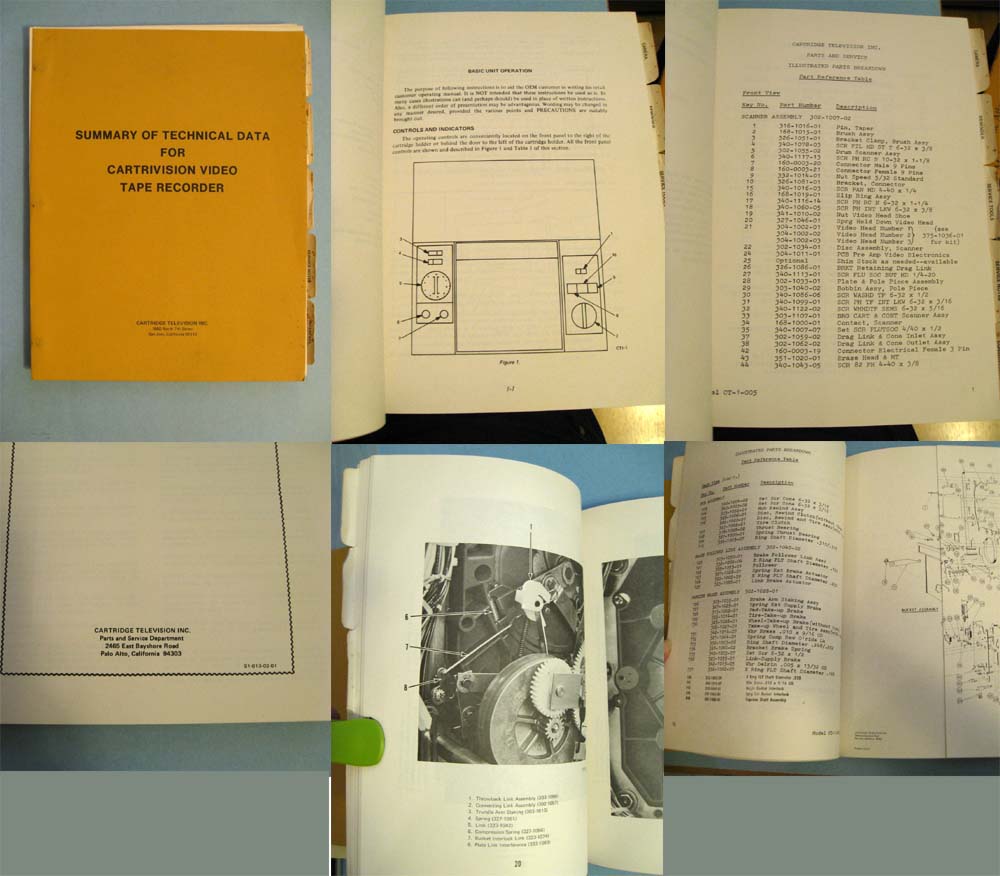 I acquired this technical Summary Manual on big-auction-site (actual photos from the ad I bought it from) 1/2014 and shows parts lists and exploded view diagrams and adjustments. Approx 3/4" thick manual. I am still looking for a Cartrivision machine to purchase

The above photos show a vintage cartrivision Video recorder (left) or video player (right) which connects to the user's TV set.
Wanted Cartrivision recorder or player
Some Cartrivsion machines came with a wooden case and some came with a plastic case. They were sold under various brands such as Sears, Montgomer Wards and Avco and other brands. Some were even sold as a kit - without any case (sold in back of magazines in the ad section). Some Cartrivision video recorders were included inside of large consol color TV sets.
Here are a few youtube videos showing Cartrivision. I am not affiliated with these videos.
Let me know if you have a Cartrivision video player or recorder or VCR.
I will consider any condition or model Cartrivision machine.

Dr Virago Pete

(847) 454-7858
drviragopete@att.net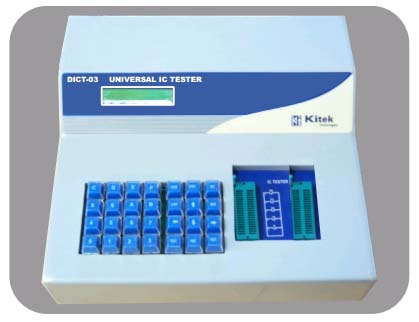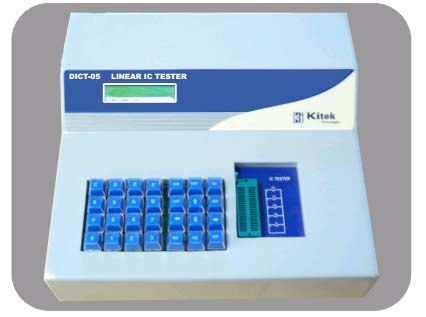 Wanted IC Tester ( Linear or Universal IC Tester Wanted )


I am rebuilding complex electronic equipment and need to find a very capable IC tester.

I wonder if a reader has a used IC tester for sale? Any information appreciated.

I need one tester to test analog/linear chips. The best price I was quoted for a new IC tester is $750-850 US for a Dict-03 OR Dict-05 from the mfg. I hope to find one at a better price. I would even consider a non-working tester - since I am handy at repairs.

See the testers I already own. Here is a hyper-link to my page-



http://www.drviragopete.com/electronic-parts-testing-service.php






I can use any of the following testers (perhaps you have a model which is not listed?)


1. Kitek DICT series - I have acquired this
2. B&K 575A or 570A - I have acquired this
3. ABI Linearmaster - I have acquired this
4. Tesca Linear IC Tester - I have acquired this
5. 3H Electronics 3H201 IC tester (punchcard based older model)
6. Minmax Linear IC Tester
7. Other (too many models and brands to list) - some shown on aliexpress.com

I purchased a small handheld tester Singapore from aliexpress.com and other models through big-auction-site from USA (I currently have 10ea IC testers. I wonder if the reader has a used or new linear or universal tester etc for sale at a price I can afford.

Let me know what you have. I will consider any model.

Update 4/15
I saw a Kitek DICT-03 on big-action site last week and sent an email to seller asking some questions. The item was only for sale for 1 day and it sold. I dont know the selling price but it was listed as $750 or best offer . I missed that one for 2 reasons - catching up on winter bills and wanted to make sure it works. Here is a screenshot of the tester I missed - I wonder what it sold for - best offer was accepted.
Update 9/16
I purchased BK570 & BK575 & ABI chipmaster. I am still looking for other testers that I do not yet own.

The ultimate IC tester for out-of-circuit desoldered chips- I say ultimate because it has a VERY extensive chiplist- much much longer list of testable chips than ANY other IC tester I have ever seen. I would say this is the HOLY GRAIL of IC testers - top of the line. I dont think I'll ever see another one for sale on big-auction-site in my lifetime. It is unfortunate I didnt have the money - I did have an opportunity to press buy-it-now but instead I chose to ask the seller a question (I asked about the voltage and working condition - and he replied 220v only and that it does work). I missed that one. Thats too bad. Someone else has a really good tester now. I asked the seller to send me the manual - I still have not received that. He keeps promising...

Update 2/2017
I ordered and received this IC tester from India directly from the mfg - which came with the manual.

Dr Virago Pete
(847) 454-7858
between 11am and 7pm daily
Illinois, USA
drviragopete@att.net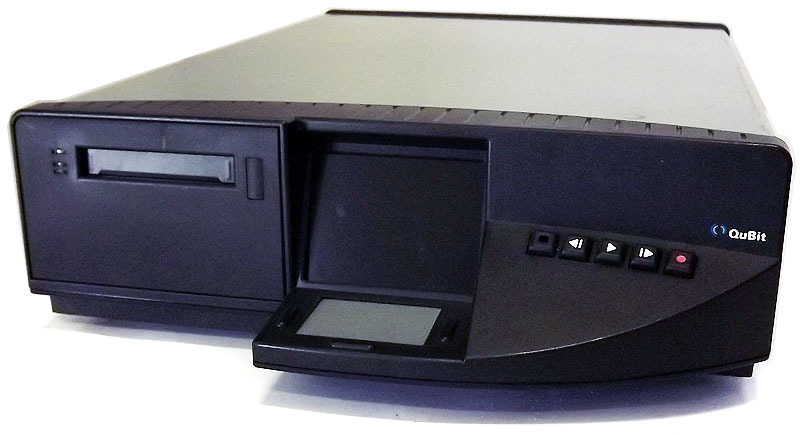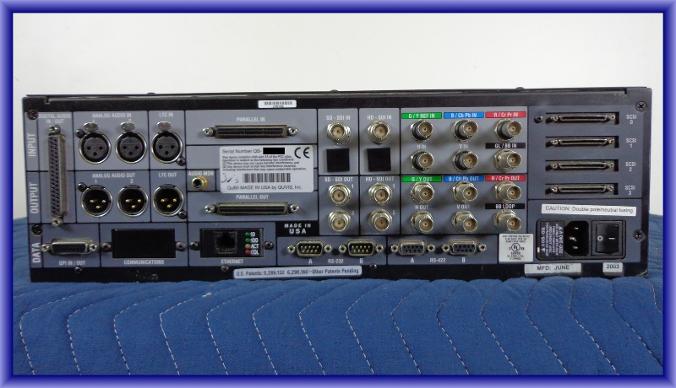 Wanted Quvis Qubit

This machine is a "digital recorder" which was used in the 1990s and early 2000s at movie theaters to show digital movies. Some of the titles of early digital movies shown using this Quvis Qubit are "Toystory" and more films.
I am a small video and film transfer service and am looking for this machine - there were several models including the ST and El models and other variations of this machine.
I'm especially looking for a machine with the capability to record. As I understand it - there is a board/card which gets plugged into one of its slots. The record module is not found on most Quvis Qubits as the movie/cinema industry theaters mostly all had players which could not record. There were a few machines which had record capabilities but it is not common to find one which can record.

I hope to find a Quvis Qubit which is a "recorder" as the PDF manuals I downloaded go into great detail of how to use the machine for recording and playback and scaling etc in various framerates and formats.
I do not know what this record module card/board looks like or what the part number is. Let me know if you have a Quvis Qubit in any condition.

I will consider a player but am hoping to find a recorder.
There were several variations with different ports and configurations. See picture to view 2 variations of ports.

Pete (847) 454-7858 between 11am and 7pm daily
drviragopete@att.net



Actual photo from the ad I purchzased this book from. Purchased from big-auction-site and mailed from UK to USA Jan 2014. It is a very extensive list of chips that the ABI DIT-24XP can test both in circuit and out of circuit. There are some warnings in the book about only testing certain chip in-circuit but not out of circuit. Also some warnings to only test certain chips out-of-circuit biut not in-circuit. Itis very important to consult this manual before testing some chips or damage will result to the chip or tester. I'm glad to have this book otherwise I would never have known that. I'm still looking for an ABI older model IC tester - any model or condition welcome. I'm willing to pay for international shipping.

ABI-28 Digital IC Tester, ABI Boardmaster 4000 ( BM4000 , BM4k , BM 4k BM4000 ), ABI InCircuit IC Tester, ABI DDS40XP IC Tester, ABI DIT-24XP, (Not pictured ABI ICT-24)

Wanted ABI IC Tester
Several of the above units are 240V and I would consider any voltage model 110V, 120V, 220V, 240v etc as I can use a voltage converter to run these if needed.
Any condition working or not. Let me know if you have any model - there may be other models that I'm not aware of -let me know what you have.

Other makes/models considered.
Update Jan/7/14
I have purchased a user manual for ABI DIT-24XP on big-auction-site. I am still looking for any model of ABI Tester. This manual is really only a chiplist which has many pages of ICs which this tester can test. It also has warnings not to attempt to test particular chips out of circuit. It also has warnings not to attempt to test certain chips in-circuit- otherwise damage to the unit or chip may result. This book tells me that it is important to consult this manual before testing any IC.

Update 1/12/14

I have contacted a UK seller who has offered to sell me his working ABI IC Tester. I have requested photos and details such as model and what is included. I expressed a willlingness to buy for his asking price and a willingness to pay for shipping cost from UK to USA. I have tried several more times to contact this seller and get no response - so that offer has fizzled.
If the reader has an ABI IC tester for sale - let me know.
(I am also looking for other models and brands of IC testers too)

Dr Virago Pete (847) 454-7858
drviragopete@att.net
Illinois, USA
Update 2/25/16
I search for "IC Tester" on the internet on a regular basis and I came across a Craigslist seller in AZ which has 2ea BK 570 Linear IC Tester for sale (I only need 1 unit). I am doing my best to come up with the funds to buy it outright. It comes just after I have made my final payment for some equipment listed above on this page.
I have purchased these units BK570 and BK 575 in 2016 from Craigslist seller.
I am still looking for ABI vintage IC tester desktop unit or CRT screen model or laptop model.

Wanted Quantel Domino any condition
This is a CGI machine which adds effects, titles, guide wire removal, scratch removal and more. It scans film stock and the operator adds digital effects and the machine outputs to film. The film is visually then complete - but without audio.

I hope to find a machine with 1 workstation 1 film scanner and 1 film recorder. (parts and pieces and incmplete also considered)

As the film industry moves away from using actual chemical photographic filmstock film - this film-based system which uses film in and film out - may become subject to disposal. I hope that a film company will contact me rather than disposing of this approx 15+ year old equipment.
I am a one-man-shop which has an interest in using this equipment for 35mm cinema film restoration work. I am also handy in repairing of vintage equipment.
(I will consider other makes and models of film scanning and film recorders)
Dr Virago Pete
(847) 454-7858 between 11am and 7pm daily

Illinois USA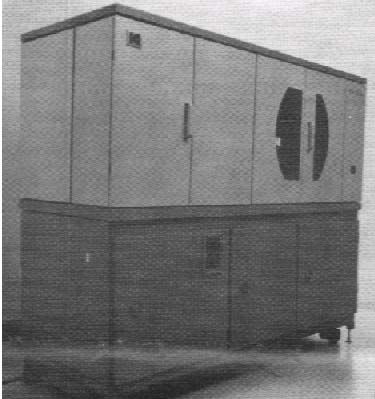 Wanted Kodak Cineon

1. Lightning or Lightning II or other model etc (laser film recorder - any version)

2. Software (STORM or other software any version) and books (any version)

3. FIDO, Genesis, Genesys Plus, or other model etc (film scanner - any version table model or upright etc)
4. Workstation (R10k Indigo 2 or any other version), SUN computer, cables, drives etc

This is a 16mm / 35mm cinema film scanner and film out recorder system which has sophisticated digital color recording and remastering and compositing to film capabilities. Only a few exist today. I hope to find parts and pieces or a complete machine.

Several models were made including the Genesis, Genesis Plus and a few upright cabinet units - let me know what you have.
This equipment designed 20+ years ago by Kodak as a way to accurately (loss-less color and details) store and reproduce details and color on filmstock or digitally. The file format was .CIN and a derivitave of it is .DPX both are popular film file formats in use today in the cinema industry.

I would like to put this equipment to use. As the film industry moves away from actual filmstock - this 20+ year old equipment runs the risk of disposal - please dont dispose of it. I would like to acquire this equipment for my one-man-shop. I hope to use it for 35mm cinema film restoration work.
I also am very capable of fixing/repairing and restoring vintage equipment- and I have the interest and patience to complete a large task.

(I will consider other makes and models of film scanning and film recorders)
Dr Virago Pete
(847) 454-7858 between 11am and 7pm daily

Illinois USA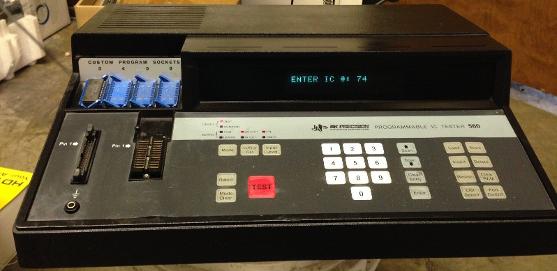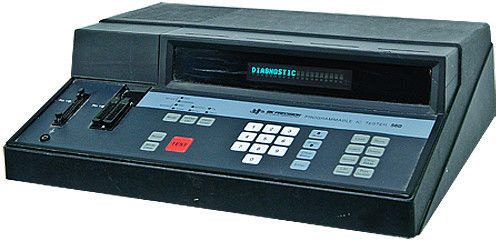 Wanted Plastic Cover for B&K Precision model 560

(or 560A or 560B or 560C) IC Tester

I purchased non-working BK 560 IC tester fixer-upper from big-auction-site and repaired it, and it is now restored and working. To fully complete this project I hope to find a plastic cover which goes over the empty IC sockets #3, 4, 5, 6 on the lefthand side of the machine, See photo. I will consider any color black, white, beige.
Dr Virago Pete (847) 454-7858

drviragopete@att.net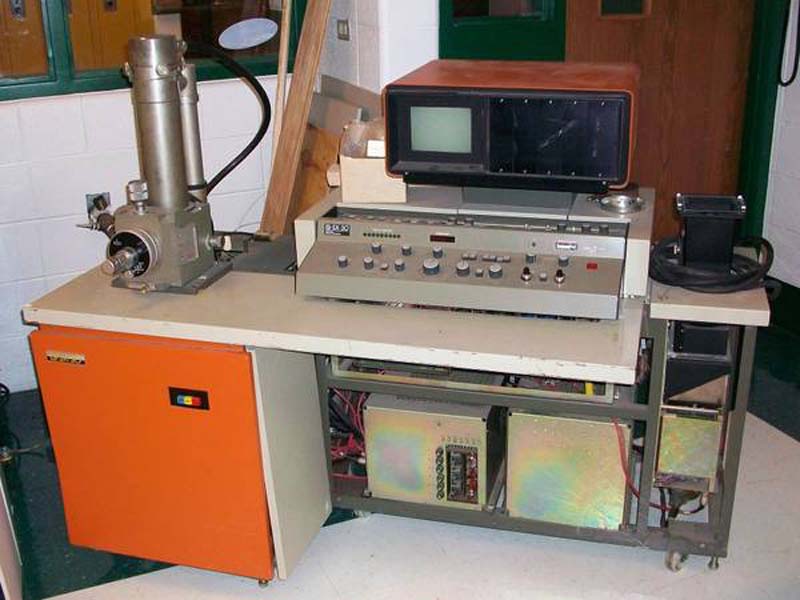 Wanted Spare Parts for ISI SX30 Scanning Electron Microscope made by International Scientific Instruments
I have acquired a fixer-upper scanning electron microscope from a local school. I am in need of some spare parts for it.
Please contact me if you have a machine that you can salvage parts from. Some models are similar in some ways- so maybe the parts from a different model if ISI microscope will be similiar or the same on some parts (ss40 sx40 sx30E ... ) Let me know.
If you fixed your machine and would be so kind in sharing details about what you replaced or components that went bad.
Here is the webpage I have created

http://www.drviragopete.com/scanning-electron-microscope.php
I need boards, power supply, console parts, pump, 100V transformer, books/manuals, consumables, column liner etc.

Dr Virago Pete (847) 454-7858
drviragopete@att.net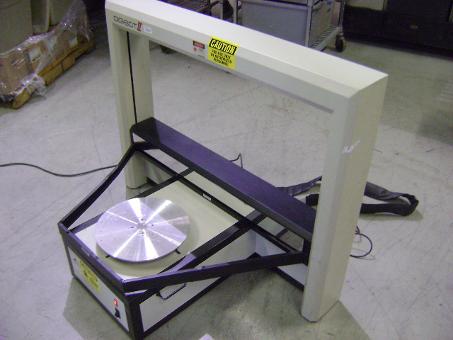 Wanted Digibot II (made by Digibotics approx early 1990s)

laser 3d digitizer (pictured above)
I have been searching for a Digitbotics II scanner for about 5 years and came across 2 of them on big-auction site. Neither of them had software or the controller or PC or books or anything. I wonder if a reader will have a unit for sale or possibly has books or software or a PC with the card in it or any other resources related to this scanner - even just pieces.
I have not purchased any Digibotics hardware or anything. I am seeking whatever you may have on it. This is a big heavy item and I'm located in Illinois just North of Chicago. I would like to make professional 3d scans of big objects with sufficent precision. I realize this is old-school scanner and that is ok. Let me know of you have any diskettes or CDs or cables etc for this machine or any other item related. I am having a hard time finding the card and software and books especially. Maybe you have these items in your storage inventory - please check. Even backup disks would be appreciated.
Sometimes good old equipment gets run over by the operating system punks who try to make things obsolete so you have to upgrade operating systems all the time - for little or no reason at all. I dont mind setting up an old computer - specifically for a piece of equipment's exclusive use.
This scanner took days to scan large complex objects and the software was run on an early PC with a slow processor. Chances are wherever this machine and software is today - it is not being used right now and just taking up space. Dont throw it out - contact me. I would like to buy it or any parts, pieces, items you may still have related to it.

Dr Virago Pete
(847) 454-7858 between 11am and 7pm daily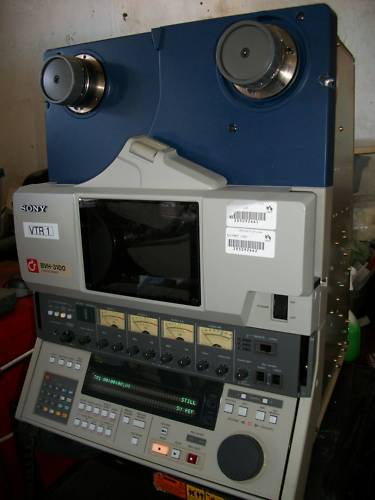 Wanted Service / Maintenance Manual(s) for Sony BVH3100 or BVH3000 series video recorder
The BVH-3000 and the BVH-3100 are very similar and some models have a PS after the model name
Dr Virago Pete

(847) 454-7858 between 11am and 7pm daily
drviragopete@att.net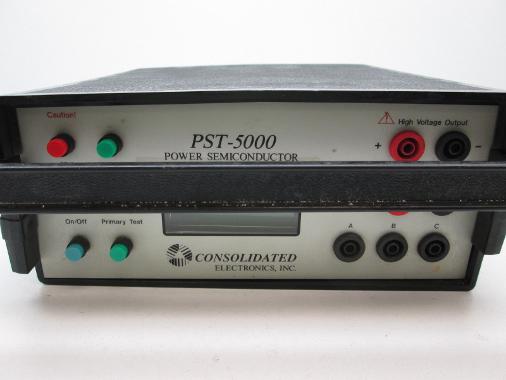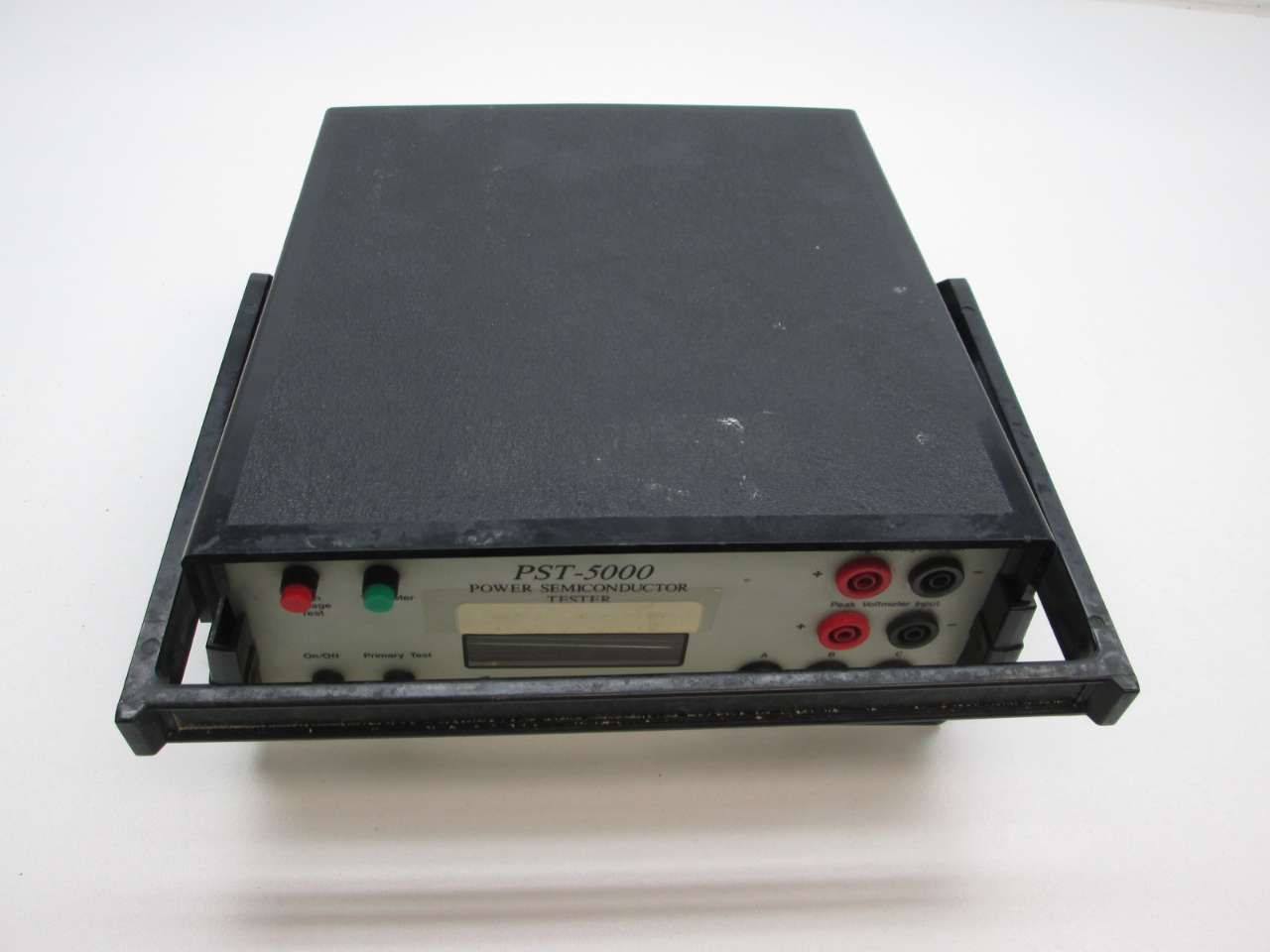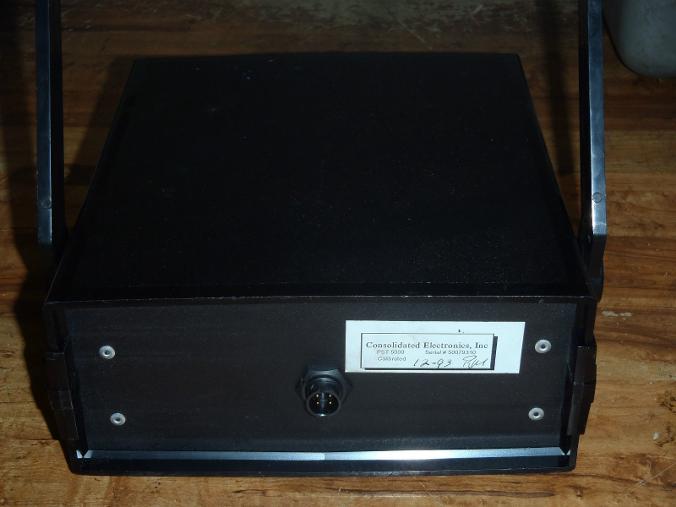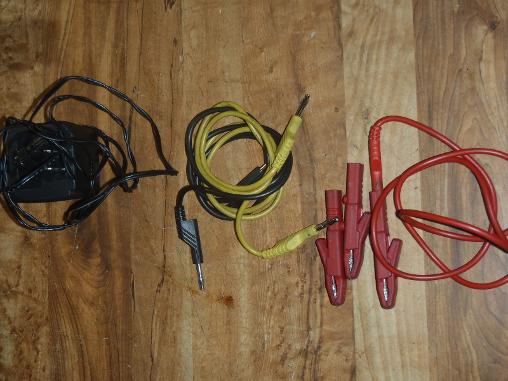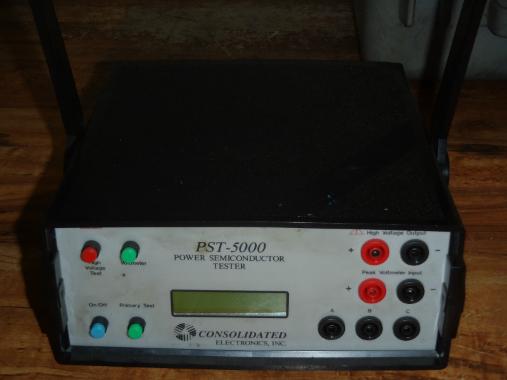 Wanted (any condition)
Consolidated Electronics Inc Semiconductor Tester model PST-5000 or PST-2000

(also written as PST5000 or PST2000 Semi Conductor Analyzer. Also sometimes the company was written Consolidated Electric and their website was Con-elec dot com and I see it is down as of recently and their 800 phone number doesnt work and says "disconnected or no longer in service" as of 8/14)

I would like to purchase the above pictured tester (PST-5000 pictured but would also consider the PST-2000 which I dont have a picture of) in any condition working or not or parts pieces or in need of repair.

Schematic or insights about restoring or rebuilding the battery pack would be appreciated or photos from your own tester. This unit ran on 12v and 24v power simultaneously provided in its battery bank. Also the pinouts of the charging module would be appreciated. Let me know if you own a unit - even if you dont want to sell it - maybe your insights or photos would be helpful.

I would like to find this tester to do in-circuit component troubleshooting on printed circuit boards.

Update 4/18/15
I have purchased 1ea PST-5000 and 1ea PST-2000 fixer upper units. I am looking for more units or parts or pieces etc. from big-auction-site.

(847) 454-7858 between 11am and 7pm daily
drviragopete@att.net

Dr Virago Pete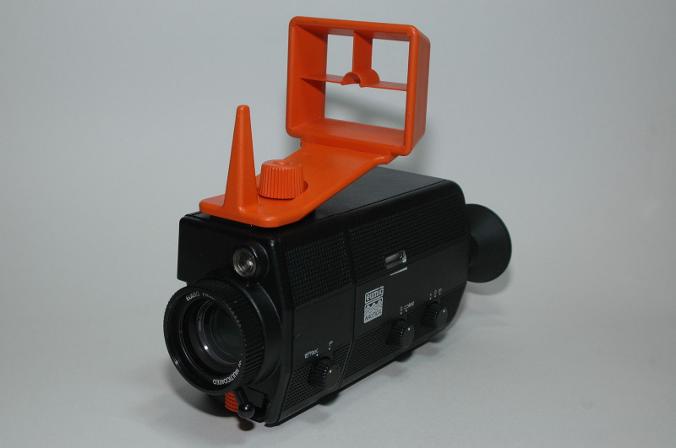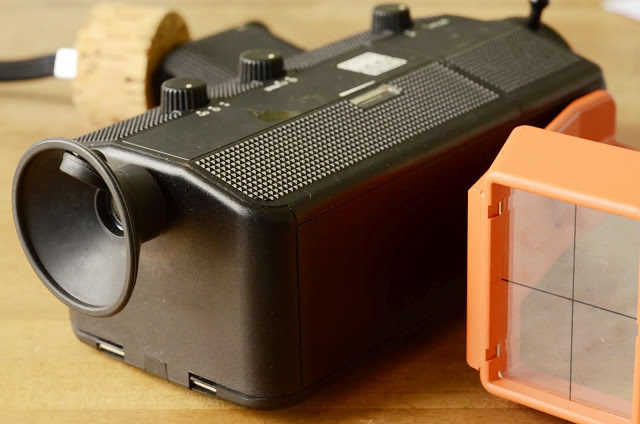 Wanted Orange Attachment for Eumig Nautica underwater camera (Super8)

I purchased a used Eumig Nautica Camera which looks to be in in excellent condition and possibly never used underwater???

I am missing the orange attachment (see photo) which sits on top of the camera. This attachment is a "crosshair" viewfinder which is used to frame the image while diving. My camera works but without this orange attachment - my footage could be off-center. Let me know if you have this part for sale separately. I am working on my own invention - a weedless or reduced-weed intake grate for a 3-seater PWC and bought this camera to record my progress. I like the macro mode and rubber o-ring system in this unique camera. Even so - I plan on using it inside a zip-lock bag to keep the dirty lake water from going everywhere and having to clean the camera afterwards.

Some photos of this orange camera online show a string or wire crosshair. Other photos show a plastic clear window. Other photos show a molded plastic on-piece attachment with orange crosshair built-in. I am open to whatever version of crosshair you have. I have no orange attachment of any version at this time.

The solid one-piece molded plastic type is pictured (top).
The two piece molded plastic with clear plastic window is pictured (bottom)
String or wire crosshair (not pictured)

Pete (847) 454-7858 between 11am and 7pm daily
drviragopete@att.net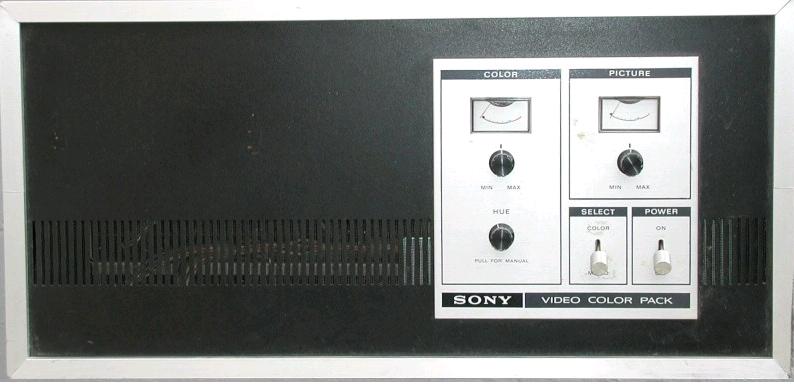 Wanted Sony CLP-1A or CLP-1B Video Color Pack
This is a box which enables color playback on certain models of vintage Reel-to-Reel Sony video recorders sometimes called videocorders that were color capable. This box was mfg approx mid 1960s to mid 1970s. The model number may vary as there were different versions. This box works only on certain machines which were specified to use this box - in their manual. For example video recorders model EV210, EV310 and a few others.
I am handy at electronic repairs - will consider any condition including parts pieces etc. The color of the metal case is typically lime green or bluish green or similar. The connector on the back is a 8-pin or 10-pin or a big round video jack typical of that era.
If you have this CLP-1A or CLP-1B or similar color playback video adapter - please let me know price.
Dr Virago Pete (847) 454-7858 between 11am and 7pm daily
drviragopete@att.net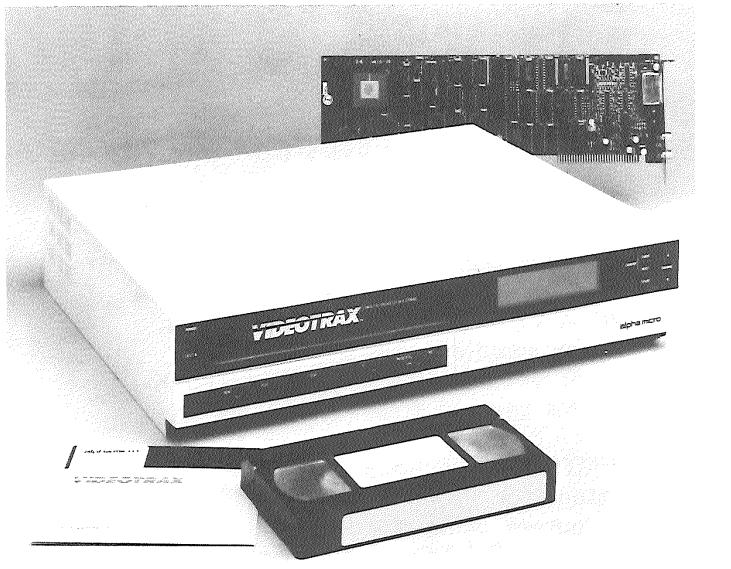 Wanted Alpha Micro Videotrax

The complete Videotrax system consisted of VCR and PC card, Special Connection Cable, and Diskettes. The basic system consisted only of the card, diskettes, and manual - where the user could use their own standard VCR. The advantage of using the special Videotrax VCR was that the software controlled the VCR functions and could rewind to replay a missed bit of data or search for certain files contained on the tape.
Basically the Videotrax was a way to backup Hard Disk drives and diskettes onto a standard VHS tape (or other format VCR) capable of approx 10MB to 20MB depending on quality of tape. I had a PC card decades ago and didnt have very good results saving to and from tape - but it did work but required alot of babysitting to rewind the tape and try again.
This item was listed in the Radio Shack big catalog during the year approx 1990. At that time there was no Internet and so I used "Fidonet For Sale Echo" and purchased my used board there. I regret parting with it as it was an interesting piece of history. I dont have any VHS tapes to transfer as I never did store anything important - the cheap VCR's image was murky - and I learned that some recordings were just ir-retrievable even at that time. I do believe I had a fully working board because it did work and I remember the square white "dots/checkerboard" flashing pattern on screen and seemed to be doing what it was designe to do. I think the cheap VCRs of that time period didnt playback/record so well and the data dot pattern was not clear enough for the board to pickup. It is possible the genuine Videotrax had some picture enhancement or picture stabilization electronics?
As a point of interest- the output of a Videotrax was very similar looking to the onscreen jibberish of a Timex-Sinclair 1000 saving or a Atai 400 or 800 while using the diskette drive. Or similar to PXL2000 reaading an audiotape displaying random dot pattern. The dot pattern also is similar to Cauzin Reader strips printed in magazines of that time period. Also similar is a scene in "Jurassic Park I" hollywood movie where DNA strands are being explained and Bits and Bytes zeros and ones are shown whizzing by onscreen. Videotrax output is Just bits and bytes whizzing by on the entire fullscreen. Sometimes the bits and bytes checkerboard pattern would pause or slowdown and sometimes it would increase in speed - in between checkerboard patterns with very little or no pause before changing display pattern. The board required a very good quality recording - otherwise the white square dots (representing bits and bytes) would be misinterpreted due to murky or unsharp edges- causing an error such as CRC error or other. Noise or crinkled tape portions were prone to giving the software a hard time. It would prompt you to rewind or attempt it again - I think that genuine VCR was the way to go - but Ive never seen one for sale on the used market.
Im sure that the VCR (if one still exists to day) would require recap (replace all capacitor components) and new belts and probably a new or rebuild clutch. It is possible the VCR was based on a standard off the shelf VCR and upgraded. So my point is knowing which VCR it is a sister to - would help in finding spare parts for it - like clutch or circuit board. I hope to find one in any condition.

I always wondered about the real Videotrax VCR and maybe it would have done a much better job. I would still like to find a real Alpha Micro Videotrax VCR in any condition - working or not - as I can fix just about anything with my present day skillset.

I no longer have the card (sold it decades ago) and - I never did have the special VCR.

Every once in a while I see the board for sale on big-auction-site but I never do see the Videotrax VCR or special cable for sale. Im hoping someone has the special VCR for sale along with the card, cable, manual, and diskettes.
Let me know
Dr Virago Pete (847) 454-7858 between 11am and 7pm daily
drviragopete@att.net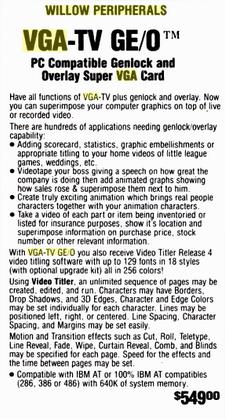 Wanted Willow Peripherals VGA Card " TV / GEO "or " VGA-TV GE/O " or " VGA-TV GEO "

which is a very long card and has very basic early VGA features. What was outstanding about it was its 2ea composite ports:

1. Composite in - feed in your VCR signal

2. Composite out - outputs whatever was passed into the Composite In port - also outputs whatever is on the VGA screen

3. Can software select a background color on the VGA screen (for example black) and anything black now becomes "see-through" so whatever composite VCR video signal is being fed in is mixed with the VGA screen and replaces whatever is "black" or other selected color. This is genlocking.
4. Included "Video Titler" software which was a basic version - only one font included but an add-on disk with more fonts was available for purchase. I still have the disk but I never could find or buy the add-on disk which gave it more fonts.

I have the manual and disk "Video Titler" and lost my card which had a TSENG3000 chip on it ( It is possible that it had a TSENG ET3000AX on it) I think it had either 256K or 512K RAM. I would like to buy this card and Video Tiler disk with add-on fonts. It was a good card for video titling and I miss it.
The titling mentioned in the above ad was for the expanded software and fonts and features - found on the add-on disc - which I never had. My basic version of Video Tiler allowed 1 font and a few pages of big text on screen. Even so it did a remarkable job and I would still like to find this card to replace my lost card. I purchased this long before the Internet's existence on Fidonet's For Sale Echo while BBSing at 1200bps or 2400bps on an early PC. It is possible that the seller had lost the add-on disk- so I never saw its full potential. I am hoping someone still has this card in their "junk box" of old compuer stuff. Look for the "TSENG 3000" chip on the card and one VGA port and 2ea composite ports on the metal rear bracket at the back of the card. This card was around at the time of early Amiga computers and so it was always the underdog - but still good that it could genlock and display PC graphics through composite etc. I wonder how good the add-on disk was- and still hope to find this - look in your collection of old diskettes - whether it is 3.5" or 5-1/4" floppy disk - either way works for me. As a date estimate - approx 1990?
Dr Virago Pete (847) 454-7858 between 11am and 7pm daily
drviragopete@att.net