This listing is for
"Dr Virago Pete's Calibration & Alignment"
Video

Alignment Tape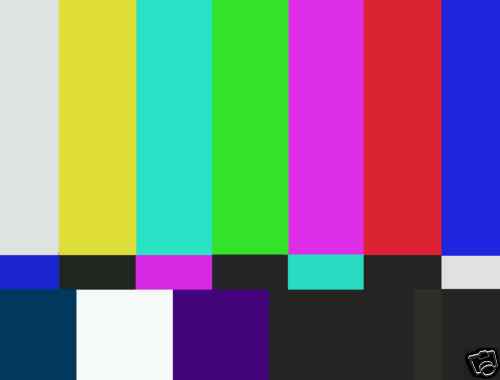 Color Bar Test Pattern 1 with 1Khz tone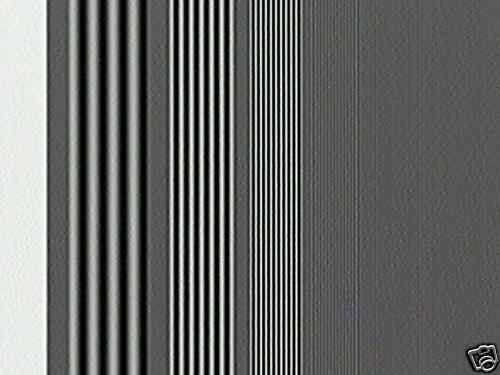 Gray Resolution Test Pattern 2 with 1Khz tone

Test Patterns - Color and Grayscale (where applicable*)
Note:

This tape contains no repair instructions,

contains no alignment instructions, no instructions at all. This tape contains only the two pictures as shown each displayed for a __ (various) minute time frame. While the pictures are displayed, there is a 1Khz audio tone.
What you Get
1ea
tape "
Dr Virago Pete's Calibration & Alignment"
Plenty of packing material to ensure safe arrival
No fancy packaging. No installation or alignment instructions.
I am glad to answer questions after a purchase is made by email.
How this tape was produced:
1. Digital Source Equipment
2. Professional Color Equipment
3. Professional Broadcast TV equipment for recording
Brief Description of production DDA (Digital Digital Analog)
Whether you calibrate your equipment with an oscilloscope or by "feel" - accurately playing my tape without any quiver or distortion in sound or picture will confirm your equipment is working perfect. New never used. Plastic protective film removed only to produce this tape.
The advantages of Dr Virago Pete's brand new tape
1. Tape is new and clean and crinkle free (if possible or not)
2. Never been used
3. Made from brand new tape not old stock.
4. Old tapes can deteriorate with age and clog your tape heads and more
5. Nice clean picture and sound
6. Playable on any deck, camcorder, professional or amateur, new or vintage
7. Recorded in highest quality mode and is compatible with professional and consumer equipment
8. Recording notch has been removed to avoid accidentally recording.
(Note:
I reserve the right to bulk erase used tapes for my product to keep costs down.)
FULL
C
O
L
O
R (where applicable*)

Enjoy analog VCR playback at its finest,
Test your tracking and heads after each VCR repair job using this master tape.

Repairing a VCR - vintage or recent model? Want to know if you've fully repaired it? Everything aligned? Playback perfect? Use my master tape choose Beta, VHS, VHS-C - purchase the right appropriate tape for your vcr. I have several models of tapes available. For example if you are repairing a BETA VCR - then you must buy the Beta tape. If you are repairing a VHS VCR then you must choose a VHS tape ...

Got a VCR that eats tapes? Fix that first! Don't put a master tape in a vcr that eats tapes. Once you are 100% positive that you have fixed it and is working perfectly - then you can check the final alignment of heads and tracking with my calibration tape.



3 Options Available




1. Buyer provides the tape




2. Seller provides the tape




3. Choose from my list of Equipment/Formats





Available Alignment Tape Types/Formats




Eiaj (NTSC), VHS (NTSC/PAL), VHS-C (NTSC/PAL) , S-VHS (NTSC), Video8 (NTSC), Digital8 (NTSC), DVCAM (NTSC), Betamax I (NTSC), Betamax II (NTSC), Betamax III (NTSC)



Price for this alignment tape depends on whether the buyer/seller provides tape and which format/type the tape is- call or email for quote

Need a different test pattern? I can produce other test patterns if needed as this is a custom - made alignment tape.


Got a Question? I answer each and every email personally and promptly.


Sincerely,

Dr Virago Pete


Telephone (847) 454-7858

Email drviragopete@att.net


NEW FOR 2018

I have added this drop-down-list box which is for 1ea Videotape and contains multiple video images
1. Color Bars (several styles)
2. Checkerboard
3. Dots
4. Dots and Checkerboard
5. Grayscale Test Patterns
6. More

I have not listed every format that I can create for you. These are the most popular requested ones which should help reduce the number of emails for price quote that I receive. If you do not see a format that you need to buy - contact me by email. This list of test patterns supercede my previous Version 1 which only had 2 test patterns.

These tapes are useful for testing your newly purchased equipment to make sure it works. AND helps you test the alignment. It can also be used to tweak the alignment to correct deviation.

The biggest reason you need an alignment tape is in VTR/VCR troubleshooting with a schematic or repair manual - several Oscilloscope patterns are listed there based on playing a certain test pattern. Make sure you specify the pattern that you need BEFORE you order. For example playting back a checkerboard with the repair manual states colorbars/stairsteps - will only match your repair manual illustrations when playing back the correct test pattern. Got a VCR that you need to repair - make sure it doesnt chew up tapes !!!

The test patterns contained on this videotape also helps you check the playback position on your screen. Some TVs and monitors have overscan, underscan, distortion, off center, squashed or stretched. These test patterns help you in many ways.

Make very sure your VTR or VCR etc does not eat tapes before inserting this videotape - as that would be a waste of my tape. No refunds or exchanges (not for any reason) due to the delicate nature of videotapes. Do not resell or transmit or copy my copyrighted tapes. This is a one-time-use product. The equipment you use it on may affect the tape itself and there is no guaranty or warranty.

I reserve the right to use 2nd hand videotapes which are bulk erased. Some tapes are new old stock blank and others are used pristine/bulk erased before becoming my product.

Send email with your VTR/VCR model that you plan on using with this test tape AFTER you have purchased.


Notes:
I am only able to record COLOR on Color equipment. For example Pixelvision format is B&W so this is not possible in color. However I can provide test patterns for this format as I deem appropriate. Due to the short length of this format - Pixelvision alignment tape may only have 1 or more test patterns sorry.

I reserve the right to Upscale images and test patterns to HD formats. Some 4:3 images will become anamorphic on those HD widescreen formats.

Derivitives of DVC, DVCPRO, DVCPRO50, DVCPRO50, DVCPROHD etc - contact me as I will see what I can do for you regarding your request for format. Several formats will accommodate 720P or 1080i on one recording VTR.

I dont stockpile "done" tapes - these are custom made as you order it. I have a few tapes in stock and others will need to be ordered or supplied by buyer.

Due to the nature of VTR/VCR no rush orders as I check the alignment of my own equipment and sometimes I need to order a belt etc as needed. Your patience is appreciated.

Some formats inherently record with dropouts - which is considered normal for that era of recorded video. The best decks/vtr/vcr are used wherever possible. "good" "excellent" "poor" quality are subjective terms. Im a professional with 30+ years experience. I will do my best to make the test tape per specifications on vintage equipment well maintained. As-is.



Some CRT display screen images are distorted due to very basic digital still image camera versus NTSC video sync timing on a curved screen crt monitor. Nonetheless it shows the essence of "what you get" There are a few additional test patterns not shown.

Click the paypal button here AFTER selecting the correct tape from the Drop-Down-List-Box. Make sure your shipping address is correct in PAYPAL before ordering as I am REQUIRED to ship to the address at the time of purchase.