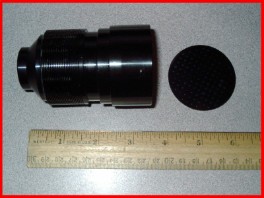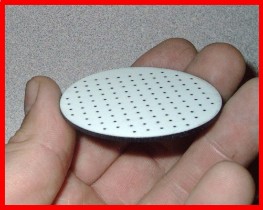 Dr Virago Pete's
Brightness Reducer Disc BRD
A contact lens for your projector
I am selling an accessory for use with your own projector. This accessory is basically a lens cap or a "contact lens" for your projector. It reduces the amount of projected light.
Why would you want to reduce the amount of projected light?
Isn't brighter better? No. When you are telecine - ing to your camcorder (16mm film to DVD transfer for example) you obviously need to have a 5-blade shutter projector or it will have horrendous flicker. But even after you buy a 5-blade shutter upgrade or buy a ready-to-go projector with a 5-blade shutter built-in-
YOU STILL HAVE FLICKER? Why?

The problem is the excessive brightness from having a high wattage projection bulb projecting onto a mini screen or against the wall at close range. See the camcorder gets overwhelmed with light. Too much light and it flickers no matter if you have a 5-blade shutter or not.




The following are Required (and not included)
1. Bell & Howell Projector 2585 or 2592
2. 5-blade shutter upgrade
3. Standard Bulb
4. Telecine with mirror/screen system
a. Works with Sima CopyKit2
b. Works with Sima fold open mirror with plastic white screen
c Works with Sony VCR-4 transfer unit
d Works with Ambico Video Transfer System
e Works with Gemini Video Transfer System
f Works with Goldbeam Video Transfer System
g Works with other boxes which have a ground glass mini screen
h Works with other boxes which have a white plastic mini screen
Will not work with standard shutter projectors
Will not work with LED light source Projectors
Will not work with 5" Magnifying glass & mirror boxes
My Brightness Reducer disc uses microscopic holes mathematically placed to give even brightness without hotspots. Compared to a projector without my disc- you would have overly bright picture which is brighter in the center and dimmer at the edges. My disc solves all of those issues. Even brightness that is just right for telecine box use.
My disc was specially design to give BEST results
Got a question? Not sure if it will work with your projector? Got a transfer box not listed?
Every single hole in the disc is calculated with the correct placement, angle and diameter to meter the correct amount of light projected onto the screen- eliminates hotspots. What looks simple is actually precision made



This disc will substantially reduce or eliminate flicker on projectors which have been modified to include a 5-blade shutter.



You MUST have a 5-blade shutter.


Some residual flicker may still be present but is a drastic improvement.

5" Magnifying glass boxes which magnify the film at the gate will not work with my Brightness Reducer Disc BRD. The disc requires light to go from the projector to the screen.

You must project onto a mini-screen (see above transfer boxes which will work) to use my disc.





I'm an honest seller and trying to describe my product fully.



Please measure your lens with a precision caliper before clicking buy-it-now.



See Photos




1. Shows hard plastic disc with white side and laser cut holes




2. Shows standard Bell & Howell Lens common to projectors and Brightness Reducer Disc BRD with black side. Ruler shows dimensions (projection lens and ruler not included)





A no-mod way to reduce the brightness - fits right over your projector's lens.




Easy to put on and easy to remove.




No installation required.



Got a question? Need a custom size?

Phone or email for Quote

Dr Virago Pete
drviragopete@att.net
(847) 454-7858
Do not Copy. Do not Resell. Do not Transmit




$19.99 plus $6.99 shipping/handling

This paypal button will take you to paypal to pay. Shipping is applicable to any USA address within mainland USA. Territories and Alaska and Hawaii shipping is higher due to greater distance. International shipping is higher. Custom side BRD disc is available cost will vary by custom size required for your projector.