This listing is for 1ea Battery Operated Upgrade Air Assist Kit Only. Kit provided is "Dr Virago Pete's Laser Beetle 40W Kit" and is new and unbuilt Condition. Aseembly is required. Laser engraver is not provided. Batteries are not provided.
Dr Virago Pete's
Laser Beetle
Air Assist Module Kit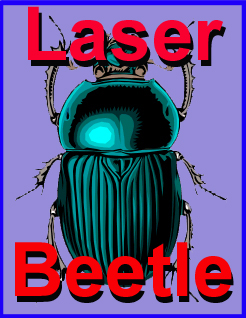 The China-made 40watt laser engravers are good units and provide the ability to cut many plastics and engrave many surfaces. Many of the 40watt smaller units do not come with air assist. Dr Virago Pete's "Laser Beetle" is a screw-on replacement for the "football-shaped" factory plate. This factory plate is replaced with the following parts.
What you Get:
1. Plastic Battery Pack for 2ea AA sized batteries (batteries not included)
2. Small steel and Plastic DC Motor
4. Plastic Propeller
5. Steel Motor Collar
5. Aluminum Mounting Plate
6. Steel and Plastic On/Off switch
7. Misc Steel Screws and Nut
8. Instructions
9. Laser Beetle top plate with laser engraved Beetle Image Logo
Features:
Works with many imported 40watt Laser Engravers
Very EZ installation
Works as good or better than air assist aquarium type pumps
No drilling or mods to your engraver
Replaces "football" shaped aluminum plate which lens attaches to
Simply unscrew your old one- and screw this one using your existing screws
Efficiently runs on 2ea standard penlite AA batteries for 3+ hours

Blower unit allows cutting & engraving materials which would otherwise cause flames/excessive smoke
Blower unit blows away watt robbing smoke from laser light beam
Convenient on/off switch allows use only when you need it
High efficiency motor maximizes battery life
High efficiency propeller gives just the correct amount of air with minimal drag to motor thus maximizing battery life
Fully designed and produced by Dr Virago Pete right down to the propeller
Propeller direction can be angled up/down and left/right for correct airflow
"Cordless" design means no chains, hoses, or entanglements
Lightweight design means x-y mechanism glides easily
No power draw from host laser engraver
Wider air pattern than mini nozzle type air-assist
Cools your part in a much wider area than aquarium pump type air assist
Works with glass, plastics, foam, wood, balsa, engraving sheets, acrylics, paper, etc
Increased aircirculation not only inside the cabinet but also at the laser focal point where all the action takes place.

This little upgrade kit BZZZZZZZ will amaze you. Beetle emblem plate included!

Many of these imported laser engravers are alike and differ only in the color Red, Blue, Beige, Black. Paint job and name brand and model may vary. Internally they use the same boards, lenses, laser and mechanism. Lots of companies import them, print their own name and model on them and resell them as their very own. My kit is applicable to many models and brands- 99% all alike.
See photo of "Factory Stock" to make sure your lens assembly matches mine.
Shipping:
I'm not very fast in shipping as I make these kits by hand one-by-one. My philosophy is to never stockpile any parts or kits pre-made. Less inventory means low overhead costs. That is the secret to the success of the oriental businesses- Kaison principle. I'm not oriental. My shop is in USA, and I'm an American. Good business sense is something I recognize and value. I make these as the orders come in. Allow 5 days to ship plus actual shipping time. All orders are sent via US Post Office.
How many tools do you need to install it?
One - a screwdriver.
Typical Battery Life:
3+ hour approximately. I use standard AA rechargeable batteries and charger purchased from local department store. You can cut alot of material etc in 3+ hours. You probably use your engraver for a few minutes here and a few minutes there. Batteries and charger not included.
This is a No Mod system. Simply screws in place. No drilling. No cutting. No changes to your Laser Engraver. Installs Quick and Easy.
Click Buy-it-now for your very own Dr Virago Pete's Laser Beetle 40W Kit today!
Some assembly required. Batteries not included.
In case you're wondering- do I laser engrave the top plate using my very first Laser Beetle? The answer is yes. You get a Laser Beetle made by my Laser Beetle.
Applicable to 40 watt laser engravers:
1. USB models
2. Parallel Port models
If yours looks diffrent than shown in the photos- email me before clicking buy-it-now.
Why is it called Laser Beetle?
The DC motor and propeller are specially designed to give maximum airflow. The propeller is made with this laser engraver and handcrafted with heat and a file to have a unique shape. The metal shell surrounding the DC motor and propeller allows air intake and funnels the airflow towards the focus point of the laser and blows out flames and clears smoke. The shape of the metal shell surrounding the motor looks like a beetle. When you want air assist- turn the switch on and it makes a bzzzzzzz sound that a small efficient motor should. Also with the laser head moving back and forth and up and down making your parts- it really is like a beetle scurrying around. Complete with professionally made top plate and beetle logo. Made with my very own Laser Beetle air assist kit installed on my 40 watt CO2 laser engraver- just like yours. You'll love this kit right down to the graphics.
This listing is for a kit containing a white plastic and black lettering top cover.
If you prefer a different color I do have a few other plastic sheets avail (Silver with black lettering, black with gold lettering, white with red lettering) The original color and style is just as pictured. If you prefer a diffrent color- let me know. Custom work is no problem at all.
Now my results have clean edges, and no charring, and no heat damaged edges.
Thanks to the little beetle which follows the laser cutting path.
Sincerely,
Dr Virago Pete
Email drviragopete@att.net
Telephone (847) 454-7858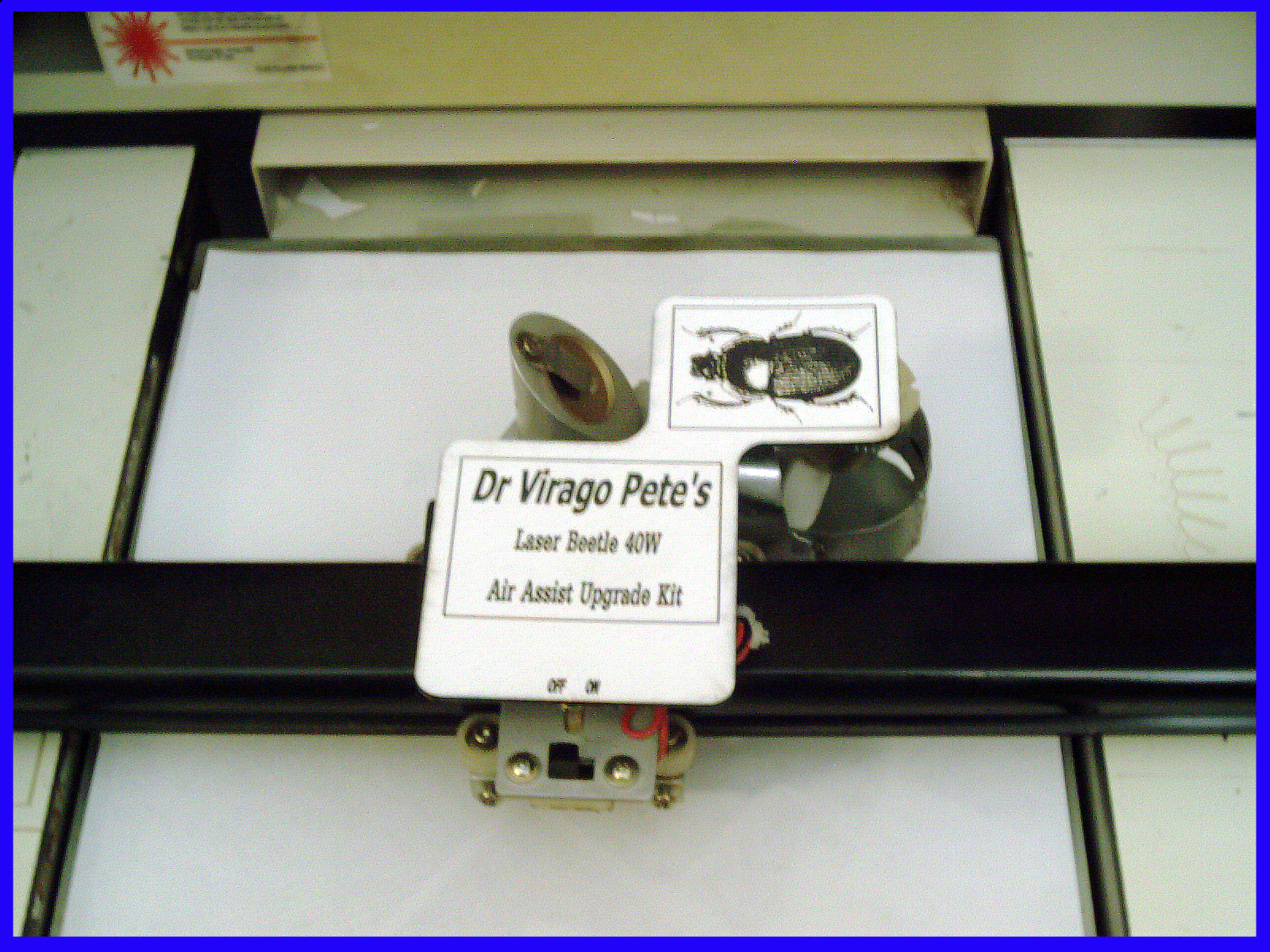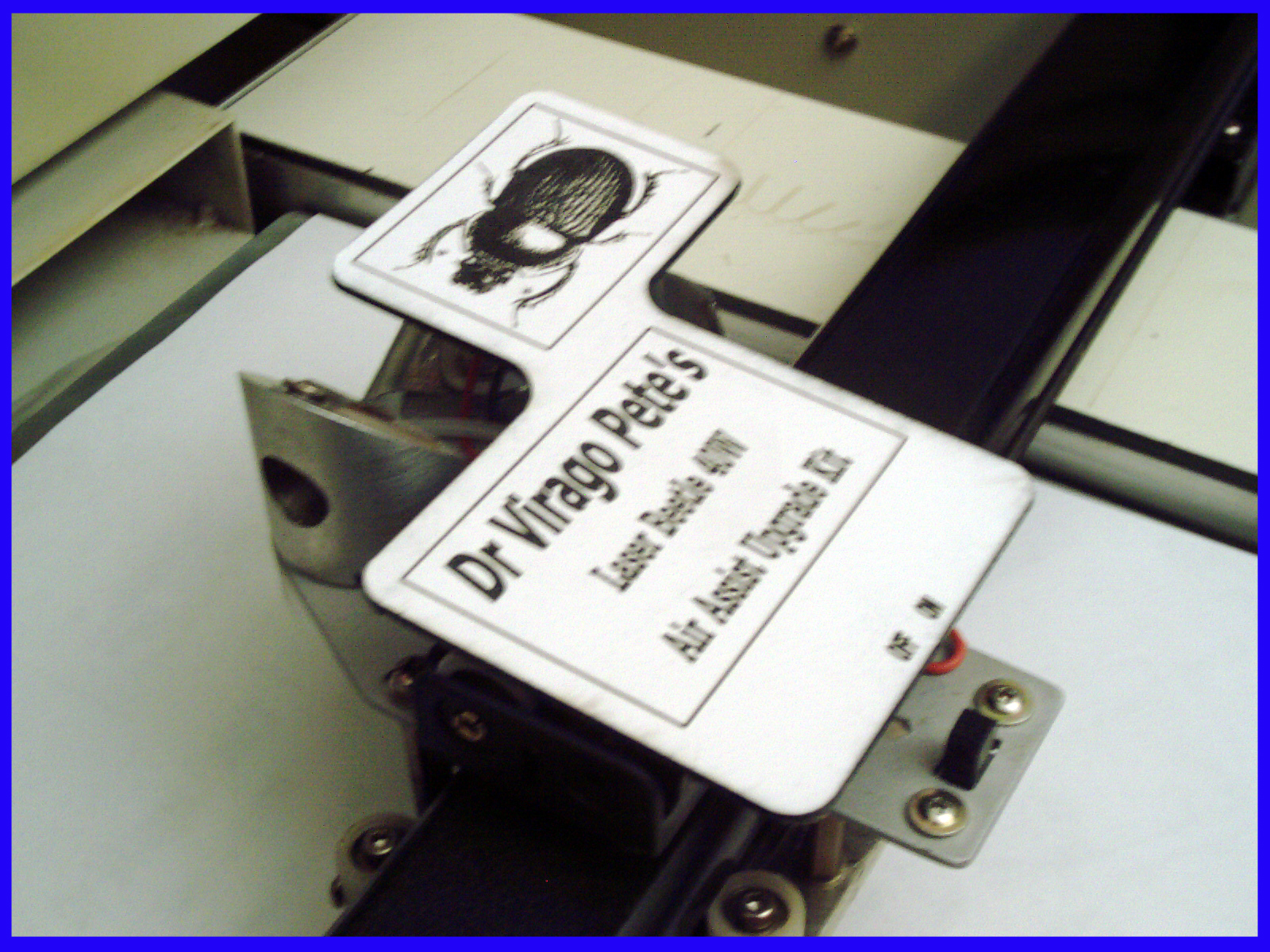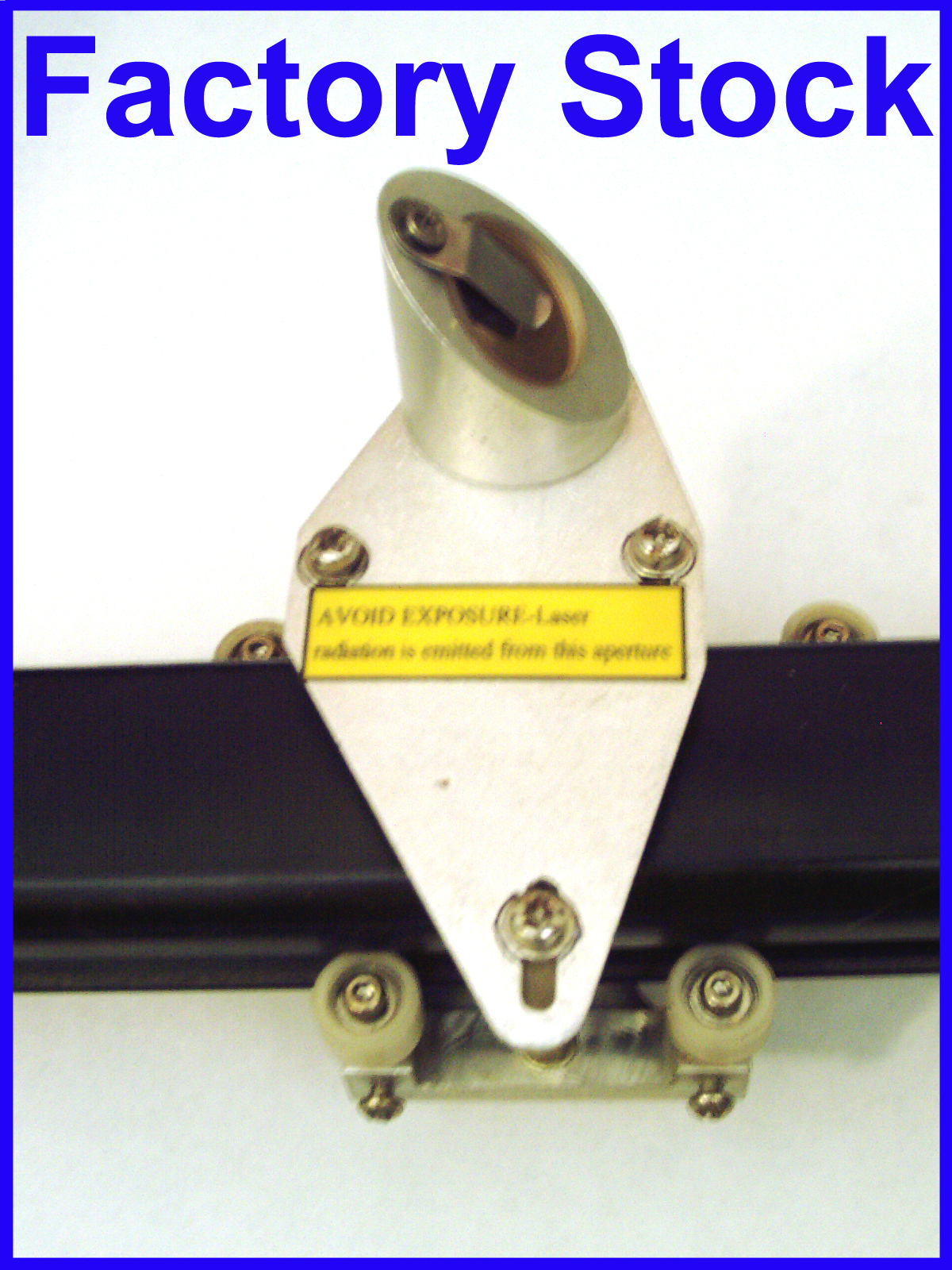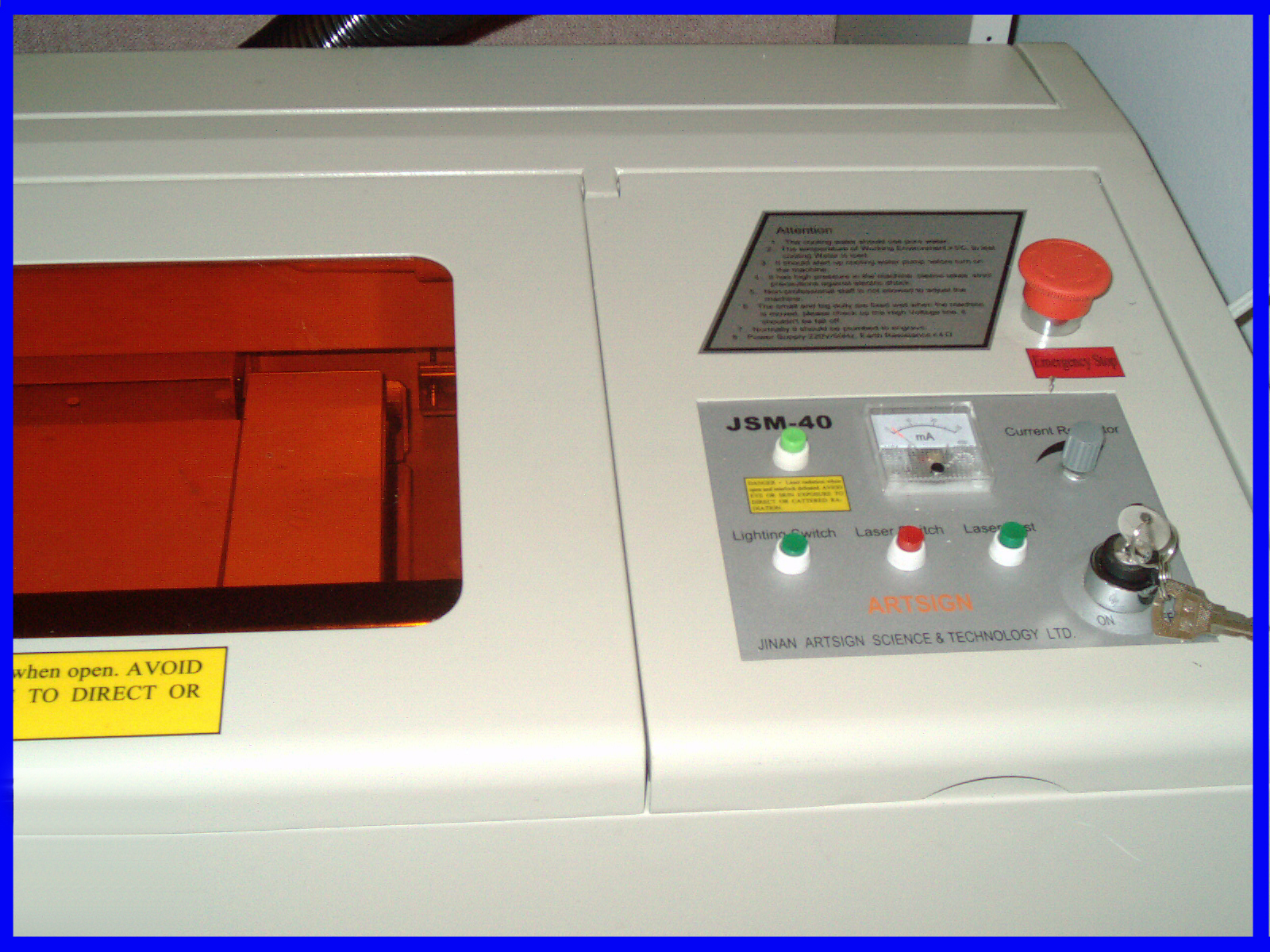 Price


$99.99 plus shipping


How To Pay
Use The
PAY NOW
Button Below to Purchase Dr Virago Pete's EDM Build & Use CD for USA buyers.
Use the
BUY NOW
Button Below to Purchase Dr Virago Pete's EDM Build & Use CD for CANADA buyers.
All Other countries must send payment manually through Paypal.com
1) Specify
peterpclc@hotmail.com
as the receiver (that email address is only for payments)
2) Specify "Goods"
3) Make sure funds are sent in USA Funds
Cost of shipping/handling
USA $6.99
Canada $9.50
All Other Countries $14.99
The USA Post Office offers NO TRACKING NUMBER for international packages.
All USA packages include a tracking number.
Note: If you prefer to send a money order, send an email to drviragopete@att.net
The
PAY NOW
button below is for
USA Buyers
ONLY.
The
BUY NOW
Button below is for
CANADA Buyers
ONLY.
All other countries send email or use Paypal.com to send payment manually.