The buyer to ship your 1" reel-to-reel tapes in a well padded package. One DVD created containing the entire tape provided from the buyer. All Tapes will be returned to buyer along with the single DVD. Buy the appropriate quantity of transfers based on the number of tapes you have. This listing is for the transfer of 1ea 1" x 9" dia or 1" x 10.5" dia tape to DVD.

Got Pro Video Reels?

Got 1" x 9" diameter Reels? (approx 1hour)

Got 1" x 10.5" diameter Reels? (I hour plus)
Got 1" x Mini/Demo/Spot Reels? (approx 10min)
Got smaller reels or odd format tapes?

I can transfer about 95% of all of

the tapes ever made. (keep reading)


Type C format reel-to-reel tapes were/are used heavily by TV stations, universities, advertisers, companies & industry due to its excellent quality video and this professional video format became the standard in the late 1970s.


It is wise to have a backup of your Tapes on DVD for several reasons:
1 It is easier to watch video content on a standard DVD player
2 Your machine may not be available anymore but you still have tapes
3 Deterioration, aging, degrading of quality
4 Backup - In case of theft or loss
5 DVD players have features video tape machines didn't have

Features:

Studio quality Tape transfer.
Every inch of your Tape will be recorded.
High quality, namebrand DVD disc

Press PLAY on your DVD player will give you a menu and then you can choose which video you want to watch. The movies fill the whole screen (just like a "Full Screen" store bought DVD). Your films in the best quality possible.
No music track added. Silent movies remain silent. Sounds movies have your own sounds.
Your DVD is playable on DVD player, many game consoles, PCs.
Magic marker title on DVD face, no fancy disc face
All work done on Professional equipment
Full Sound Transfer of HIFI and Mono recordings

DVD is provided in a basic white paper 5" x 5" standard envelope with round clear window


Buy one listing for each reel you want transfered to DVD.

If you are unsure which machine your reels are recorded on - email me. There were several non-standard machines for professional and home use during the 1960s through 1990s which used the same size and shape reels but the video format was totally different. On the other hand- since Type C was a standard and many manufacturers produces type C machines and many companies made type C tapes- there is a strong probability that most 1" tapes are Type C format. I do have in stock as part of my transfer business other 1" machines of various formats. I don't have every machine type ever made but I do have quite a few. Please ask- before clicking buy-now - and give details.

Only family friendly recordings, no XXX ever, no risque ever, no copyrighted works, no tv shows, no movie studio films, etc. The only exception is copyrighted works where the buyer of this listing can provide an official letter from the TV station, university etc that states that you have the legal right to have this tape transferred to DVD. For most people viewing this listing - sorry I can't copy a tape for you. You must own rights to the content- not just the tape itself.

I specialize in all video Formats, and I have excellent professional equipment in pristine condition.

The very best for Type C videotape transfer to DVD. Popular in 70s, 80s, 90s, 00s and 10s.

The master DVD disc made from your tape will be EXACTLY just like the contents of your tape.
Video Encoded MPEG-2 10mbit/sec
Audio Encoded Dolby Digital
(For those who don't speek technical jargon - it means Professional Perfect Results)

I ship in US Post Office Flat Rate Boxes- please carefully package your valuable tapes for safe transport.

Example of Content

Reporter, university/student work, medical, commercial / advertisement (must have official paperwork proving authorized duplication). With rare exception this means no commercial work, sorry.

For the safety of your tapes- please ship in its protective plastic storage case. If you prefer to save shipping costs- you can opt to not have your tape reels returned. Normally I do return all tapes sent to in for transfer.

Plan on Including

1. Official letter authorizing transfer to DVD/duplication rights & copyright documentation
2. Send to me in protective plastic case
3. Buy one listing for each reel to be transferred

Lowest Price & Best Video quality

The disc isn't fancy - the video quality is professional.

NTSC Tape to PAL DVD - no extra charge

NTSC Tape to NTSC DVD - standard

This listing is for a service.


I am not selling equipment.


I am not selling tapes.

This is for transfer of buyer's tape to DVD.





I have these machines for 1/2" and 1" transfers

Panasonic NV504 - vintage 1" B&W and Color format from 1967


fully compatible with Panasonic's own standard. They made


many B&W machines in the 1960s and this machine plays most


Panasonic format tapes color or B&W. Tapes are usually marked


"Panasonic Video Master" to distinguish them from other


formats/brands. 8.5" dia reels is an unusual size 1/2" smaller


dia than several other brands.





Shibaden SV510U - vintage 1/2" B&W format from 1970s

fully EIAJ 1970s stanard compatibility- plays tapes from many


name brands Sony, GE, Bell& Howell, Ampex, and more. Used in


homes, schools, and more.





Sony BVH3100 - modern 1" Type C format from 1990s & 2000s -


the very last Typc C machine produced by Sony. The very best


and fully downward compatible with other Sony Type C


machines and other brands including RCA, Hitachi, Panasonic,


Ampex and more.





All my equipment is broadcast quality and high-end full TBC. You'll love being able to view the DVDs or other custom format- just ask I may be able to do it exactly as you have in mind. Got a whole library of old video reels? No problem. 1-stop-shop tranfers to and from various formats - want your reel transferred to videocassette. No problem- which one? Lots of options.




I'm not selling my machines - I provide a video/film transfer service.




Also available- sample recordings so you can calibrate your machine- have you recently changed or adjusted the heads or tape path? Need a calibration tape - no problem. I can provide a sample/calibration tape of any format color or B&W.




Prices are negotiable and start at under $100 per reel for


video reel transfers. Substantial qty discounts available.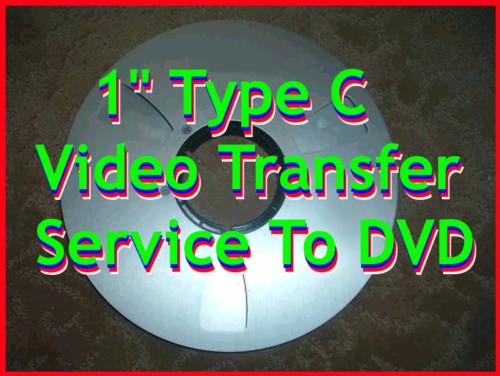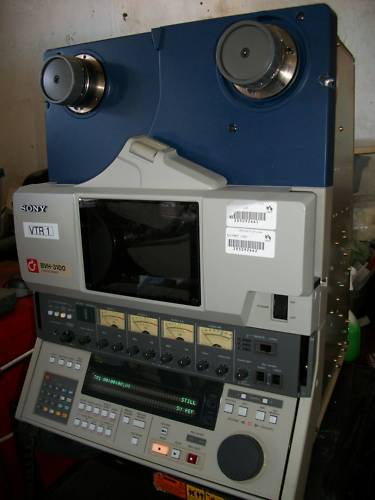 Yes I transfer standard Broadcast Ready Reels 10.5" diameter (above). Most of these are Type C format recordings. Keep reading if you think you have an oddball recording by some other machine - I can do some of the oddball recordings also as I have a whole collection of vintage video recorders (see below).
Even if you are not quite sure which machine recorded your tape- contact me - itis not always possible to identify the format by looking at the tape reel. Sometimes by loading it onto several of my machines (trial and error) I find one that does play it back. Then I can transfer the playback to the disc or tape format you want.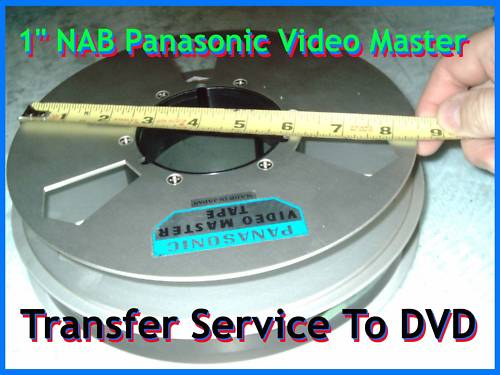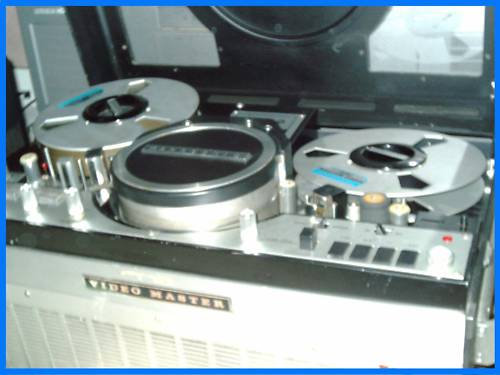 I transfer all formats of tapes and films 1960, 1970, 1980, 1990, 2000, 2010+ & Vintage
Super8, Regular8, 16mm, 35mm cinema and commercial & personal (Rank Cintel)
8mm, Video8, Hi-8, Digital8, MiniDV, MicroMV,
Reel to Reel Audio 1/4", cassette tape, micro cassette tape, 8-track
Reel to Reel Video (1" type C, 1/2" EIAJ Color & B&W, 1" Panasonic NV Master, etc)
FisherPrice Pixelvision PXL2000
VHS, VHS-C, VHS-S, VHS-C, VHS ET, SVHS, SVHS ET, Betamax, Beta I II III SuperBeta,
DV, DVCAM, DVC, DVCPro, DVCProHD small Medium and Full Size cassette
HDVS Unihi vintage high definition analog cassette

Umatic lowband/Highband/H/SP (all types)
Technicolor/Funai CVC
Cartrivision format both 15fps and 30 fps modes

Great Time Machine VR1000 format
JVC D-9
Panasonic MII (both portable & full size cassette)

All film formats 8mm,Reg8 and Super8, 16mm, 35mm including home movies & Cinema

Akai VT-100. VT-110 and Robertson VT formats

Betacam Standard / Betacam SP / Digital Betacam "digibeta" / Betacam SX
Betamax consumer formats I II III Super or standard
Laserdisc 12" cartridge CRV and non-cartridge 12" & 8" formats (blanks available)

PAL/NTSC/Secam worldwide conversion any-to-any format vintage/modern available

Audio: CD, DVD, DAT, digital MP3, Reel-to-reel, 8track, cassette, microcassette, MiniDisc, webcor wire recording spool, 6track sound follower for 16mm or 35mm film, etc more types including odd-ball vintage rare types of cassettes and spools and cylinders and floppy disc and diskette. All formats of disc and SD CARD or USB flashdrive digital files.
I can transfer proproprietary style memory cards of all types.

The most popular formats I record to are CD-R and DVD-R or DVD+R and MP4 and Mjpeg etc
I can record to and from most any format ever made.
many more- too many to list
________________________________________________________________________
________________________________________________________________________
________________________________________________________________________
Written authorization required from the originating party

hollywood movies*
tv shows*

commercial copywritten*,

*** must have written authorization from the originating studio or company
If you do not have a letter authorizing the transfer - obtain it by contacting the
creator of your tape's content. Then call me at once you have the authorization

letter. No bootleg please.

________________________________________________________________________
________________________________________________________________________
________________________________________________________________________
homemade recordings are ok such as student or personal project
Sincerely,




Dr Virago Pete



Questions?

Email address drviragopete@att.net

Phone # (847) 454-7858
--------------------------------------------------------------------------------------------------------------------------------------------

Quote Consultation Fee - Required for all 1" Inquiries (Non-Refundable)
Due to the Excessive number of quote requests and the amount of my time wasted on non-serious buyers, I must resort to charging a fee for my time. $10 quote and or consultation fee is non-refundable, and non-applicable to order. Due to the unscrupulous/irresponsible callers of present and past years- I must charge a quote consultation fee. Make sure you have paperwork which shows you own the rights to the content. (Note school work and other private party work such as weddings and church work etc (see above) is not commercial and Copyright paperwork etc may not apply here. Nevertheless, a quote/consultation fee is applicable to ALL inquiries.

For example

Caller phones about 3ea 1" videotape reels, he thinks he will impress me by spouting off actors names, directors names, this studio and that studio ... (cut the BS and just have your paperwork ready before you phone or email) He needs these tapes transferred to USB and DVD and gives me his paypal email address for a paypal invoice and promises to pay right away. He has copyright paperwork and music artist authorization paperwork and will include it inside the box. A few days go by and I see the paypal invoice has not been paid. I email him and he says he found a local place to do this for him and "thanks anyways" Well in the meantime, I spent time talking to him, making sure he has paperwork, figuring out a mutually agreeable price, taking the time to write up a paypal invoice. Then waiting for the payment (none) and then having to email him to inquire about the unpaid status. He made no effort to let me know - it fell through. This irresponsible-ness is MORE COMMON than you might think. THEREFORE I now require a $10 Quote Consutation fee on all 1" inquiries. This is INTENDED to cover my time. Im sure it will screen out those that do not have money and have no intention of paying or buying. It will also screen out those that havent read my ad (this entire page) Only serious inquiries will be willing to spend any money for a NON-REFUNDABLE quote consultation fee.

Click here to pay $10 Quote Consultation Fee (non-refundable) this is not payment for Media transfers

----------------------------------------------------------------------------------------------------------------------------------
All questions answered personally and promptly

I am willing to answer questions.

I'll do my best to match or beat anyone's price if possible.