Fall in love with your PS2
Broken PS2?

Disc Read Error?

This ad is for 1ea CD-Rom disc "Dr Virago Pete's Playstation 2 Version 2 Repair." It is a CD that teaches you how to fix your older model PS2 system (not applicable to PS2 Slim). All content is copywritten and all rights reserved. Do not copy or share this exclusive copywritten content.

Playstation 2 model SCPH-30001 V2
Repair Fix CD
You have tons of fun games. Play Them Again.

What do I need to view this CD?
This CD-R (burned CD) must be played on a PC using Windows (Runs on 98/ME/XP/Vista).Don't worry about your PS2 not being able to read discs- this CD is made to play on a PC computer.

Covers the Playstation 2 model SCPH-30001 with serial numbers that start with U0 (this is how to identify a Version 2 - check yours now.)
Read what recent buyers had to say:
Playstation 2 repair cd good seller good information
Great item; wii buy from seller again
Thank you
PS2 disc - Item was as described
Stellar Customer service/quick shipping. A pleasure to shop with
excellent service thank you
CD of PS2 Repair Received in Excellent Condition Awesome Seller
ps2 repair guide was awesome great seller fast shipping

PS2 is the best one. Restore yours and enjoy it again.
Sincerely,
Dr Virago Pete
Do not resell, redistribute, or copy this cd or any part of this listing.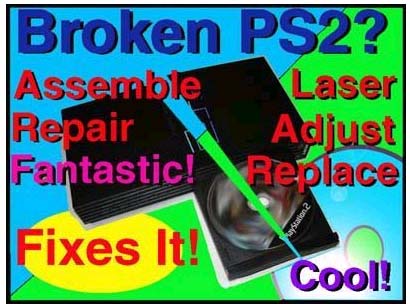 Price


$4.99 plus shipping


HOW TO PAY
Use The
PAY NOW
Button Below to Purchase Dr Virago Pete's PS2 V2 Repair CD
Cost of shipping
Anywhere in mainland USA $4.99
(Hawaii, Alaska etc shipping is higher - please inquire about shipping cost)
CD will be sent to you in a double cardboard package. Within the cardboard- the CD will be protected by a paper CD Envelope.
Note: If you prefer to send a money order, send an email to drviragopete@att.net
The
PAY NOW
button below is for
USA Buyers
ONLY
(if located elsewhere please send email question).