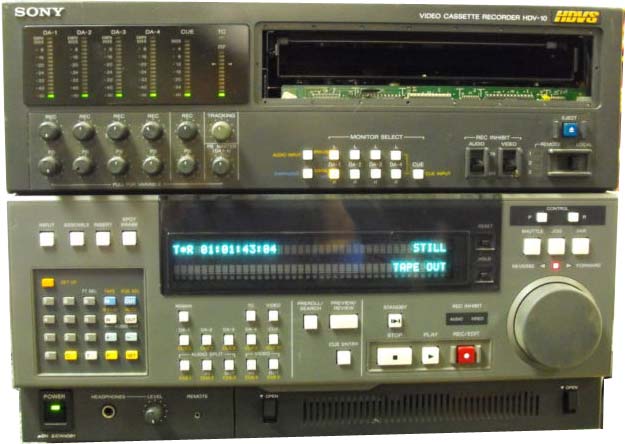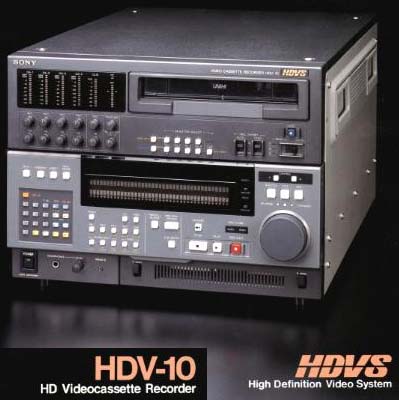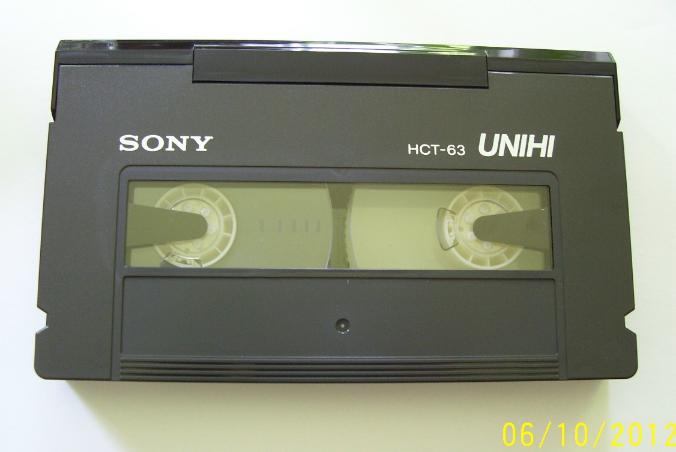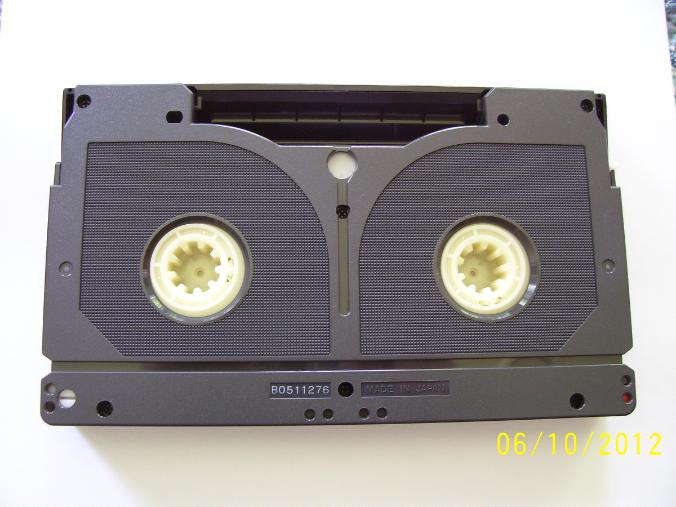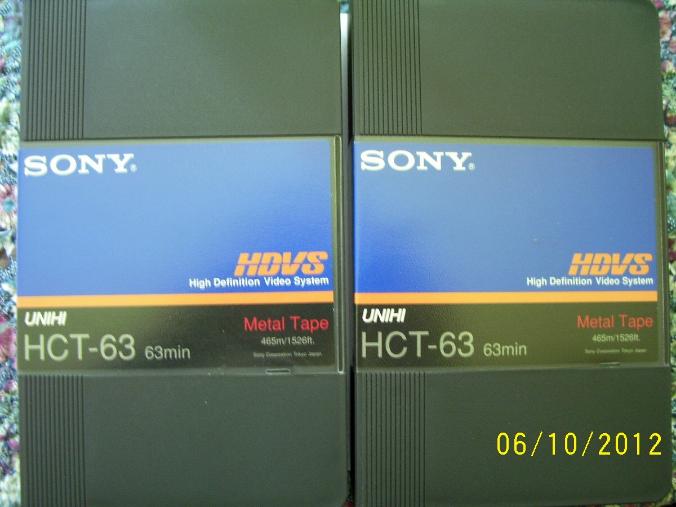 Dr Virago Pete's
Unihi (analog) HDVS Tape Transfer Service
(using Sony HDV-10 machine)

I am a small tape/film transfer service. I also collect / restore rare film and tape machines for my own use.

I own a rare Sony HDV-10 video tape recorder VTR machine.

The photo looks greenish but the photo is misleading- it is a dark grey almost black- and medium grey - the studio picture is correct.
The tape format it uses is sometimes called "UniHi" and is a analog high definition format which never made it to popularity around the year 1981-1989. The video resolution was wideband 1125 interlaced and aspect ratio was 5:3 (as compared to 1080 interlaced and 16:9 of today) Comparing the aspect ratio this means that it is a little less widescreen than todays standard. Changing the ratio for comparison 5:3 means it would be 16:9.6

I hope to find some customers for my tape transfer service to SD DVD, SD Videotape or other HD Videotape or Digital format (I have many formats of recording machines). Some TV series and movies were shot in HDVS analog format at that time.

Here are some photos of my machine.

This machine model weighs 115lbs and is considered portable - designed for use on-location or news van type recordings. This model was also used in TV stations and and some hollywood productions.

Tape Facts

My machine uses Sony HCT63 (or HCT-63 or HCT-63M) HDVS "UNIHI" 63 Min. tapes which are unique to this VTR (video tape recorder). There were a few camera models and 1 VTR model which could record/play in this format.

Analog High Definition Hi Def video format introduced in 1981. Some tv series and cinema films were shot in this format. Some HDVS analog machines were reel-to-reel and some were videocassette recorders such as portable cameras and recorders and decks. I only own the videocassette deck. I do not own any reel to reel analog HDVS machines. UniHi refers to the videocassette format - not to the reel-to-reel format.
Sony has a different format videocassette called Digital HDVS (HDCAM) which is part of the Betacam series cassette size/shape but the format itself is different and is digital. What I am offering is the older HDVS which was an analog format of the early 80s. Curiously- Sony used this tape model name BCT-XXX for their Betacam and HDCAM series tapes. Betacam/HDCAM etc is a different size and shape than the tape the "UniHi" machine uses. HDV UniHi cassette model is HCT-XXX and is not the same shape cassette as the Betacam series.

Most online information is wrong about tape compatibility. For example - I see many references to the BCT-12CL cleaning tape being compatible with this Unihi machine - but that is simply not true- see they are saying a HDCAM cleaning tape will fit into a"UniHi" machine - and that is incorrect. The tape itself is a different size and shape. The problem is most likely the similarity of the model number of the tape - on a different series of tapes which causes confusion.

If you run into a HCT63 tape (HCT63 tapes won't work on other vtr models which use BCT tapes such as Betacam because the tape itself and format of recording is different and unique to HDVS) won't work in your studio machines - contact me. I can transfer its' contents for you. I also buy "UniHi" HCT63 HDVS tapes both used and new.

A "UniHi" HCT63 tape is wider than a fullsize Betcam 1/2" tape. A small Betacam/Betamax/VHS tape will not work in a "unihi" machine- the reels are a different distance apart and Betacam/Betamax/VHS cassette is not wide enough and not thick enough to fit. The UniHi machine uses 1 tape size only. The UniHi machine uses 1 tape length only.
I see several online transfer houses which transfer using the same machine as mine - they charge $400 on up per day for rental of the HDV-10 machine. I don't rent out my equipment; But, I can be a cost effective solution for the transfer of your tapes to other tape formats or disc formats etc.
This machine has a removeable standard 120v ac cable typical of PCs and most broadcast vtr equipment also has this ac cable type. One curious thing about the AC cable is there is a rocker switch on/off on the cord itself. The back of the machine has a toggle "breaker switch" and the front has a power/standby switch. There are 3 ways to turn on/off this machine. This cord is interchangeable with a standard PC ac cable and socket is modern. This cord type was a trend setter for video equipment. The end of the AC cord is a hard brown bakelite which is not common in AC cords today. I run this machine using a standard PC's AC cord. I have several 1960s & 1970s on up Sony vtr machines and some have non-removable ac cables or round socket ac cable. The UniHi machine is the earliest in my collection which uses a standard removeable PC-Type AC plug socket.

Input/Output is Y Pb Pr for true HD transfer. It is a first for the TV standard popular today. Although the tape format never caught on - the Y Pb Pr connections exist today and this is the machine which started the switch to Hi-Def back in 1981. Most current tvs and monitors and dvd players today have both Y Pb Pr connections and HDMI. This machine does not have a HDMI connection. The Y Pr Pr connections are compatible with modern monitors and recording equipment I already own in the 1080i standard.

Today's standard is called 1080i but truly it has 1125 lines - some of which are not displayed and for carrying data. So really what is the difference between HDVS and today's 1080i standard- the image proportions are slightly less widescreen making the image just a tad skinny from left to right but still fills the entire screen. Say for instance- If we recorded you back in 1981 with HDVS equipment and you saw yourself today on your 1080i monitor- you would apear very very slightly thinner.

The original cost of this machine Sony HDV-10 in 1981 dollars was $180,000. Let me know if you need some Unihi tapes transferred- I'll do my best to beat anyone's price. There may only be 5 machines left in the world.

(I transfer most consumer and professional tape and film types)

Sincerely,
Dr Virago Pete

Questions?

Email address drviragopete@att.net

Phone # (847) 454-7858
Illinois USA