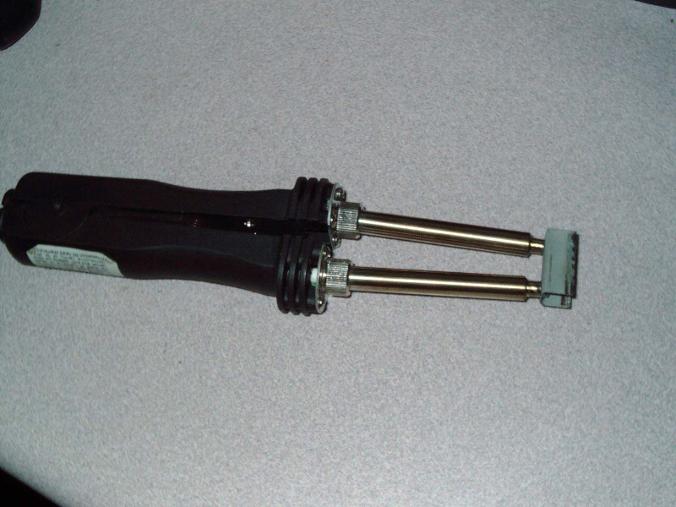 Standard size tip for desoldering 20-pin or 16-pin ICs which are narrow. It is suggested that the user apply solder and "tin" the edges (as shown.) It is normal for the tip to discolor due to heat.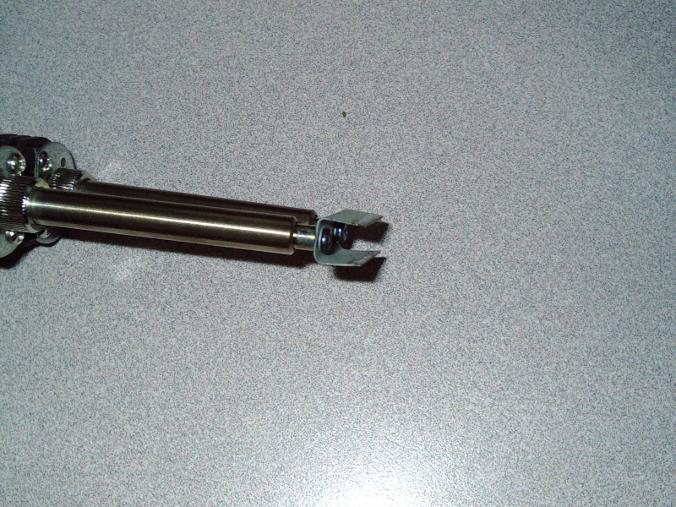 Standard size tip for desoldering 20-pin or 16-pin ICs which are narrow. It is suggested that the user apply solder and "tin" the edges (as shown.) It is normal for the tip to discolor due to heat.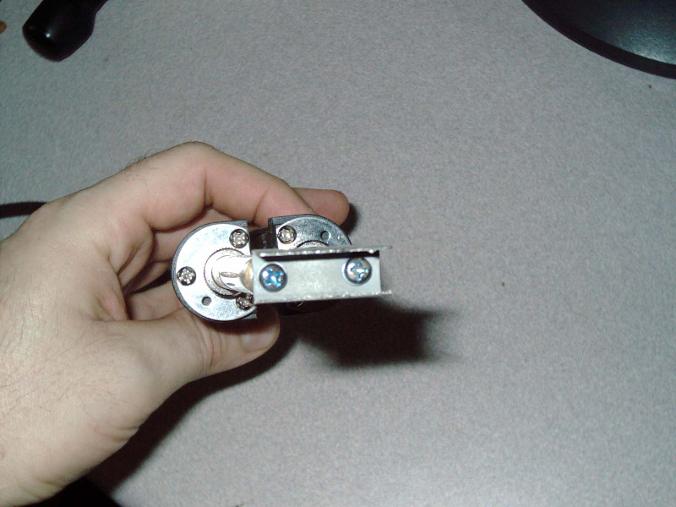 Desoldering Iron Tip
Intended for use with economy desoldering tweezer (see photo).
1. Unscrew your factory stock tips (reuse the 2ea screws)
2. Attach the IC desoldering tip (attach 2ea screws)
3. Let heat up (tinning is recommended for first use)
4. Put IC desoldering tool OVER IC and (touching the PCB) all the way down
5. Heat the IC for 1-2 seconds
6. Pry IC up into the desoldering tool cavity with a flat screwdriver - gently working each end of the IC chip up carefully a little on each side - repeating
7. Lift up the IC desoldering tool while prying up on IC gently
8. The IC should now be lodged in the IC tool's cavity and up and out of the circuit board
9. Being careful to not splatter hot IC or solder - pry IC out of IC Tool cavity with same screwdriver

Note: Wear Protective eyewear, facemask, clothing, follow proper safety procedures as solder is hot. Not for industrial applications. Intended for intermittant occasional use.

Practice will help you accomplish this task quickly and efficiently. Remember heating an IC too long will damage the IC chip and traces/Islands, and through holes. The above steps can be accomplished in 2-3 seconds for an experienced user. Practice on scrap PC boards before actual work. Damage to ICs or traces is at the risk of the user, and a skilled desoldering technician will be able to accomplish this without damage- by being brief and efficient.
Reuse of the same IC is possible.
This tool is intended for de-soldering.
What makes it special - the tip is slightly spring-like and helps keep in contact with the IC chip's legs/pins.
If your IC desoldering tool does not press slightly against the IC legs - adjust the space between the 2 sides by pressing them or straightening them slightly. It is a good idea to make a test fit - to make sure your desoldering tip will fit the IC snuggly - but not too tightly. Do this test fit - with the soldering iron cool and unplugged.
Custom sizes and shapes available. Prefer a thin or thick desoldering tip? Prefer a certain metal? Have a different desoldering iron you wish to use this on? Customization is available - describe what your needs are - by phone or email. Price may be different for custom-made tips. Quantity discounts may be available. Just ask - the worst I could say is no.
Standard size tip $49.99 each plus shipping and handling
Need Customized tip(s)?
(Custom length and width available)
ask for quote & availability of custom sized tip
Soldering iron not included
Desoldering tweezer not included
Photos show application. $49.99 plus shipping/handling includes 1ea standard size tip only
Standard size tip (specify when ordering)
1. 20-pin narrow
2. 24-pin wide
Allow several weeks for delivery
No Rush Orders
Shipping/handling
$4.99 to any USA address
$17.99 to any International Address
Dr Virago Pete
phone (847) 454-7858
between 11am and 7pm daily


email drviragopete@att.net
Located Illinois, USA
Please note that I use a different email address for communication than paypal. When sending paypal or correspondence - make sure to use the correct email address.
Check or money order or paypal is accepted


Case Study
I designed and built this desoldering system as I was trying to remove some particularly stubborn ICs. The mfg of that board made the holes undersized and the ICs were very difficult to get out and the vintage-solder was crystalized. Normally I would just use a solder sucker or desoldering braid/wick or desoldering gun to remove the ICs - but the ICs just wouldnt come out. I was afraid that I would tear a through-hole - if I pryed the chip without heating all of the pins. So I decided to make a tool that would heat all the legs up simultaneously. I found that for this particularly stubborn board - first removing all of the solder with a desoldering gun worked best. I then put the IC desoldering tool over the IC making sure there was contact with all of the IC pins and fit was snug but not too tight. I proceeded to desolder 18 chips on that repair job. Without this tool - it would have been near impossible - for sure. I'm glad I came up with this way of removing an IC. It is unique in many ways. It worked quite well for me on the stubborn/difficult to desolder boards. I still use a desoldering gun and desoldering braid. But for the wedged-in ICs which have crystalized old solder - this tool is a miracle. Otherwise I would have had to cut off each leg/pin and destroy the chip I was removing. I successfully removed all chips for testing and reused them (except for the 2ea bad chips which caused the electronic board not to function in the first place) This saved me money in buying only the replacement ics I needed - with nothing wasted or destroyed. I socketed every chip. I was fixing my ICT-101 IC in-circuit Tester which was purchased at big-auction-site in non-working condition made in approx 1983 year and now is up-and-running in restored condition. I have been in the electronics industry for 35+ years.
- Dr Virago Pete
---------------------------------------------------------------------------------------------------------------------------------------------
The following Paypal Button has a drop down box -
Choose the tip
1. Standard for Narrow DIP IC 20pin $49.99 plus shipping/handing
2. Standard for Wide DIP IC 24pin $49.99 plus shipping/handling
3. Custom for Larger - customer specified number of pins $99.99 plus shiping/handling
(International buyers email me and I will send you an Paypal bill)
This Buy Now button is for USA Buyers:
Desoldering tweezer is NOT included.
You are purchasing ONLY a TIP.

Buyer must provide your own desoldering Economy Tweezer -

see photo