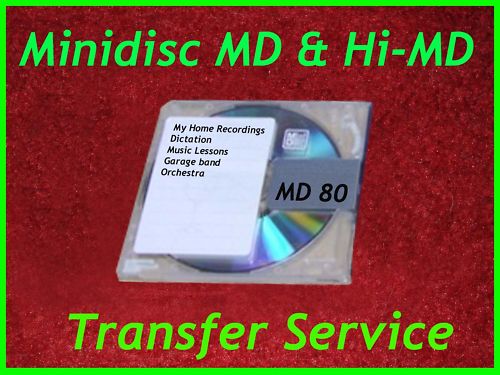 This listing is for the transfer of audio from 1ea Minidisc to DVD per hour. Each Minidisc provided by buyer will be transferred to its own DVD. 1 DVD disc can hold approximately 2 hours of audio in highest quality. In addition, the video portion will contain actual footage of the Minidisc being inserted into the actual player and shows display information and settings. Buy one listing for every Minidv hour buyer will provide. This listing is an audio and video transfer service of the contents of your Minidisc. Send only home-made legal Minidisc for transfer.

Got Minidisc MD or Hi-MD?

Audio Disc to DVD transfer
service.


Do you know what is on them?


Band Demo
Jam Sessions
Musical numbers
Recitals
Orchestra
Soloist
Rehearsals
Conversations
Meetings
Services
Classroom/Lectures
Telephone Answering Machine
Court & Reporter
Family & Friends
Memos
More

Depending on how your discs were recorded- Dr Virago Pete uses the correct settings to play it back correctly. For example some discs were recorded with speed settings and other advanced selection rates. Trust Dr Virago Pete for safe disc handling and having the correct pro equipment to transfer your discs to DVD. Video portion of every DVD shows the actual audio transfer taking place. Simultaneously- the audio is played! Your DVD contains the 100% contents of your disc.

Why risk playing your old Minidisc cartridge on a player that you don't trust?

Yes I can transfer any format of mini disc new or old - Will do my best to save as much audio as possible - even worn discs are welcome - I will do my very best to save your audio.

Why transfer the Minidiscs to DVD?
DVD is a very high quality recording method using professional DVD recorders. The DVD audio is Professional and Top of the line and captures every sound which your media contains. By seeing the actual disc being played back- you can see the data including the disc handling and settings. Seeing the video accompany the audio recording adds the nostalgic feel of playing the actual MD or Hi-MD minidisc. You'll love it.

What about the sound quality?
The DVD recorders I use are very high end and capture every sound your media contains.
1 Channel Mono Recording
2 Channel Stereo Recording

Do You have Professional or Amateur 100% legal recordings?
I work with it all to give you the very best possible DVD sound conversion.

What I can do to correct your recordings
1. Playback with correct settings to match your original equipment settings
2. Sound enhancement
3. Playback correction

Why choose Dr Virago Pete to perform the Audio Transfer?
Well known for all types of media transfer. 30 years of experience. My unique Audio and Video view of your minidiscs are the very best in the industry. Personal and prompt service.

It is wise to have a backup of your minidiscs on DVD for several reasons:
1 It is easier to watch home audio recorder playback movies on a standard DVD player
2 Your recorder / player may not be available anymore but you still have minidv discs
3 Give copies to your loved ones
4 Deterioration, aging, degrading of quality
5 In case of theft or loss
6 DVD players have features players didn't have

Features:

Studio quality Minidisc MD and Hi-MD transfer.

High quality stereo or mono sound is exactly like your original recording.

High quality, namebrand DVD disc


Press PLAY on your DVD player will give you a menu and then you can choose which video you want to watch. The movies fill the whole screen (just like a "Full Screen" store bought DVD). Your films in the best quality possible.

Your DVD is playable on DVD player, many game consoles, PCs.

Magic marker title on DVD face, no fancy disc face

All work done on Professional equipment

Full Sound Transfer of Mono and stereo recordings

DVD is provided in a basic white paper 5" x 5" standard envelope with round clear window

This listing is for audio transfer of 1 hour of MiniDV disc to DVD disc (most older MD discs are 74 minutes and you can round that to 1 hour- that is fine).
Buy one listing for each hour of Minidisc recording you want transfered to DVD.

I transfer ALL types of media - But this listing is for Minidisc MD and Hi-MD recordings. Check your disc to make sure it is the correct style. See my photo for example.
Got Questions? Send Email or call by phone.
Please only home audio recordings not infringing upon copyrights.
No hollywood or music industry recordings.
No radio music.
No internet music.
Only do-it-yourself audio such as recording your conversation, your own music, nature walks, recording speeches and lectures, school and church recodings, and more.
No professional band / singer bootleg recordings please.



Innovative and enjoyable to hear your old recordings again - through your TV and DVD player!





Worldwide Shipping YES



Got a garage band or other gig? Recorded from your Mic? Want to make your own demo? Dr Virago Pete offers the VERY BEST DAT transfer service second to none. Why risk media aging? Buyer's media transferred by Dr Virago Pete. Lowest price and highest quality service.

You'll love hearing your old recordings again.

Please no radio broadcasts, no tv shows, no hollywood studio recordings-
I only transfer do-it-yourself home recordings using the very best professional equipment.



My Professional DVD Disc Specifications- playable on your TV's DVD player



The master DVD disc made from your media will be

EXACTLY

just like the contents of your media.
Video Encoded MPEG-2 10mbit/sec
Audio Encoded Dolby Digital
(For those who don't speek technical jargon - it means Professional Perfect Results)

Every once in a while I get sent media which was recorded differently- possibly on equipment in need of repair or the machine it was recorded on had unique speed or other settings. I have lots of professional equipment. I also keep a wide variety of unique players with unusual features. I'll do my very best for your media. All of my equipment is in wonderful and perfect pristine condition.

Rather than having your old equipment destroy/scratch/eat your discs - send it to me for professional results. Professional handling with care. Mint condition equipment used for the transfer.



Buy One listing for Every 1 hour of recording time.



For example - you have 3 MD older discs each containing 74 minutes of music or speech which is legal.




You should buy 3ea listings (round 74 minutes as being 1 hour- that is close enough)



If you have a more recent MD disc it may be recorded in a long play mode such as LP, LP2, LP4 etc. which can be several hours in length. Buy one listing for every hour of recording time. You may also round 74 minutes as being 1 hour.

I am able to transfer ALL modes and speeds and settings for any MD disc format or setting ever made.



YES YES YES - new or old style MD or Hi-MD



New style MDLP
New Style ATRAC3
Old Style MD
Old Style bitrate sampling rates
New Style bitrate sampling rates
Legal Microphone recordings



NO RECORDINGS FROM THE NET - SORRY




Only home, do-it-yourself recordings of your own works, like your own vocals, your own band, your own school or home recordings of speeches, dictation, etc.




No transfer of purchased/downloaded files sorry.



If you have Hi-MD recordings the sampling rate may be much different and the format of the disc itself is different than older generation MD discs. No problem. I can transfer ALL settings for Hi-MD recordings. No problem. Buy one listing for every 1 hour of transfer. You may round 74 minutes as being 1 hour of transfer.

I have all types of professional recording equipment. Contact me for your needs.

I am not selling any equipment here. I am selling my transfer service. Buy 1 each listing for every hour of Minidisc MD and Hi-MD to DVD.

Old Minidiscs or New Minidiscs are no problem.

Only legal recordings please.


Sincerely,
Dr Virago Pete
Got Questions?
(847) 454-7858
drviragopete@att.net
Illinois, USA





All questions answered personally and promptly