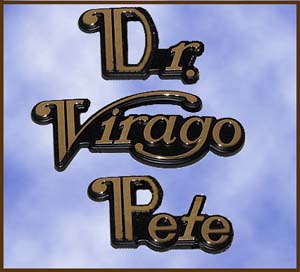 This listing is for a scanning service and what you get is one or more 3d files. No parts are included.


What is being offered?


1) High resolution scan of your object (one side only - takes two scans to make a two sided mold) up to the size of a cigarette pack/bar of soap size.
2) Any file format (DXF, STL, Point Cloud, VMRL, 3DMF, more)
3) Will work with you to provide low res scan(s) to ensure customer satisfaction followed by hi-res final scan when we've got it how you like it (depth and resolution and parting line etc- you'll need to make some decisions on how you want it).
4) Speedy service via email or burned DVD or CD disc



What are the advantages to your method?


Let's face it- digital scanning in 3d by tracing, laser, ultrasound, contact methods all have details which are not MOLD MAKING READY. The DR VIRAGO PETE scanning method allows your scans to be produced into a mold where the object is actually removeable from the mold- now isn't that the whole point? Why would you want a scan where the part becomes permanently trapped inside? Useless. Sheesh.



Molds need to be made to be so that the protruding features are straight down or tapered. I understand mold making and have plastic injection molding experience.



Whether you are making a fishing lure, reverse engineering a gear or other part, making a part from a carved block of wood, or patterning the new mold off a different part that will be scaled up or down- let me know what your needs are.

I specialize in small mold files. In otherwords, does each part half fit inside a cigarette pack? If two halves- does the full part fit inside two stacked cigarette packs? If one half is thicker than the other contact me first.



To make your mold (after having received my file of your object)


1) Load the file using standard 3d Software such as ProE, Visual Mill, Mastercam, Bobcad/cam, etc.
2) Create your tool path based on your post processor
3) Home your mill, touch off, and begin milling
4) Your block of metal will have positive or negative impression (Your Choice)
5) Repeat steps 1-4 for the opposite half.

Works for mini mills, mid-sized mills, and large mills.

EDM users can also use this technique to create the graphite form by milling the graphite block with my positive or negative (you choose pos or neg) scan data.

All forms, parts, etc returned to customer.

You are responsible for shipping the items, and only the return shipping is being charged here.

I don't normally include G-Code because it is specific to your machine. If you are having trouble or really need G-code- I will try to work with you but that is something above and beyond and not included in this listing.

This listing is for ONE SCAN if your mold has TWO HALVES then you will need to purchase 2ea (I combine shipping)

In a hurry? Contact me first before buying. It normally takes a couple of weeks from start to finish. Quicker may be possible but costs more (quicker is not included in this ad listing)



Have a specific resolution you need (accurate to how many thousandths of an inch?) Contact me first before clicking payment button.



I get sent wooden parts, parts formed in bondo or wax, pieces of threaded rod epoxied to lathe turnings, plastic parts that are cracked and glued together, I've even scanned carved bars of soap for customers. These are your originals and becomes your master. Be creative even modeling clay or wax can be used. The master is up to you to create and have fully aligned ready for my DR VIRAGO PETE MOLD READY SCANNING PROCESS.

Make your invention, production part, electrode for EDM users, or other idea. Versatility and adaptability are what my business is all about- inflexible businesses need to change their ways and grow and adapt. Stop outsourcing the parts that you could be making in-shop. Need ready-to-go data files? No problem.

Need a 360 degree scan- I don't do that. Only moldmaking scans 180 degrees allowing for removal of part from mold. Your cut in half part determines the parting line (Usually customers use the lengthwise method although I am open to your ideas).

Need a negative from a positive? Need a positive from a negative? My system allows easy flips horizontal, vertical, left to right, right to left, negative to positive, just about anything you can imagine- contact me for your idea.

Your original part is not modified, destroyed, or damaged during the scan process. I do not reveal my methods as I rely on this as a second source of income. Rest assured you will be VERY pleased with the result and the low cost.

I don't do prohibited objects like coins or slot machine tokens etc.

Many of my buyers are owners of small desktop or mid-sized style plastic injection molders such as Emco, PowerLab, Di-Acro, Simplomatic, Boy, Cincinnati, and more. Making a mold to use in the classroom or produce your own parts? It all starts with a scanned data file of the real object you want to create. That's were I provide the file. At that point- you'll need to machine the mold (using my file) out of a block of aluminum using a CNC mill (don't have a CNC mill- see my other ad listing for how I converted a standard Mill/Drill into CNC)



But How Do You Actually make the Scan so it comes Out of the Mold?


I don't reveal my secrets on this ad listing. You'll love the result.

Bookmark this ad listing and print it out.

Phone or email for quote
Questions? Email me at
drviragopete@att.net


You'll love it.
Dr Virago Pete
Questions?
Email drviragopete@att.net
Phone (847) 454-7858
(C) Copyright 2018 All Rights Reserved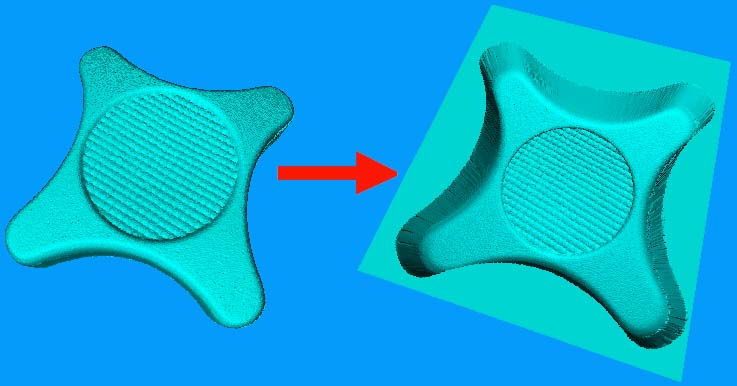 The above sample picture demonstrate a .002" scan / digitized thumbscrew from a real object. It was "flipped" inside out to create a negative and create a mold from a real object. The DXF file was run by an industry standard CNC mill to carve the mold from a block of aluminum. This mold was later used by a plastic injection molder machine to create more parts just like the original.

Here is a sample STL file of a scanned gear for download (15mb approx file size for this STL sample also included below is a 8mb sample DXF sample of the same). The resolution was data reduced for more convenient download. The actual scan was .002" resolution. This file is not in .002" resolution. Also this is a scan of a worn gear with defects. Use this file to test your software. The size of this gear is approx 1/2" I can create any file format at any resolution. The data reduction option allows me to make a hi-res scan and give you multiple files from the original at various data reduction levels. This is useful for cnc and rapid protototyping machines which have a limited memory you download to. Also my software allows for smoothing which is useful for scanning rough/coarse parts. I can flip, cut, inverse, or other operation through software which gives you the file you need for mold-making or rapid prototyping etc.

Due to space constraints on my website I cannot post the actual full-resolution file here sorry. Also my email account has a 25mb upload limit. I can create HUGE detailed data files for very complex precise parts scans- But I can't show you here or by email due to space and download/upload limit constraints. What I normally do is include a DVD disc along with the part/object when it is sent back to you. If need be I use a dual layer 8.5gb disc which has ample space for even larger objects. Think of this sample as a sample- enough for you to determine that you can in fact use the data file. Some buyers have me upload directly to their online file storage service.



Price Basic on Scan Size. Choose the resolution Low / Medium / Highest to match your needs.

Note
Low-Resolution is applicable to a basic 3d-Print.
Medium is applicable to an advanced 3d Print.
Highest-Resolution is applicable for metal mold makers.

My scanner is capable of the highest resolution finest detail - that I know of. I know of no other scanner that will give more detail. Of course I can set the resolution - to any resolution I choose and that fits your budget. Scans take time - the more points I scan - the longer it takes.

The thousands, hundreds of thousands, millions of individual points of the Highest Resolution Scan CAN AND WILL bog down even the fastest computer/software packages. Most buyers choose Medium-Resolution or Low-resolution.

Price includes return shipping your item in the same package as sent. If additional shipping cost is required - then I will send you a paypal invoice. Most buyers for this service provide a prepaid return shipping label. No rush orders please. If it absolutely must be a rush then expect a premium fee for rush service.

Buyer object can be made from any material. Soft, and clear, and hard and colors are no problem. Any color, any shape, any hardness. Yes Bondo. Yes clay. Yes Glass. Yes plaster. Yes foam. Yes wax. Etc Etc - any prototype material.

If you just need a portion of a larger object - make sure your larger object weighs less than 1 pound and make sure you give detailed instructions on which portion to scan.

Scans are one-sided. If you need a multi-sided scan - send email.




_________________________________________________________________________________________________________


QUOTE CONSULTATION FEE $10
Sometime I get a caller who has lots of questions and is not yet ready to buy. I have created this $10 Quote Consultation Fee which covers my time in answering questions to a prospective buyer. This $10 fee is non-refundable and does not cover any parts or service. It covers my time in email, phone conversation only. This fee greatly reduces the number of "just curious" emails and phone calls.