Dr Virago Pete's
Black & Decker Electromate 400
Repair Service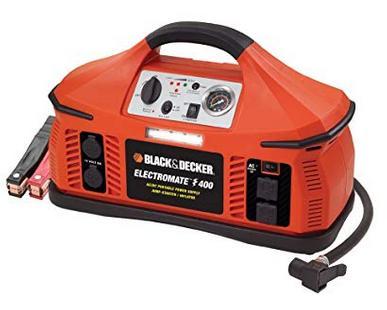 Ok first of all, Im not affiiliated with Black and Decker in any way. Im not an authorized repair center.

Ok well the only way I AM affiliated is that I purchased the Black and Decker Eletromate 400 for my own use and had to repair it in several ways because I bought it as a used unit. Being a technician and having experience in repairs and upgrades- I decided to restore it (and since then I have fixed many units as a paid repair service).

There are several REALLY REALLY REALLY wonderful things about this unit.
1. Built-in powerful 12 volt battery
2. Built-in Air compressor with PSI gauge
3. Built-in Light
4. Built-in AC power inverter provides 120V outlet(s)
5. Jump Start Cables for boost boosting a dead car boat lawn tractor battery
6. Rugged plastic housing and rubber handle
7. Built-in AC adapter for charging so all you need is to plug in an extension cord
8. Emergency preparedness
9. Unpluggable jumper cables - can store these elsewhere or use the port to daisy chain several units together.
10. Switch selects battery disconnect
11. Switch Off and green light tells you that jumper cables are connected properly then Switch ON
12. Storage compartment in rear
13. AC has its own on/off switch
14. 400 watt maximum AC outlet more than enough power for basic needs
15. Cigarette 12 volt outlet(s)

When it works - it works REALLY well.

BUT when it needs repair - there really isnt anywhere you can send it in for service and repair. SEE THATS WHERE I COME IN!!!

Lets face it - not everyone has soldering irons and electronic repair experience.
Lets face it - not everyone knows how to take something apart, fix it, and put it back how it was before.


I liked my used broken machine MORE than buying a different brand and model- because of the enhanced features.

Great for emergencies
1. Power Blackout and Outtage
2. SHTF preparedness (ShXt Hits The Fan - slang meaning end of the world preparedness)
3. Winter storms Blizzard Ice Sleet Hail
4. Neighborhood power disruptions - tree falls on powerlines
5. Dead battery on vehicle needs jump starting
6. Charging phones and tablets through a cigarette lighter device (not included with unit but avail at any drugstore)
7. More

Great for NON-Emergencies
1. Camping
2. Take it to church picnic
3. Swap meets
4. Tradeshows
5. Fleamarkets
6. Craft sales
7. Perform light duties which are too far away from an AC outlet
8. Etc

Look at all of the WONDERFUL reviews for this unit online. 99% of the comments are about how great and useful this device is.

Well here we are later many years after this product was introduced and used lovingly by MILLIONS of people worldwide.

Many of the units are now in need of service
1. Doesnt hold a charge
2. AC outlet doesnt work
3. Jumper cables need repair
4. etc.

I phoned Black & Decker in 2018 inquiring about the Electromate 400 and repair parts. I was told that they do not have any spare parts or pieces to sell me. I specifically was asking about the PCB inverter - NO and the Cigarette plug rubber cap - NO. Neither of these parts were for sale to me.

I had to figure it out myself.
1. Made my own parts on a 3d printer
2. Purchased and installed a new battery
3. Fixed the power inverter myself with electronic components soldered onto the PCB board.
4. Put it all back together - looks and functions very well.
5. I offer the same service to the reader.
6. I feel prepared during power interuptions and always have light and electric power ready through Electromate 400 unit.

Many pleased buyers of my repair service.
I care about doing a great job for you.
I care about careful packaging and shipping.

Pricing for DIYers and Full Service
Return Shipping of entire unit $54.00
Return shipping for small parts or portions $25.00
Brand New Dependable Replacement Battery $60
Power Inverter Repair $75
Jumper Cable Repair (Varies with)
Troubleshooting tinkered units $50
PCB ddiagnostics $39 all bad parts are marked in red and DIYer can fix on their own
Quote Consultation Fee $10
Typical Labor Only for Battery replacement $50

Please do not tinker with your unit if at all possible. Sometimes I charge extra for tinkered hacked units which are more difficult to repair than units that were left alone.

Sometimes people send me just the PCB or other parts for repair which saves on shipping cost. Then that person installs the fixed part on their own.

A popular option is "Quote Consultation Fee" no it is not possible to tell you exactly which electronic component needs to be changed without sending it to me for diagnostics.

Donations of Electromate 400 and other Black and Decker Power Stations are appreciated as it is a source of spare replacement parts and also saves our Earth from landfill waste.

___________________________________________________________________________________________________
Question:
Pete, What is the typical Cost to send you my B&D Electromate 400 unit and replace the battery and ship it back. I think the battery is dead but the rest apears to be OK?

Answer:
$60 for the replacement battery. $50 to install the battery. $54 for return shipping/handling. $164 is the typical total for battery only replacement including return shipping to USA address.

--------------------------------------
Question:
Pete, What is the weight and dimensions of the Electromate 400?

Answer:
25 pounds weight approximately. 17" Wide x 11" Tall x 9" Wide Approximately. I suggest using sheets of hardware store insulation foam (pink or white) stacked inside of a good sized box for shipping. Styrofoam is a great way to ship as it doesnt crush like bubblewrap. Bubblewrap offers no protection for this heavy item. Use styrofoam only please.
---------------------------------------
Question:
Pete, Im thinking about buying a department store jump pack for emergencies. My Electromate 400 unit was great but no longer works.

Answer:
I recommend the Electromate 400 over department store units. It has features other unit do not have. It is worthwhile to repair. During emergency or non-emergency daily use, the big battery and handy features and rugged design of the B&D Electromate 400 will be missed. Dont settle for an inferior unit. You will be like ... yes my new jump pack is ok for jumping a vehicle but during a power outage ... I miss my Electromate 400 which had the following features ... It is better to put the money that you would have spent on a department store unit and instead put that money towards the repair.
-----------------------------------------
Question:
Pete, Are all Electromate 400 units exactly the same?

Answer:
No, Some units have 2ea Cigarette lighter receptacles and some have 1ea. Some units have 2ea AC outlets and some have 1ea. Some plastic cases are orange and some are black. There are some lighter duty units which are Electromate 250 units (I repair those too) and some rare units Electromate 500 (Never seen one). Most popular units were the orange ones. Some have internal differences and versions and revisions.
___________________________________________________________________________________________________

Lets say you were stranded without power ...
Lets say you had a storm in your area ...
Lets say you had a flat tire ...
Lets say you were camping ...

What price can you put on peace of mind?

Dont put off repair and service of your Black and Decker Electromate 400 unit.

Lets get this unit back in service.
___________________________________________________________________


Orange Orange Orange Orange Orange Orange Orange Orange Orange Orange Orange

Orange Orange Orange Orange Orange Orange Orange Orange Orange Orange Orange

Orange you glad you found my Ad? LOL

_____________________________________________________________________________________________________

Dr Virago Pete (847) 454-7858 between 11am and 7pm daily
Illinois USA
drviragopete@att.net


Phone me to discuss your repair needs and I can send you a customized paypal invoice.

Paypal accepts Visa Mastercard Check etc and is one of the most popular payment processors on the internet. Paypal accepts debit and credit cards of all types. I accept payments through paypal as it is safe for both seller and buyer. Paypal phone number is 1 (888) 221-1161 and they can help you set up your own account or pay as a guest without an account.


_________________________________________________________________________________________________________
The following is a Buy Now Button all ready for purchase of Battery Only Replacement Service for USA buyer located in mainland USA. Clicking on the following button will take you to paypal.com where you will pay $164.00 Buyer will receive shipping address after paid. The buyer is to carefully package and ship their good physical condition non-broken B&D Electromate 400 unit. Seller will carefully replace the old worn battery with a brand new 18amp or greater capacity brand new maintenance free sealed battery. The unit will be carefully reassembled and carefully packaged in the same box and packing materials and shipped to the customers address as provided to by paypal. Seller will provide a tracking number to paypal as proof of shipment.

___________________________________________________________________________________________________________