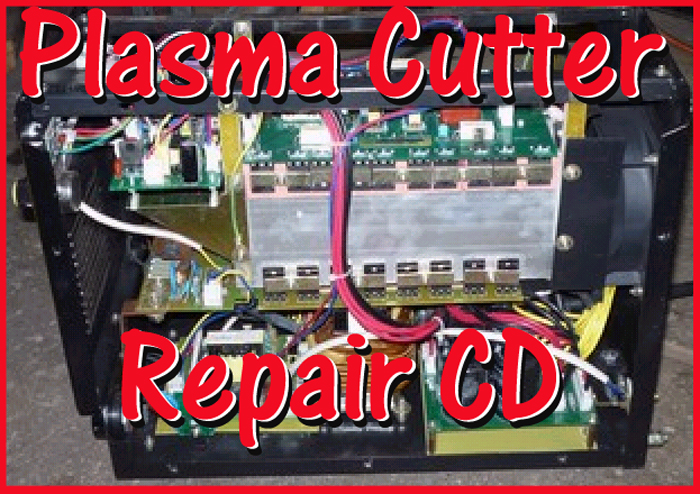 This listing is for 1ea CD-ROM (CD-R disc) titled, "Dr Virago Pete's Plasma Cutter Repair"
Crackle Pop Smoke? No Arc?
Dead Plasma Cutter?

Are you still scratching your head as to what went wrong? It was brand new and cutting well 10 minutes ago. Hmmm must be junk right?
That happens to alot of people.
Some people purchased theirs and return it a couple of times and get a good one finally.
Some issues here:
1. Operator error (trying to run it when not fully connected POOF! Smoke! Pop!)
2. Bad parts and electrical connections
3. Shipping damage which affects cooling and electrical connections
This CD addresses all of the above 1,2,3 as all are important. Let's face it the instructions included with the plasma cutter - are in another language. Some people hook it up wrong or power it up without the ground clamp or other essentials hooked up and 10 minutes later PSSSST smoke and POP sound and you got a dead inverter Plasma cutter. When I say dead- I mean no arc. It still apears to work and the display lights up for models with a red digital display- but doesn't cut anymore.
Information is the key. My videos show you how to fix a blown plasma cutter. By knowing the problems you can also open up your brand new plasma cutter to check for cracked parts (some shipping guys/gals carry this to your door and drop it with a big thud cracking internal parts- I show you which ones to check for and replace before ever plugging it in)
I'm not Fancy and my CD isn't Fancy
I'm not fancy. My CD isn't fancy. I'm known world-wide for selling all kinds of inventions of my own design and motorcycle repair kits of my own design. So when it comes to plasma cutters- what is of my own design? The replacement parts took alot of research and electronic knowledge to cross reference. Yes, I use beefier parts that are functionally equal to or better than factory original parts inside your Inverter Plasma Cutter from 40Amps to 50Amps.
Which Brand Names and Model Are Covered - See my list below.
The outside is made by the Brand Name (and comes in several case styles and covers) That is the outside cover. Internally they are identical or nearly identical. There are some internal differences - some have digital displays, some have analog displays, some have no display. But that is not the issue- the display circuits are fine and are not covered as problems are rare in display circuits. Problems are common in the cutting function- so much so that many people view these imported or rebranded Plasma Cutters as disposeable and once they go bad throw them out as they are not repairable. UNTIL NOW. I've tackled these issues and found solutions to get it up and running with beefier parts. No, it is still not everything proof and you can't throw or drop your plasma cutter like you see some brands advertised. It is a delicate piece of equipment which can work for years if taken care of and carfully used.
Don't Connect the AC Power Connector Backwards
Also the units come without the power AC connector (available at your local hardware store for a few bucks). Yeah, like most people know how to connect that. Which prong does the green wire and the brown wire and the black wire go to? Hook it up backwards and POOF Smoke and your unit is toast. I show you how to hook that up too. Why risk guessing and then having to pay shipping to exchange it and the hassle. These units would have a better reputation if they came ready to go. Hook up electrical connections backwards is very common and some learning is helpful- I show you how to do it all on the CD instructional VIDEOS and included article and hookup diagrams.
What CD Shows You
1.
Figuring out
which part or parts went bad
2. Knowing
which parts
to replace it with
3. Knowing
how to replace
the parts
4.
Where
to buy the parts
That's where my CD-ROM containing over 1 hour of TV quality videos comes in (plays on any reasonably current PC and requires software installation on your PC) which shows my hands taking apart two plasma cutters (one CUT40 and one CUT50D purchased online at a popular auction site as defective non-working) Comparing the two side-by-side you can see there is virtually no difference internally.
Some parts were obviously blown (black charred) but there were hidden issues- if you were to just replace the obviously black charred parts and plug it in - POOF there it goes again and this time more parts get blown. My suggestion is to WAIT and not attempt any repair before getting my CD. Even better- get my CD before you have issues so you can open it up and look for issues caused by rough handling in shipping which affects cooling flow and electrical connections. Seriously - do you think opening it up will void a warranty- what warranty? Practically non-existant.
My secrets took me A LONG time to figure out. I made many emails, letters, researched, and no-one had ANY answers to which parts these were equal to. I include PDF files which include the specifications of key internal parts and only after a whole year of research and testing and fixing dozens of plasma cutters of all makes and models - you get the idea. It would be awful to devulge my secrets on forums etc after all of that as I rely on sales as a source of income.
Equipment Used and Shown Throughout Videos
1. Standard Digital Multimeter (lengthier but cheaper testing and troubleshooting)
2. Standard tools like phillips screwdriver and flat screwdriver and wrench
3. Soldering tools (standard Radio Shack tools nothing fancy required)
4. Parts Checker (for easier quicker checks)
Chinese Plasma Cutters Junk? No.
The quality of Chinese Plasma cutter- it is well made but has a few key areas of concern. Shipping is very hard on these machines and running them with cracked internal parts causes many Blown Plasma Cutters I'm sure. Knowing what to look for is the key. Knowing what to do about it is also very important.
China Plasma Cutters Have Alot of Potential Once You Solve a few Issues
I like China and Japanese made products. And the people are great. Cheap quality? No. I have nothing against anything made in those lands. Price is affordable and pretty long lasting for most products. Some duds here and there - sure. Replaceable with off the shelf parts - I show you which vendors sell replacement parts inexpensively. I own a Japanese bike, watch a Japanese TV, am typing on an International made computer, most of my tools are imported and some are USA, and my plasma cutters are made in China. Like you didn't know that. Right? Same story at your shop. Eveybody tries to save a buck where they can. Who can afford the $10k plasma cutters? Not too many. These cheap plasma cutters range anywhere from $260 to $500 plus shipping. Blown units cost about $50 to fix (I don't claim all of them are fixable as there were a couple that were a mystery as to what was wrong and I scavenged those for parts.) not including my own time and effort soldering sometimes 'til 2 o'clock in the morning for several nights getting each unit to work. Level of difficulty is high and let's face it not everyone has the needed skills - even with my CD. Don't get mad if it doesn't work or you get frustrated- I'm willing to answer questions by email.
What you get
MY CD-ROM disc is a CD-R burned CD with a simple printed face and included in a standard paper CD envelope and packaged in double cardboard for shipping. Nothing fancy about it. The contents are AVI files playable on a standard PC and have sound but are not narrated. Let me say it again- there is no announcer telling you step by step "remove this screw or remove this cover" The visual information is enough for most people of all languages to understand (applicable to 110V and 220v and combination 110V/22V models) so don't get mad at me if you see hands working and meters testings and screwdrivers working and soldering iron repairing-
Because There Is No Narration.
This whole paragraph is about the simplicity and home-made-ness of this item. It isn't fancy but there are photographs, illustrations/sketches, many videos, and test data, and my own notes to help you diagnose common problems and replace bad parts and fix issues.
Doesn't Fix Everything 93% Successful Repair Rate
There are about 1 thousand parts inside your plasma cutter and I don't claim that this CD covers everything. I only covered the typical problems of the 25 approx plasma cutters I have personally repaired over the last year. Same problems over and over and over again. There were 2 plasma cutters I didn't figure out and those were scavenged for parts to fix some others. The typical repair costed me $50 in parts. No I didn't figure my time in these repairs. Most do-it-yourselfers are able to put in the time to fix their blown unit and $50 in parts cost is no big deal. Both the 40A and 50A models use the VERY SAME IDENTICAL PARTS.
Unusual Design
The internals of the Plasma cutters was tough to solve - even for a seasoned electronics expert like me with 30+ years of all kinds of repairs and new product designs and more. Plasma cutters are packed with electronics in a small box. It is a remarkable example of engineering with a few areas of concern. These areas of concern are the root cause of so many troubles which many owners find out the hard way (puff of smoke and pop firecracker noise). Sometimes the problem is poor assembly at the factory, sometimes the problem is rough shipping causing internal damage, sometimes it is operator error hooking things up wrong or lack of grounding or running the equipment without hoses and wires installed. Ok the damage is done and you're reading this wondering what to do with your expensive paperweight that is useless now. Wait for the CD to arrive before disassembling your unit because first of all there are HIGH POWERED parts that can kill you. BEWARE. I give step-by- step instructions and even cover the interesting ARC circuits and ARC protection circuits which are unique to plasma cutters. Actually when you run your plasma cutter there is an internal ARC in addition to the ARC at the end of your plasma torch. Both have to work for you to be able to cut metal. I do not claim that everyone can perform this repair. Must be handy with a soldering iron and have zero distractions while performing this repair- no cell phone ringing, no pets/kids distractions, no beer.
This is not a toy. No Horseplay. Non-serious people this is NOT for you. Serious, cautious, handy men / women only.
I sold many of the repaired plasma cutters locally but kept two for myself which I refurbished. I plan to use one as a standard plasma cutter and one as a CNC plasma cutter future project.
Let me know if you have questions before or after your purchase. Allow 10 days before item is shipped as I'm not so fast in shipping. Lots of positive feedback for many or my items. This Plasma Cutter repair CD is brand new for Nov 2009 and so has only a few feedbacks as of yet.
No Bootleg or Disclosure of Information Please
I paid my copyright and patent fees so please no bootlegging, no posting of videos or disclosure of my methods. Paying my small CD fee entitles you to fix your own unit but not to broadcast the solution worldwide. Sales help me develop more good solutions and products as I'm a problem-solver and inventor. If someone asks for help online or in person- refer them to my email address rather than telling them what to do and what to fix. I helped you. Return the favor by referring people to this CD fix.
Applicable to all of the following:
Name brand
Rather than listing tons and tons of name brands. I'll leave this generic which is really the case. Many resellers just rebrand these and double their money. The customer is left out-to-dry if it breaks. Which is where you are at as a reader- wondering how to get yours repaired. I'll show you how to do it yourself with mail order parts. Name brand? Most are just painted and rebranded and resold internationally. All come from one place - China.


Model
CUT40, CUT40A, CUT40D, CUT50, CUT50A, CUT50D, CUT50DX, CUT-40, CUT-50, CUT40B, CUT40DX, 40R, 40, 50, 50R, LG40, LG50, CUT40S, CUT50S, LG40E, LG40EP, LG50E, LG50EP, LG40, LG50, CUT40II, CUT50II, LG40E, BPS40, BPS50, ATPC50, ATPC40, CUT50RD, CUT40R, CUT50DR, CUT40DR, CUT40Z, CUT50Z
(b models are arc-less and non self piloting but still applicable)



The Case is Different but The internals are the Same


Some of the above have a different long or short handle or strap or extra face plate at front or back. Some have different vent holes etc. Internally - the electronics are very similar indeed. If you put many of these units side by side without the cover- you can see there are extremely alike and many boards are swappable between models (which is why I scavenged the two bad units beyond-repair that I had and used them to fix others.) The case and vent holes and handle are cosmetic. The internals and problems of no-arc at the torch end and smoke etc is what my CD covers which is applicable to ALL of the above.

(My CD doesn't cover TIG combo models as I have never worked on the combo units and can't say if it is applicable. I only list models I've actually repaired myself. My CD only shows Cut40 and Cut50 Models so don't get mad if yours is not 100% the same. Most boards are interchangeable between models they are the same. The key difference is powersupply and whether digital display is there or not. The Core essential boards are alike and that is where the problem areas are. Same identical parts and same identical problems and same identical layout of components. Been there done that. I do not know if CUT20 CUT30 and CUT60 CUT80 models are the same as I have never fixed those models. I have fixed only CUT40 and CUT50 models - alot of them bought on a popular online auction site used and listed as broken damaged as-is)
If you think you have a China-made model that is comparable or similar - email me a photo and I'll let you know if CD is applicable to your model.



Recent Feedbacks:




a

Excellent information and fast shipping A

Great CD very informative and easy to follow. Great Job Thanks Again

Fabulous Transaction 5 Star Thank You

good fast shipping

Orientation time saver. Worth the price. Arrived quickly. Thanks
A+++ Seller.....Item was as posted...Great


A Seller Item was as posted Great item fast shipping thx again


Much research & effort put into CD saved me a lot of money & time. Thanks!!

Item is packed full of good information. Very satisfied. Thanks Much!

item as described


Well packaged. Good transaction. A+++Look forward to using.

Has some good info

as advertised,Thank's

Arrived quickly, no problems, thanks!

Its just like what he said AAAAAAAAAAA+++++++++++++

good seller quick delivery
I have also received the following positive comments from a buyer by way of email:
I got the CD today and I thought it was very good and informative - I like to repair my own things as that way I know it is done right.- Thanks Again:
<name blanked>
Build something remarkable with your formerly blown / now working better than new Plasma Cutter

NO DEALERS OF PLASMA CUTTERS.
NO RESELLERS OF PLASMA CUTTERS.

Dr Virago Pete
Telephone (847) 454-7858
drviragopete@att.net
Do not resell, Do not copy, Do not transmit.

Price


$23.99 plus shipping (CD-ROM only and include no parts)
Cost of shipping/handling CD-ROM only
USA $7.50
Canada $12.50
Australia $27.00
United Kingdom $18.99
All Other Countries $30.00
CD will be sent to you in a double cardboard package. Within the cardboard- the CD will be protected by a paper CD Envelope.
The
PAY NOW
button below is for
USA Buyers
ONLY.
The
BUY NOW
Button below is for
CANADA Buyers
ONLY.
The
BUY NOW Australia
Button below is for
Australia Buyers
ONLY
The
BUY NOW United Kingdom
Button below is for
United Kingdom Buyers
ONLY
All other countries send email drviragopete@att.net
CD-ROM ONLY $23.99 plus shipping/handling