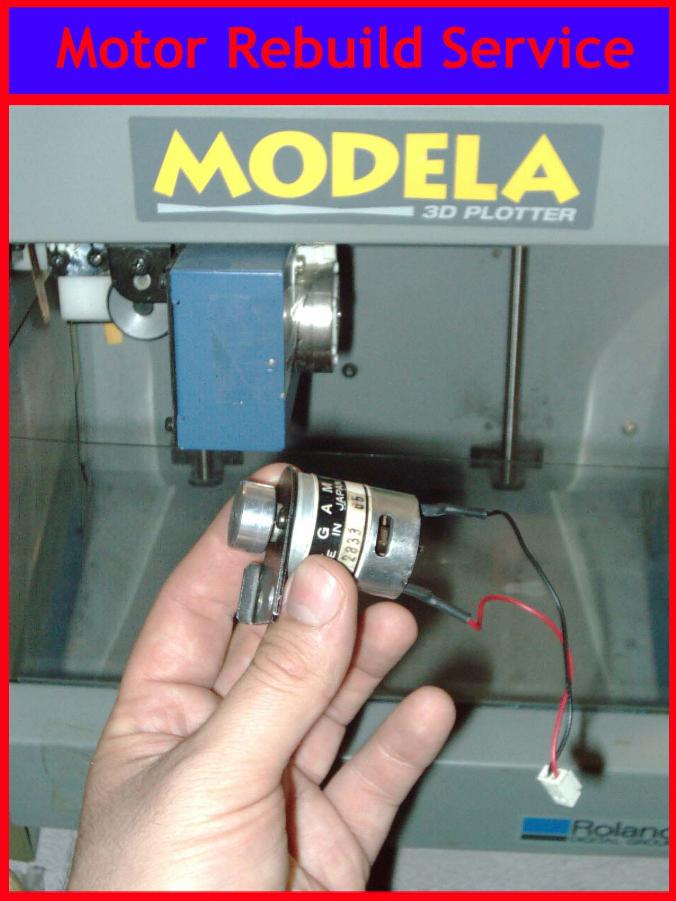 Does your Modela
Have a Tired Motor?
I am not affiliated with Roland in any way. Except one- I have several of their wonderful small machines. When it comes to pro software and easy to use products Roland is terrific.
My MDX-3 small 3d Plotter (mini cnc mill / rotary engraver) is great for prototyping and creating small parts. When I run it - it runs for days at a time. Yes, it is slow but does a great job for accurate small parts. It is common with prototype shops, dental labs, jewelry shops, and home-enthusiasts.
I'm not selling a MDX-3 I'm selling a motor rebuild/replace service here



The only problem I've run into is the motor wears out. It contains carbon brushes and after a while those wear out. I've even fabricated carbon brushes for it and it ran for awhile longer. But replacingthe carbon brushes was not the best solution. See it was time for a new motor. The previous owner used it alot and I used it alot. The motor was just no good anymore.





Where to find a replacement motor? I searched everywhere for a replacement "Sagami" motor. I checked online and in hobby stores and online. The motor is discontinued and I read somewhere about a fire that destroyed that factory. So I was out of luck.



I didn't give up and used my extensive electronics and mechanical skills to find a better than original motor with the same efficiency and same size. The replacement motor doesn't draw any more power than the original one and fits neatly into the original mount and gets the original aluminum drive wheel pressed on.

I created custom fixtures and tooling to do a perfect precision job of pulling off the old parts and pressing on the very same parts onto the brand new motor. Excellent workmanship.



So truly I did find a way to replace the motor to as good as new. It worked out so well that I decided to list this ad for my service.




I'm not selling a MDX-3 I'm selling a motor rebuild/replace service here
What you Need to Do
1. Send me your old motor (untinkered with only please)
a. complete with aluminum wheel
b. complete with motor mount
c. complete with connector and wire
2. Carefully package it and send to me for rebuild
What I do with your Old motor assembly
1. Remove aluminum drive wheel
2. Remove motor mount
3. Remove connector and wires
3. Install a brand new motor
4. Reinstall original connector and wires on the brand new motor
5. Reinstall original motor mount on the brand new motor
6. Reinstall aluminum drive wheel on the brand new motor
7. Test and package and send to you
8. Your old motor is discarded
Once you click paymentv button you will be sent instructions on how to remove your old motor and packaging instructions.
Your Roland MDX-3 was made over 10 years ago. Give it a second life. You'll love the ability to mill small quality parts again.
I do not supply connector, wires, motor mount.

You must supply your old motor, and I will replace the motor, and you get back the same connector, mount, wires, drive wheel from your old motor. ONLY the motor is changed out.

This is a rebuild service for your old motor assembly.


Dr Virago Pete
Questions?
(847) 454-7858
or send message by email
drviragopete@att.net




USA Buyers use Pay Now Button
$49.99 rebuild service
$10 return shipping to anywhere in the mainland USA
--------------------------
total $59.99
International Buyers use Buy Now Button
$49.99 rebuild service
$26 return shipping to anywhere in the world
---------------------------
total $75.99