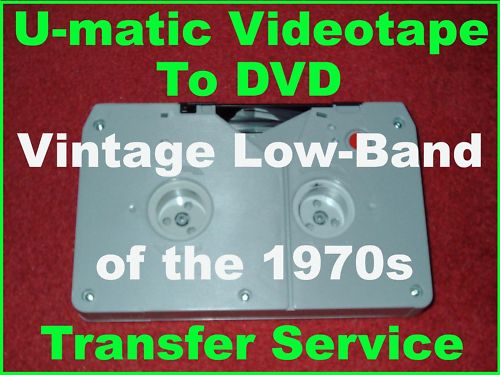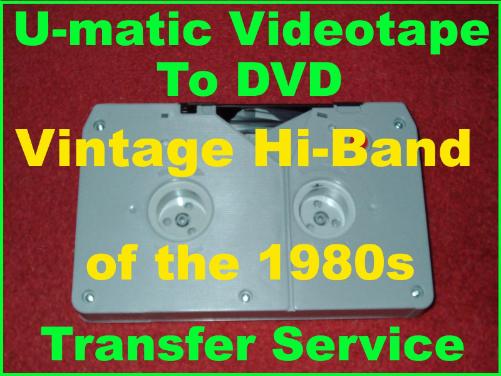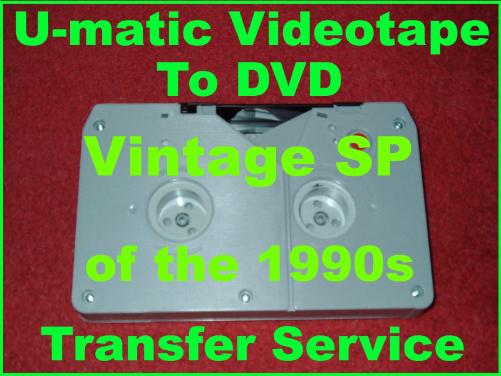 Vintage U-Matic Transfer




U-matic Tape



(Also known as Umatic)




Features:

Studio quality Tape transfer.

Every inch of your Tape will be recorded.

All work done on Professional equipment

Black and White and Full Color

I transfer ALL types of tapes - But this ad listing is for Umatic. Check your tape to make sure you have Umatic written somewhere on it. See my photo for example.
No adult XXX films.

Examples of the many recordings received acceptable

For example- a doctor sent me vintage 1970s recordings of his own research he was documenting regarding implants to assist patients walk. Umatic Low-band recordings of the early 1970s. He made this recording using a top loading large size recorder and a separate video camera on a tripod. Label was not fancy and typed on a vintage typewriter. Perfect transfer to DVD.

For example- a student sent me a recording of a graduation ceremony. Student made this recording using school's Umatic video recorder on a cart. A long extension cord was run outdoors and a separate videocamera fed the video signal to the Umatic top loading VTR. Handwritten label written in Pen. Perfect transfer to DVD.

For example- a couple sent me a recording of a wedding and reception. A very thorough editing was done by the original videographer. It had early/vintage titling and editing. Some film edits were clean and some needed extra TBC help to make the video segments transition smoother. A good example of someone trying to do a professional editing job on an early Umatic Low Band machine. Title of contents written in Magic marker. Perfect transfer to DVD.



My professional machines do a superb job on transferring every detail of your tape.

The very best for Vintage Umatic video camera tape. Popular in 1970s, 1980s and 1990s.

It takes my sophisticated equipment and 30+ years of experience to bring out the vivid detail of picture and sound.
U-matic tapes

YES ......... Lo-Band or Low-Band "Umatic"............YES
ALL CASSETTE SIZES

YES ......... Hi-Band or High-Band "Umatic H"..........YES
ALL CASSETTE SIZES

YES ......... SP ....................... "Umatic SP".........YES
ALL CASSETTE SIZES
YES ......... portable Umatic ..............................YES
ALL CASSETTE SIZES

Yes "UmaticH" or Umatic Hi-Band recordings

Yes Umatic transfers made on a top loading Umatic as commonly found in some homes, schools, offices, medical facilities, etc in 1970s and 198s.

95% of all Umatic tapes were recorded in Low-Band for complete compatibility in the huge marketshare Umatic machines had in schools, businesses, churches, libraries, government and more. TV station recordings were often Hi-Band or SP for broadcast use.
Some of the many clients for my Umatic Tape Transfer Service
1. Ad agencies

2. Schools
3. Medical / Surgery / Casework

4. Student Work
5. TV Stations
6. Home Recordings on early Umatic top-load VCRs
7. Semi-Professional: Weddings, Graduations, Religious, etc
8. Community Events: Township & Village & City events

9. Too many to list
I transfer all formats of tapes and films 1960, 1970, 1980, 1990, 2000, 2010+ & Vintage
Super8, Regular8, 16mm, 35mm cinema and commercial and personal (Rank Cintel)
8mm, Video8, Hi-8, Digital8, MiniDV, MicroDV,
Reel to Reel Audio 1/4", cassette tape, micro cassette tape, 8-track
Reel to Reel Video (1" type C, 1/2" EIAJ, 1" Panasonic NV Master, etc)
FisherPrice Pixelvision PXL2000
VHS, VHS-C, VHS-S, VHS-C, VHS ET, SVHS ET, Betamax, Beta I II III SuperBeta
,
Umatic
DV, DVCAM, DVC, DVCPro, DVCProHD small Medium and Full Size cassette
HDVS unihi vintage high definition analog cassette

Umatic low/bandHighband/SP all types

Betacam Standard / SP / Digital "digibeta" / SX
Betamax consumer formats I/II/III Super or standard
Laserdisc 12" cartridge and non-cartridge 12" & 8" formats (blanks available)
PAL/NTSC/Secam worldwide conversion any-to-any format vintage/modern available

Audio: CD, DVD, DAT, digital MP3, Reeltoreel, 8track, cassette, microcassette, webcor wire recording spool, 6track sound follower for 16mm or 35mm film, etc more types including odd-ball vintage rare types of cassettes and spools and cylinders

The most popular formats I record to are CD-R and DVD-R or DVD+R
I can record to and from most any format ever made.
many more- too many to list
________________________________________________________________________
________________________________________________________________________
________________________________________________________________________
Written authorization required from the originating party

hollywood movies*
tv shows*

commercial copywritten*

*** must have written authorization from the originating studio or company
If you do not have a letter authorizing the transfer - obtain it by contacting the
creator of your tape's content. Then call me at once you have the authorization

letter. No bootleg of commercial tapes please.

________________________________________________________________________
________________________________________________________________________
________________________________________________________________________
homemade recordings are ok such as student or personal project
Sincerely,
Dr Virago Pete

drviragopete@att.net

Telephone (847) 454-7858
Illinois, USA

See my youtube video
http://www.youtube.com/watch?v=3Hs4R0-zW04

Questions? Send Email or Phone

(C) Copyright 2016 All Rights Reserved
_____________________________________________________________

All questions answered personally and promptly