Upgrade Your Small to Mid-Sized Milling Machine to CNC

Fully CNC Compatible

Upgrade Your Existing Mill or Drill Press - Standard CNC Control

Have you ever wondered if it was possible to save money by converting your manual machine to CNC?
It's true. The machine pictured cost $600 including the mill itself. Many of the parts like motors and controller were purchased through ebay. It takes average skill to make and gives you high quality results. I'll show you which inexpensive software I'm using and you'll be amazed at the high quality results. You can use these plans to convert your mill (any brand) just like I did. At the price I paid for everything- it's just not worth making one completely from scratch- Plus, it is amazingly accurate and true. Convert your manually operated machine to computer control and save a bundle.

You may already have most of the materials you need if you collect "stuff". (steel, motors, etc)

Comparable to a mid-sized CNC mill which can run tens of thousands.

CD will teach you where to buy a controller inexpensively.

Use ebay to find the needed parts.

My step-by-step video guide will help you upgrade your machine to computer control.
100% compatible with all software out there. Standard G-Code. Uses standard control software.

Transform what you have into a real working CNC Mill saving Money and Gaining valuable experience.

Do It Inexpensively

Transform that

Manual 3-Axis Mill

into the CNC you've always wanted
Transform that

Drill Press

and

X-Y table

into the CNC you've always wanted
Transform that

Mill/Drill

into the CNC you've always wanted
Easy to understand.
Have a different mill? Don't worry- Applicable to any Mill (Horizontal, Vertical, small, desktop, Mid, Full-size)
Conversion technique is applicable to manual EDM and Shaper machines also although not specifically covered.
Takes average skill to make it in a few weekends of your time.
Reliable, strong, simplified design.
No belts to wear out or stretch. Direct drive system keeps you up and running.
Precise and accurate.
Mills Steel, Plastic, Wood, Aluminum, Brass and more.
Strong CNC conversion with all steel/aluminum construction.
Step-By-Step Video Teaches You How it Was Made.
Detailed power diagrams and more.
Full electrical connection diagrams (100% industry standard compatible).
Fully enclosed drive system protects and looks great.
Get the speed and accuracy you want. Turn that hand cranked machine into a computer controlled unit with solid strength.
Your completed CNC machine will expand your ability to make great items.
This cd has lots of content (50 minutes of high quality video and more) that will help you understand how it was done.
Imagine the money-making possibilities of having your very own CNC machine
Invest a portion of your tax return money on something that will actually make money for you.
Includes step-by-step controller assembly from a kit instructions & optional ready-made version tips.

If you know how to solder, you can save $25 by getting a controller in kit form - learn just by watching my Bonus Video and knowing how its done. (If you don't know how to solder- don't worry. I have that covered too- you can get the ready-to-go controller. Either way, you learn how it is done.)



This ad is for 1 CD-ROM (CD-R) containing videos, pictures, diagrams and detailed texts to show you how a CNC conversion was done transforming a mid-sized Milling Machine or Drill Press into a computer controlled production machine.
Your order ships right away and you will see it within 5-14 days. (May take longer if shipped Internationally)

The videos and other information is contained on a CD-ROM disc that is playable on a standard PC.

Feedback from recent buyers:

Good buy - happy with the item - Thanks
fast shipping
Product: CNC Video. Seller has great communication skills. Very accomadating
Excellent Information. Great Ideas
good to do business with
These plans very good and the illustrations are wonderful. Clever design, lots of ideas. The videos are great, they go nice and slow so a person can digest them. Nice lighting, great shots from lots of angles. It almost like being there with you and you explaining as you were putting it together.
A OK , Quick delivery, very good and useful information on the CNC video. Thanks
fast ship, great product, thanks
Very good, Glad I fouund this product
Conversion CD was what I was expecting, Good shipping
great its rael easy to understand cant wate for other cd's to come out
ThankYouFor:FineItem&Packing&QuickShipping 5 of 5 Stars: Recommended
CNC coversion tape is quite good, very good transaction. Gives me lots of ideas
CNC CD Good Transaction

I am an honest seller.
My method takes a factory stock small-to-large mill and allows you to convert it to computer control. The result is a precision steel instrument that can mill metals, plastics and more- including steel. The other guy's method takes years to build (reinventing the wheel by building what already exists off the shelf) and is going to be a wiggling wobbling piece of crap only good for balsa wood. Mine can cut balsa wood too plus much more. (The right tool to cut balsa wood ie RC plane parts is a laser engraver not a mill- so really- how useful is the other guy's MDF mill anyways?)

Yes, my CNC conversion does modify your mill. You retain your crank handles so it will work manually also. Power it on and you get CNC control. The techniques use welding- so you must be willing to carefully modify your mill. None of the precision ways are modified. As an alternative- you could use tapping and drilling. I show the weld method (Mig Wire Feed or Flux Core Wire Feed works great)

If you have difficulty installing the CD and playing the videos- email me, and I will walk you through how to install it. If you have a computer knowledgeable friend- you'll have no problems. If you don't - rest assured that I'm willing to help. Everyone has been successful in installing the CD and getting it to play. Yes, there have been a few who got frustrated and emailed me. No problem, I'm willing to help. All I ask is that you be a patient type person. I can assure you that there are far fewer steps to converting a mill to CNC than building a rickety wooden machine from scratch.

Buyers must have patience to view and understand.
Nearly 100% Positive Customer Feedback. You will be pleased with it too.

No Hollywood Special Effects:
I have put alot of valuable insights and detailed videos on this CD-ROM. It is many times easier and better than any PDF file or book you can read. The videos are low-budget meaning I spent several thousand dollars for the editing, equipment, etc. There are no special effects or any multi-million dollar type hollywood studio stuff. Just plain ol' do-it-yourself type film videography aimed at machinists and fabricators and do-it-yourself craftsmen/women. The videos are fully narrated - You will need to read in addition to watching the Fully Narrated video segments. I hope that you will feel like you have been in my shop after viewing this CD, and I do explain everything I do (every step of the way)- in written form.
You must have an up-to-date PC to run this CD. Everything you need to install and run the CD is included inside the CD and will play on any version of Windows. Everyone who has purchased this has been able to get it to work- some have needed extra help by email- I'm willing to help- just be patient and nice is all I ask.

Buyers from other lands not listed- contact me and I will calculate correct shipping for your distance.
Before you go out and buy stuff- wait for this CD to arrive. Videos are in standard Divx format AVI files and in order to get the videos to play - you must follow the directions to install the disc.
Who is this CD for? PC Literate, Handymen/women.

You have alot of money making ideas. How do I know this- you are looking into CNC mills and conversions and you have found my ad. Isn't it time you had your own CNC mill. My method gives you the highest results with the least cost. Second hand CNC mills tend to be problematic and they are dumping their problems on you. New mills cost a fortune. My method allows you to take a fully working manually operated (crank handles) mill and convert it by adding motors and motor mounts and electronics. Yes, I show you everything. Get yours today and get some of those ideas into money making business ventures. I use my computer controlled equipment alot (see my other listings) and it is my second income. Why wait any longer? You need a CNC mill to make money by turning your ideas into real products.
Hundreds of satisfied buyers. Fully Narrated Videos Teach You Step-By-Step.

Is Money Tight In the Bad Economy? You need to start looking into making your business more self-sufficient, making your own parts, making that invention you've been thinking about for years, etc. The key is to have your own CNC mill to start making things from metal and plastics. I use my mill/drill converted to CNC daily, and I love the professional results without breaking the bank.
I am the inventor, producer, videographer, and user of this device filmed in my own shop. All rights reserved. Do not copy, resell, or duplicate this Copywritten CD. Purchase of this CD entitles you to make One machine.

Sincerely,
Dr Virago Pete
(847) 454-7858
drviragopete@att.net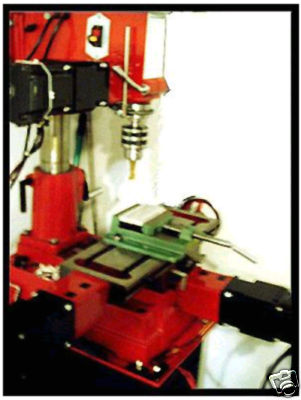 Price


$219.99 plus shipping (send payment in USA funds)
Send payment manually through Paypal.com
1) Specify
peterpclc@hotmail.com
as the receiver (that email address is only for payments)
2) Specify "Goods"
3) Make sure funds are sent in USA Funds
Cost of Shipping
USA $4.99
Canada $6.50
All Other Countries $12.99
CD will be sent to you in a double cardboard package. Within the cardboard- the CD will be protected by a paper CD Envelope.
The USA Post Office offer NO TRACKING NUMBER for international packages.
Shipping time varies and can take anywhere from 1 week to 1 month depending on location and time of year.
Note: If you prefer to send a money order or have a question, write to my standard email address drviragopete@att.net