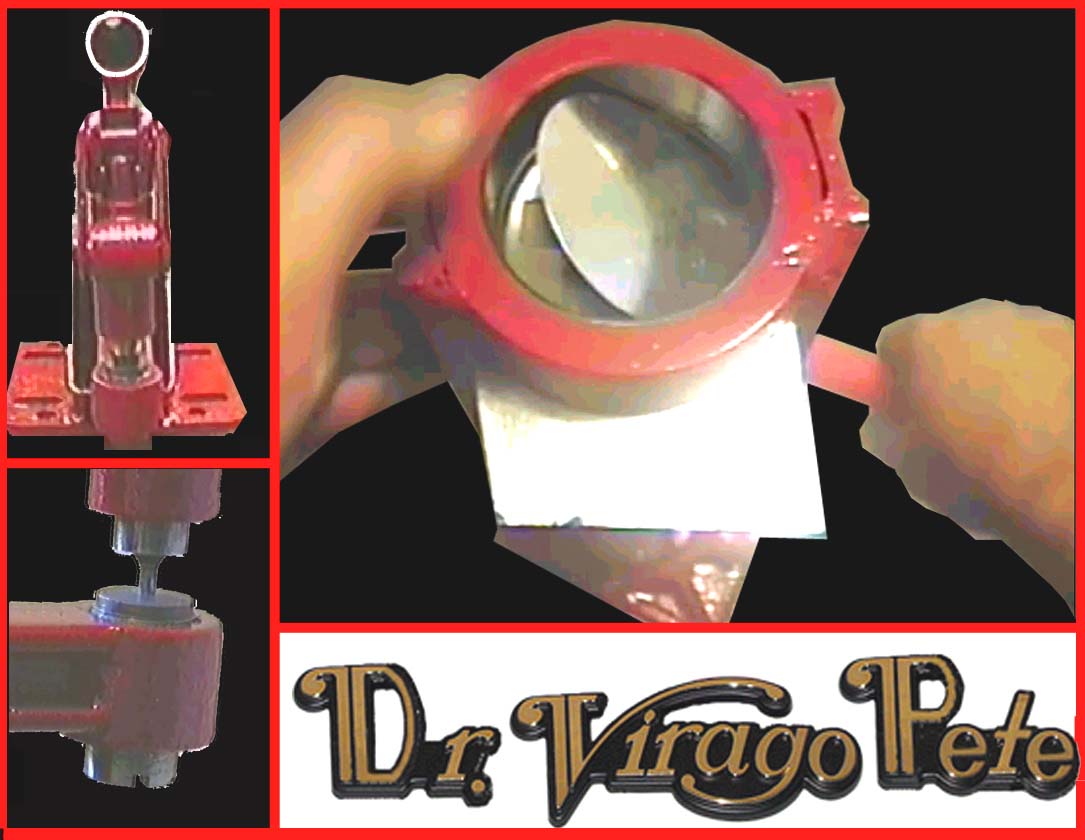 This listing is for 1ea CD-ROM (CD-R disc) entitled "Dr Virago Pete's Bottle Jack & Punch Conversion" which teaches you how to build a mini punch press from a standard bottle jack.


Space Saving and Money Saving Design
Build Your Own
Mini Punch Press

Made from commonly available Hardware Store Parts
Total Cost less than $50
Made by using a small MIG / Flux Core or MIG / Gas Tank Cylinder wire feed welder
Rugged Design
Easy to Build
Uses ordinary Punch and Dies available on popular auction sites

As demonstrated the punch and die are permanently attached by welding

This is a NON-Removable Non-interchageable punch/die machine
Great for small workshops
Great for small assembly lines
Low Volume Production
Tested for 10,000 cycles without failure
Able to punch Steel, brass, or aluminum sheetmetal easily

Able to punch Aluminum Sheetmetal up to 1/16" easily
Adaptable as arbor press, notcher, corner notcher, louver / louvre, planisher, small brake & more depending on the punch/die you choose
Low Cost Design means you can make several - one for each punch size needed (each punch/die is permanently attached)
Uses Diacro Di-acro, Whitney, Roper, Jensen, Greenlee and more used punch/die available on popular auction sites used for less than $50

For small objects as the throat is small allowing only a maximum 4" by 4" plate to be punched.
This design is not for large sheets as the reach is small - you must cut your sheet into strips 4" x any length to feed through
No electricity needed to operate punch press
Pump the handle and feed your material in and in a matter of seconds you're done

3 designs shown 1) Easy 2) Intermediate 3) Advanced (advanced features shown give high precision)

You will be amazed at what a $35 bottlejack available at your local home improvement or automotive parts store can do with modifications. 12 tons is ALOT of force and certainly more than even some of the GIANT HEAVYWEIGHT presses can do. The difference is the BIG BOYS can punch large sheets rapidly while my DIY punch press is low volume and manually operated. For most small shops and do-it-yourselfers that is just fine.
The dies available on popular auction sites are not figured into the $50 price and above and beyond. Let's face it - every online auction listing sells for a different price. You may have most of the items needed to build this punch press if you have a welder and some common tools in your toolbox or toolbelt.
No narration. No narration. No Narration.





Let me say it again- the videos are fully edited and have sound but have no announcer. It is NOT narrated. The steps are pretty simple, and I show step-by-step what needs to be done by SHOWING you rather than talking about it.





Also the CD-ROM needs installation which most PC handy people can handle- no problem. Some non-pc-knowledgeable people may find installation difficult- so please make sure you have a geeky/PC literate friend who can help. Full installation instrauctions are located inside the CD in a text file.





You see, the machinery doesn't have to be expensive to use precision dies. I'm always amazed at 1970's technology and prior. Cast Iron must have been awfully stylish because the machines sure do use alot of it. I'm amazed at what my 15lbs of steel can do with simple engineering. If it was 1970s again it would have to be 15tons not 15lbs. I'm just kidding- there were plenty of nice machines built then and now. You get the idea - it doesn't have to take up alot of space or weight alot or even have a motor to work well.





My design is not for multimillion-dollar outfits- it is intended for the hobby-grade home workshop user. The big boy outfits need ten thousand dollar hammers made to .002" tolerances. We are using punches and dies from decades ago and using it to combat runaway inflation and make your home business or small business more profitable by making parts in-house rather than outsourcing. Thinking about a small OBI press with 2 or 3 tons for your custom mini buiness- making badges, souvenirs, or small parts for your device? Consider making my bottle jack punch instead as it isn't a big. My design uses whatever size bottlejack you have 2ton, 4ton, 6ton, 12ton, 50ton and more. I show a 12ton bottlejack which has penty of power for my applications and then some.



The limitation to my design is that your punch/die is welded permanently and becomes a part of the machine. It is a one trick pony where if you want to make a square hole or a corner notched then you need to use the punch press (not much bigger than standard bottle jack) with a square punch/die. If you want to make a round hole then you need to use the punch press with your round punch/die welded in place. Most people/shops have a limited size/shape that will be needed for punching. The price is low enough where $50 bucks x 2 or 3 small punch presses is no big deal and even at that the space savings over a MONSTER 20 TON press is no comparison.

Also included is a video showing the conversion of an aircraft grade punch made by Harbor Freight and equivalent to vintage Roper Handpunch deep throat model. The conversion is from a hand operated punch (removeable die feature is unmodified so you can use any and all punches/dies) to a benchtop design with much increased leverage. The deep throat feature is great on the Pittsburgh / harborfreight handpunch shown every step of the way. Effortlessly punch holes in 1/16" aluminum cleanly. Cuts like butter! No more straining to punch holes with two hands. This design also modifies the punch using welding techniques. Great for converting a $30 Harbor Freight version of the vintage older Roper punch. Weld onto a roper- no way it is a collector's item. Weld on to the identical Pittsburgh / Harbor Freight carbon copy? Sure- we're gonna use it heavy duty style - not put it on a shelf and admire it. Useful for welders, fabricators, fabrication of custom sheet metal objects.

As a fabricator for many years, I worked at a company which had a Rotex Turret punch which had 12 stations. These stations included round and square punches and dies of all shapes and sizes. It was a very handy machine costing thousands and weighing enough where it wouldn't budge easily even with wheels. The usefulness of a punch is amazing in making plates, brackets, inside square knockouts, rounded corners and more. Steel aluminum brass objects made from sheetmetal are no problem and the results are clean and precision. I really missed the turret punch when I went into business for myself over ten years ago. I looked and looked for one on the used market but they were always beyond reach pricewise as the sellers were asking for several thousand dollars even for very worn models - and then there was truck shipping to boot. I solved that longing by building my own punch presses which enjoy even greater precision than the punches/dies in the manually operated punch I had used years ago. With my design, the punch is straight and true as it moves up and die- this is especially important for oblong or square punch/die. No, I don't have the turret feature and I dedicate one punch/die per machine and pick the sizes and shapes that I use the most. I own 5 manually operated punches of my own design, and you'll learn about what you can do in your own shop with hardware store parts. No it doesn't need to cost thousands. Turret punches are nice but they do have some play. The punches I show at the advanced level (I show three levels beginner, intermediate, and advanced) have precision guides and demonstrate how to make clean cuts both for inside and outside cuts (I'm not speaking about outdoors. I'm speaking about whether you want to keep the hole you cut out or make a hole in sheetmetal- sometimes referred to as positive or negative punching)

Great addition to a small or home shop which already has a brake press, roll former, kick foot stomp shear and has custom applications.

This is a CD containing videos playable on your PC.
No blueprints provided and none required.
Beginner or intermediate skill required to build it.
Must be able to cut steel and weld.
Step-by-step videos show you how.
Cost to build approx $50 each (two models shown)

It is a CD containing videos that show you how to construct by cutting, welding, and more. Each die/punch purchased used can have different diameter or shape. The videos show you how simple it is and the dimensions are adaptable for variations.



Use it Two Ways:


1) Making a hole in sheetmetal plate (maximum is 3" throat depth as shown)
2) The shape you punch out is what you keep
Some people think of this as keeping the positive or keeping the negative. Either way.

Bottlejacks are one of the hardware store wonders- a very precision tool for very few dollars. Use the efficient powerful mechanism to add a low cost high precision tool to your home workshop or small business. This small design takes up about the size of an upright shoebox. Small lightweight portable. Heavy duty construction.



2 Punches shown


1) Build a Mini Punch Press from an ordinary BottleJack
2) Harbor Freight Hand Punch to Tabletop Punch Press conversion

Enjoy making unique objects and saving money,

Dr Virago Pete
(847) 454-7858
email address: drviragopete@att.net
All questions answered personally and promptly
Price


$14.99 plus shipping


How To Pay
Use The
PAY NOW
Button Below to Purchase Dr Virago Pete's EDM Build & Use CD for USA buyers.
Use the
BUY NOW
Button Below to Purchase Dr Virago Pete's EDM Build & Use CD for CANADA buyers.
All Other countries must send payment manually through Paypal.com
1) Specify
peterpclc@hotmail.com
as the receiver (that email address is only for payments)
2) Specify "Goods"
3) Make sure funds are sent in USA Funds
Cost of shipping
USA $4.99
Canada $6.50
All Other Countries $12.99
CD will be sent to you in a double cardboard package. Within the cardboard- the CD will be protected by a paper CD Envelope.
The USA Post Office offer NO TRACKING NUMBER for international packages.
In 9 years I have only had 1 lost package. Shipping time varies and can take anywhere from 1 week to 1 month depending on location and time of year.
Note: If you prefer to send a money order, send an email to drviragopete@att.net
The
PAY NOW
button below is for
USA Buyers
ONLY.
The
BUY NOW
Button below is for
CANADA Buyers
ONLY.
All other countries send email or use Paypal.com to send payment manually.