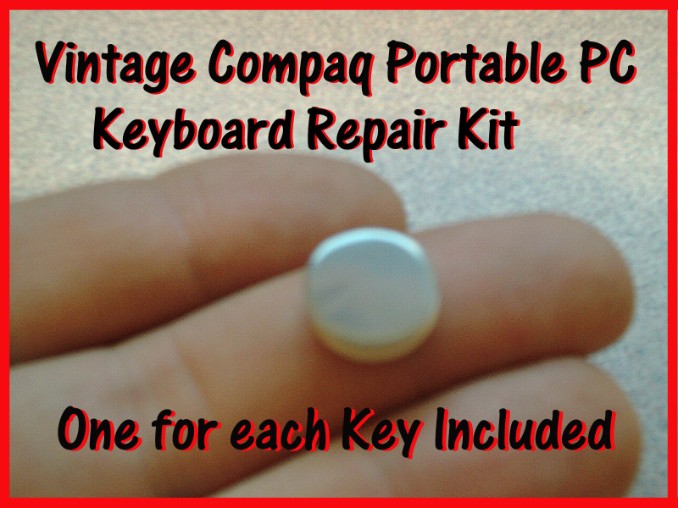 Compaq 101709 Portable PC
Keyboard Repair Kit
$99.99plus shipping
This repair kit is of my own design and made in my own precision instrument shop. I am not affiliated with Compaq in any way. Well, only one way - I have two of their reliable vintage PCs. You know, the 8088 chip model with a green screen. See, it runs my unique and wonderful telephone system which responds to touchtones and playsback all kinds of informational messages. It really is a standard vintage PC with an 8-bit card and software. The only problem is that after 20 years of keyboard use - the keyboards didn't work anymore or had the following issues:
1. Sticking keys
2. Some keys you could press once and then press it again and it wouldn't work again for while
3. Some keys you could get 2-3 presses in a row and then not again for while
4. Some keys were hit or miss
5. Some keys worked wonderful and had no problems
6. Some keys wouldn't work at all no matter how many presses or how long you'd wait.
What happened? The contact parts inside each and every key needed to be replaced and was aged and deteriorated.
I made my first two kits for my own use. Yes it took awhile to install as I needed to clean and remove every contact mechanism for every key and replace it with my own contact mechanism. Simple really but it takes time to do. Patience is required. Well worth the effort. My special equipment and software for my phone system wouldn't work on modern computers. No don't get me wrong- I still have plenty of modern PCs in my shop and office. But I do have a special 8-bit card that requires an older PC and the Compaq luggable PC is a nice solution for that voicemail application. There are quite a few good condition 101709 Regular and Plus models vintage PCs on online action sites. Maybe you have an application which requires an old PC? Plan on getting my kit as the keyboard problem was the only issue that I can see on this very well made machine. Been there done that. Problem solved.
Now my keyboards work great and have a nice even feel as every key presses down well and types a letter or number ... correctly and responsively. See the keyboard didn't suck. It was just 20+ years old and needed some replacement parts. Are you in the same situation? Get my kit by clicking payment button.
Dr Virago Pete
Phone (847) 454-7858
email address drviragopete@att.net
All questions answered personally and promptly
----------------------------------------------------------------------------------
Also fits the following computer keyboards
1. Luggable Portable Seequa Chameleon - yes uses the exact same kit
2. SOL-2 - yes uses the exact same kit
3. SOL-20 - yes uses the exact same kit
3. TRS-80 Model II - yes uses the exact same kit
4. TRS-80 Model 12 - yes uses the exact same kit
5. TRS-80 Model 16 - yes uses the exact same kit
Also Available Separate Parts and Pieces
(Additional fees apply for customization)
1. Clear Circle Discs
2. Shiny Mirror-like Capacitance Discs
3. Hard Foam
4. Soft Foam
5. Custom Foam - buyer provided
6. Customization available
A. Diameters of clear plastic circle discs,
B. Diameters of Shiny Mirror-Like Capacitance Circle Discs
C. Diameters of double-sided stickyback circle discs
D. Diameters of foam
E. user provided materials can be customized in almost any
shape or size
7. Need special quantities to fix just a few keys? Some
minimums apply

USA Buyers click on Pay Now Button ($99.99 plus $5.99 shipping & handling)
Canada Buyer click on Buy Now Button ($99.99 plus $8.99 shipping & handling)

Yes, worldwide shipping. If your country is not listed - send email and request quote for your location.