This listing is for the restoration of teeth on your own worn Flywheel and #2 Idler. Send me your worn parts and you get them back with ALL teeth 100% restored.


Flywheel & #2 Idler Remanufacture

Got Clattering, Clunking, No Engagement &


Horrible Noise?
(bookmark this listing- email me if you have questions)
This is a professional starting system fix. Proven the best way to restore your bike's ability to start.

Trusted by motorcycle shops worldwide in 9 strong years of business!

If you are experiencing poor starting on your Yamaha Virago, you should know that your Flywheel teeth are worn. The starter mechanism doesn't come into direct contact with the flywheel - the starter clutch mechanism does. To be specific- the "#2 Idler gear" makes contact with the flywheel's teeth.
No teeth = no contact. Poor condition teeth = poor contact. Of course, some people feel that they should SMASH whatever is left of their teeth together in hopes of enagagement by installing aftermarket clips. This is not correct and will damage your flywheel in a short period of time.
If your bike has poor engagement (does not complete a full revolution before disengaging and clattering to a halt) It is time to have your Teeth Remanufactured. You can also buy brand new parts ($390 for a Flywheel & $110 for a #2 Idler Gear) but for most people- that is just too expensive.
Clip Kit Not Included here (see my other listing): Use a clip kit (I have an excellent one for sale - check my other items for sale) when you have decent starts but you want to reduce the clattering noise. Also use a clip kit when you feel you still have decent enough teeth to grab onto. Nubs don't count.
What should you do?
I sell a How-To Instructional CD made specifically for the Virago XV920 that is very applicable to All year Viragos. It will help you troubleshoot your system and teaches you step-by-step how to disassemble fix and reassemble your bike (not included here but see my other listing) Please note that this CD is sold separately and also included with my clip kit (PowerClip8 Kit). This CD covers everything starter-related except the actual flywheel pull- best left to a professional shop to pull off.

If money is no object- get yourself a brand new Flywheel and #2 Idler gear.
If your bike has low miles 5,000-12,000 miles get MY Clip Kit. Not just any ol kit. Mine has Genuine Yamaha parts and is reliable and non-destructive. (See my other listing for THE BEST clip kit you will ever find.)
If your bike has 13,000 miles or more (considered high mileage on a Virago believe it or not) get your Flywheel & #2 Idler gear remanufactured. YOU DON'T NEED ANY CLIP KIT WHEN YOU HAVE NEW TEETH - YOU CAN LEAVE IT ALL FACTORY STOCK.
Some people figure- if it works don't fix it. Well, you know what is worse than that- putting in gizmos that actually damage your flywheel further (don't ever add washers and other adhesive-backed parts - stickers really. inside your engine case. Don't buy stuff that will ruin your bike in a short time period. I'm not talking about mileage. I'm talking about number of starts is low. One guy wrote that he went on a 3000 mile trip on the other guy's clip kit. Hooray. That's what? 5 starts? See what I mean? You need thousands of reliable starts not just a few.) 90% of my business is from people who bought the other guy's crap and were still having problems.
What will a remanufactured flywheel do for me?
The tooth design is different from factory stock and has a "Pull-In design" which means that the meshing teeth will draw themselves together as they spin. This means that you will see drastically improved starts that will be as good or nearly as good as your bike was when brand shiny new.
What's wrong with the other seller's stuff?
There are some sellers who claim to offer this service too. Unfortunately, they leave ridges on the back of the flywheel and the teeth are sloppy etc. The result, if you buy the competition's, is a bike which still has engagement issues. My fix will actually pull the two gears together for better mesh. No ridges mean that the teeth will not have obstructions to a good mesh.
Use caution buying used Flywheels for big bucks- you will inherit the previous owner's problems.
There is a skinny clip design which creates a pinch point on the PYA horseshoe - shaped clip. It is a very popular clip but has awful side effects on your bike. It mashes the gears together and often ruins your expensive flywheel for the sake of the low price. You don't get a whole lot of starts on this system. It pinches the PYA clip and actually loses its grip on the PYA clip and slides down further and further. Over time, it leaves little gouges on the PYA clip and you can see its' slipping pattern. These little gouges are a hazzard because the PYA clip is hardened steel and little dings create an easy breaking point as the PYA clip applies pressure with each start.
Some sellers and websites advise you to flip your #2 Idler gear around and install it backwards. You have got to be kidding. Well, unfortunately when people are desparately seeking guidance to their legitimate troubles - some sellers come up with some dumbXXX solutions. I have noticed a increasing number of Flywheels & #2 Iders being sent in to me for repair that have damage to the backside of the #2 Idler gear from hitting the Flywheel teeth at high speed. The flywheel's teeth then become "C" shaped (concave) and sometimes broken. DO NOT flip your #2 Idler gear around - it is BAD ADVICE. The backside of the #2 Idler gear is flat and was not designed to mate with flywheel teeth backwards.
Some sellers sell hardware store bolts with their kit that they paid $1 for from their local Home Improvement or Hardware Store.

Some sellers are claiming that they have 6 years of experience one week and the next week they have 9 years of experience? What's with that? C'mon that's just wrong.

Some sellers steal everything they sell and market as their own. You name it from Yamaha Service manuals copied onto bootleg CDs to Near Nude photos they stole from the Internet. Plus, they put the words "copyright" on their ad. Imagine that. Everybody loses with theft because new products and manuals don't get developed when people steal (very much like it's hurting the music industry.) Don't contribute to that by buying bootleg manuals on CD. Don't buy products that have stolen photos on them. Don't buy copycat products. Don't buy from dishonest sellers. It only hurts the legitimate products being offered for sale by legitimate honest sellers.
What else do you offer?
My very own PowerClip8 (not included here see my other listing if you have a low mileage Virago- has none of these disadvantages)
I also sell an Informational Virago CD which teaches you how to disassemble/reassemble and fix your starting related issues (not included here see my other listing)
Summary of What You Get and How Much:
A) Flywheel remanufacture. Your worn-out teeth are 100% fully restored and have pull-in engagement.
B) #2 Idler remanufacture. Your worn-out teeth are 100% fully restored and have pull-in engagement.
(You will still need to ship your parts to me, and that is between you and your shipper.)

Get your Flywheel & #2 Idler Gear Teeth restored- this will give you the great engagement you have been seeking. On high mileage bikes (13,000 miles or more - this is the only way to truly obtain great starts.) Brand New Flywheels are no longer available through your local dealer.

Also includes at no-extra-charge inspection of all clips, springs, gears, you send along with these parts- will perform tension and measurement checks and visual wear inspection. If you need something replaced I will let you know. All worn parts returned.
What if you're looking for something else?
Let me know what you need, and I will combine items and set up a Buy-It-Now tailored to your needs. I have used parts and some new parts. I will sell you any item in the kits or sets separately - the customer is #1.
At your service. You'll love your bike once you get it to run.
For the following bikes: (Just ask if you don't see your model)
1981-1983 XV750 Virago
1983 XV750 Midnight Virago
1981-1983 XV920 Virago
1982 XV920RJ Virago
1983 XV920 Midnight Virago
1981-1982 XV920R Virago
1984-1986 XV700
1981-1985 XV1000
1986-1992 Virago ALL

Just Ask- my custom built/designed teeth remanufacturing machine can remanufacture gear teeth super. You will be pleased with the results.
I also remanufacture for XV1000 RH and TR1 models
(European and Australian Bikes - International buyers email me your year and model questions always welcome)

Yes, perfect for MK models too (1983 XV920MK etc). Email me if you have questions about applicability to your model.


Pulling your flywheel/rotor is not a job for a beginner (have a professional mechanic pull it for you). It is the very best way to fix your bike because it actually fixes what is wrong with your Virago (worn gear teeth) It will start just like it did at the dealers lot back in 1981.... 1992 My special pull-in tooth design is my secret. It works excellent, and all the gimmicks out there won't give your bike the ability to start excellent like this will. This is a professional remanufacture and trusted by motorcycle shops throughout the country and more. 8 years of 100% customer satisfaction on every Virago Part/Service I have ever offered. Your parts are remanufactured and sent back to you fully ready to install. The remanufacturing process is started immediately upon your package arrival. Turnaround time depends on severity of wear. No rush orders.

My Customer service, Higher quality, More experience, and Long Lasting Results give you the Very Best Solution- the one you have been hoping to find. It's right here.
Please don't tinker with or grind your gears yourself - it will only damage it further. I have a special custom-made machine that remanufactures your teeth.
I reserve the right to charge more or reject your parts if tinkered-with or just plain too worn out to fix (the one example I can think of is a Flwheel/rotor which was dropped by US Post Office and had shattered the magnets).
My 14 years of Virago experience beats the competition hands down and my results are perfect- just check out my feedback.
There is absolutely no need for any add-on items along with the remanufactured Flywheel & #2 Idler because it brings your starting system back to shiny new performance.

Get your bike - ready to ride.

Good service and honesty. Your bike will start super reliable after this remanufacture.
99% Customer Satisfaction on all Virago Items Ever - 14 years strong.

This listing is ready for USA and Canada buyers. I do ship internationally and Worldwide.

No time like the present- get your bike up and running with excellent engagement.
Recent 100% Satisfied Feedbacks:
realy good job my fly wheel is better than new
Wow super Great fix. very higly recommended :) thanks Dr. Virago pete
Excellent job Works great now No grinding THANKS A MILLION
The King of the Virago. Thanks for giving my Virago it's second life.
Great Repair Service. Fast, Quick, and Helpful. Fixed my Virago, Brand New. Thx.
Great service, deal with confidence
Hard worker, truly dedicated,good communication, thank-you
Nice to deal with, great service, fast ship, exactly as described, thxs
Great deal on virago starter repair Thanks a Lot.
The gears look great. Thanks. And thanks for the good info.
realy good job my fly wheel is better than new
Great Seller. This fix makes the bike start better than when it was new
Great Repair
Service. Fast, Quick, and Helpful. Fixed my Virago, Brand New. Thx.
The Virago flywheel repair is absolutly flawless.Now I have to keep the bike.
Excellent communication, prompt shipment, item as described and worked perfectly
Flywheel repaired bike starts better than new. True Virago expert
The flywheel came out very nice. Great service Recomended to all
good
great job, works great
Item as advertised, rapid turn-around, good confirmation notice
was great Thank you
Seller is very helpful and ships promptly.
Thankyou to all current and past customers- I'm glad to help.
You will be pleased too. Don't put it off any further- get your bike ready for riding season.

With Dr Virago Pete products, your riding season is off to a great START.


Sincerely, Dr Virago Pete



My Email address: drviragopete@att.net



All questions answered personally and promptly.
__________________________________________________________________


"Hello Peter,




You resurfaced a flywheel and #2 idler for a virago 920 J late last year




for me. Due to back fusion surgery during Christmas season, I didn't get




it installed until last week. The starter now works like it did the day I




brought it home in 1982. Since I let the feedback time for response




expire before I got it installed, I thought I would write you a note




thanking you for a good service. This ole bike has been a great motorcycle




and with your ability to fix the one weak point with it, looks might it




might outlast me:-)).




Thanks again my friend.




<Name Blanked>"





You're Welcome.





Extra note regarding the "920 J" as mentioned in the above emailed testimonial. This term is a shorthand way of writing that it is a 1982 XV920 Virago model J. J stands for the year 1982. K would mean 1983, L would mean 1984 ...




__________________________________________________________________



I have used and new parts in stock (not included) just ask.
I value your business, and you'll value a good starting bike.

I answer all questions personally and promptly.
You'll love your bike once you get it to run.

Dr Virago Pete
My Email address: drviragopete@att.net


___________________________________________________________________
My phone number is

(847) 454-7858

It is a standard business phone line in Illinois, USA. I'm a one-man-shop- no it is not a toll free call. Long distance charge may apply to you. Nowadays cell phones have flat rate minute type charges. I'm just giving you the facts. If you want help- you gotta be willing to pay for your own phone call. Nothing unusual there. No phone charges on my end.

I'm glad to give installation tips and more once you have purchased an item from me. I do check my records to see if you have bought an item from me.

Let phone ring for awhile as I'm working in the shop. Also my automated message system comes on everyday at 9AM, 12Noon, 6PM, 8PM Central time zone. In between times are good to reach me in person as the phone will ring. Let phone ring for awhile as it may take awhile to get to the phone from my shop. I'm glad to answer questions pre-sale and after sale. I don't give away my hard-earned secrets without a purchase.



Have a question and want to save a buck on long distance phone call? Send an email rather than calling. I check my emails several times everyday and give prompt answers.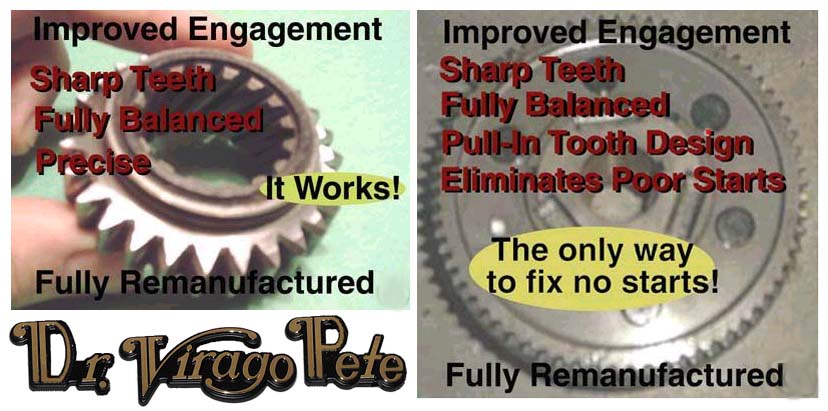 Teeth Restoration Fee

Teeth restore fee will depend on how much wear I see in your photos.
Send photos of your parts for a price quote
email address:

drviragopete@att.net
Phone:
(847) 454-7858

---------------------------------------------------------------------------------------------------------------

NO RUSH ORDERS


---------------------------------------------------------------------------------------------------------------
All payments must be in USA dollars- international buyers - ask your bank to make a money order in USA dollars. International bank checks take time to clear.
Cost of return shipping/handling (Shipped in US Post Office Medium Flat Rate Priority Box)
USA $16.99
Canada $48.99
All Other Countries $82.99
Your package will be returned to you in a US Post Office Flat Rate Box and the USA Post Office offer NO TRACKING NUMBER for international packages.
In 14 years I have only had 1 lost package. Actual shipping time varies and can take anywhere from 1 week to 1 month depending on location and time of year. Actual work varies greatly depending on condition and busy season. No rush orders.


The following is the QUOTE/CONSULTATION/ Fee of $10 required before any quoting or photos. No refunds and not applicable towards purchase of any of my products and services.