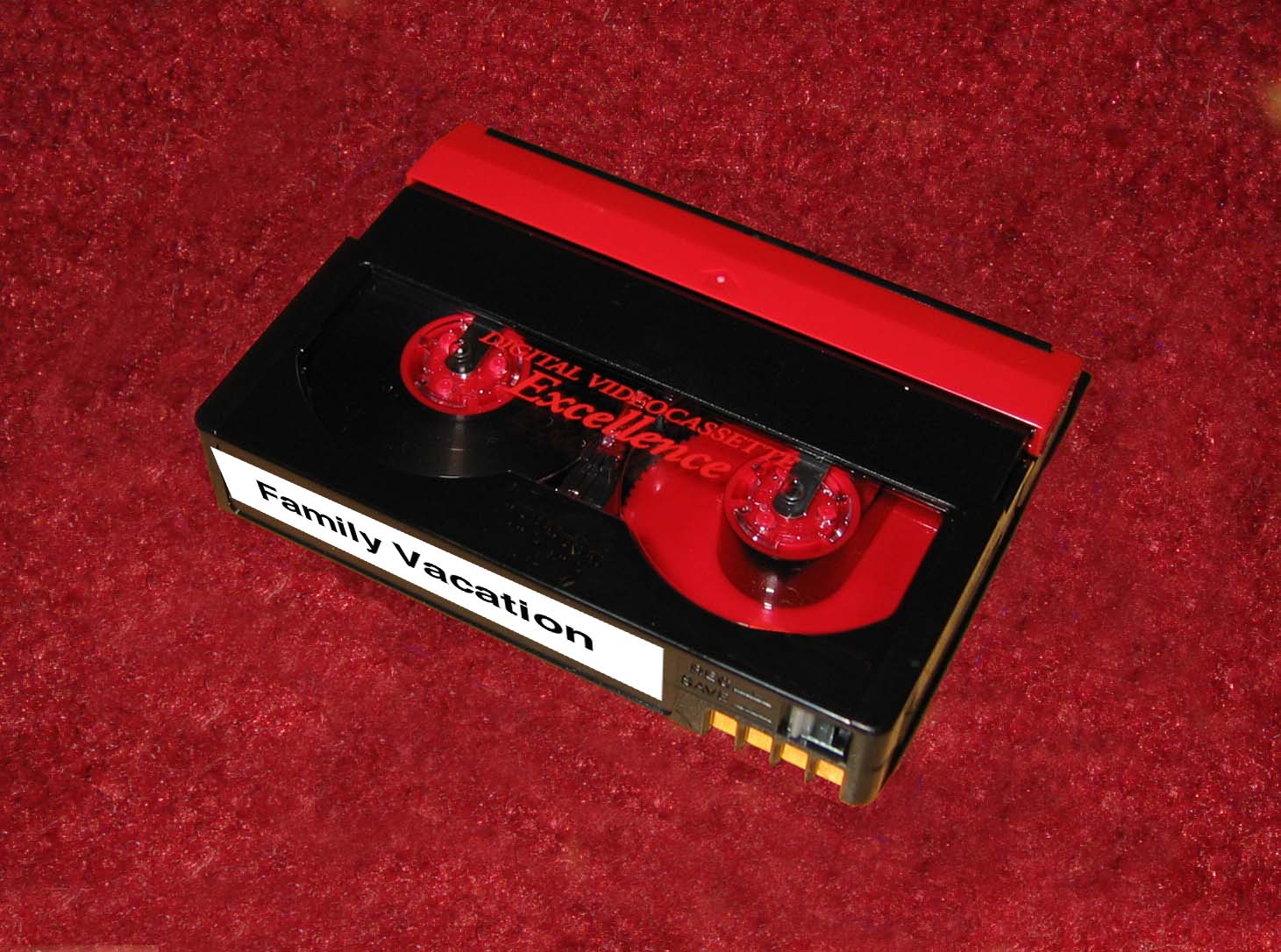 The buyer to ship your HDV tapes in a well padded package or envelope. One DVD created containing the entire tape provided from the buyer. All Tapes will be returned to buyer along with the single DVD. Buy the appropriate quantity of transfers based on the number of tapes you have. This listing is for the transfer of 1ea HDV tape to DVD.

Camcorder Tape Transfer to DVD

for HDV
(if you have a different tape format see my other listings)





It is wise to have a backup of your Tapes on DVD for several reasons:


1 It is easier to watch home movies on a standard DVD player
2 Your camcorder may not be available anymore but you still have films
3 Give copies to your loved ones
4 Deterioration, aging, degrading of quality
5 In case of theft or loss
6 DVD players have features camcorders didn't have


Features:
Studio quality Tape transfer.

Every inch of your Tape will be recorded.

High quality, namebrand DVD disc


Press PLAY on your DVD player will give you a menu and then you can choose which video you want to watch. The movies fill the whole screen (just like a "Full Screen" store bought DVD). Your films in the best quality possible.

No music track added. Silent movies remain silent. Sounds movies have your own sounds.

Your DVD is playable on DVD player, many game consoles, PCs.

Magic marker title on DVD face, no fancy disc face

All work done on Professional equipment

Full Sound Transfer of HIFI and Mono recordings


DVD is provided in a basic white paper 5" x 5" standard envelope with round clear window



_____________________________________________________________


This listing is for film transfer of 1ea HDV tape (Many HDV camcorders recorded to standard MiniDV tapes but recorded in HDV format) to DVD disc.

Buy one listing for each tape you want transfered to DVD.

I only transfer standard consumer camcorder tapes like the camcorders you bought at local department stores. Check your tape and camcorder to make sure you have "HDV" written somewhere on it. Some tape cassettes are colorful and some are black. Some have a rectangle window and some have a big clear window so you can see the tape inside. Also some tapes are marked "30 / 60" or similar. Plan on sending me a photo of your tapes if you are unsure if it is HDV.

Only family style movies, no XXX, no risque, no copyrighted works, no tv shows, no movie studio films, etc. Only consumer camcorder tapes that are shot with a camcorder please.

I specialize in HDV Format, and I have excellent professional equipment in pristine condition.

The very best for HDV video camera tape transfer to DVD. Popular in 2000s, 2010s ...

The master DVD disc made from your tape will be the contents of your tape.
Video Encoded MPEG-2 12mbit/sec
Audio Encoded Dolby Digital
(For those who don't speek technical jargon - it means Professional Perfect Results)

I ship in US Post Office Flat Rate Boxes- please carefully package your valuable tapes for safe transport.



Example of Content


Some people have their most precious moments, weddings, vacations, family get-togethers, births, goofing around, holidays, plays, highschool football and other sports, international travel and more. I take great care in the transfers and am a professional. Many wonderful feedbacks and satisfied buyers.


I'm not a big production studio- just a one man shop doing pro-grade work with pro equipment. No assembly line style work here. Quality is very important to me and each tape is carfully transfered and personally supervised from start to finish for the very best possible results.


Very well equipped to handle any size order. Large tape transfer orders welcome.

This listing is for the transfer of 1ea Tape recorded on models
1. Sony
2. Panasonic
3. JVC
4. Canon
The HDV tape format was a proprietary format only and some models have strange formats in which other models cannot read/playback- please check with me or arrange for a sample tape. I have the professional equipment to transfer tapes created on the above models.

NTSC is no problem. I do not have PAL HDV equipment.

I am offering a transfer service for the video to DVD.
I am not selling a camcorder.
I am not selling a tape.

I transfer it EXACTLY and 100% as your tape contains video/sound. Professional perfect results.

Price starts at $7+ per tape to DVD in volume qty.
With free return shipping

My ad (the one you are reading now) is for consumer made tapes shot on a consumer camcorder in HDV format which contains no copyrighted material.

Sincerely,
Dr Virago Pete


Questions? Send Email or Phone # (847) 454-7858
drviragopete@att.net

Illinois, USA

All questions answered personally and promptly.
High Quality Film/Tape Service for 30+ years.