Got Swirls / Color Distortion?
Misaligned colors? Ghosts?
Double Images? Twisted Contorted Areas?
Alignment Off?

Alignment
Alignment


It's guaranteed to help you solve your picture problem

Just what you've been asking for: Now my very popular Hitachi Projection TV Repair CD includes more models. Same great CD, Same great features, plus extra Instructional Videos covering more models. See models covered further down.


What is included:
1ea CD-ROM (CD-R) disc.

Contains 1ea Service Manual in PDF format 1ea Owners Manual in PDF Format 9ea Instructional Video Clips. And best of all includes several Photos and Text File explaining what to do and what not to do to fix the above problems.

Why should I Buy It?
The CD-ROM disc contains many videos, pictures, and detailed step-by-step tips on how to get your Hitachi Projection ULTRASCAN HD television back in shape.

Your HDTV was an investment of several thousand dollars and had an outstanding picture quality. By investing a few bucks and some time, you can restore it.

My TV is pretty bad. Are you sure it is going to help me?
Does your TV show a distorted image on one or more of its Red Blue Green? Do you see a curve or hourglass-shape or folding over of your screen? Do you think it's bad? Bad enough to sell or give away your TV? DON'T GIVE IT AWAY.

Many people do give it away and they are probably kicking themselves right about now.

What will I need to get besides this CD-ROM?
Depending on your set you may need one or more of the following:
1) Nothing more than an alignment
2) A few small parts totaling about $50
(the CD-ROM shows you which ones and how and where)
3) Cooling system upgrade
(Yes, the long awaited cooling system is here. I show you a simple effective way to keep your components nice and cool. The only thing you will see and hear is the sound of a small fan. It will make the sound of a PC fan running and will protect your system from heat damage)
4) It is rare thing to have to replace more. 99% of all Hitachi sets need nothing else.

What do I have to know how to do?
1)You absolutely must know how to solder and de-solder (or have a friend do it for you.
2)You must know how to drill 4 small holes.
3)You must know how to cut and bend a small piece of sheetmetal or buy a bracket from a hardware store.

What if my system doesn't show any video and just shuts itself off?
A very common problem with Hitachi Projection TV convergence issues is that the set will appear to be dead. The internal LED lights (inside the set) will flash and a "Chirp Chirp Chirp" sound can be heard. To an untrained ear you might think, "Time to throw it out- It's ShXt" (Shot or ShXt) I will show you what to do and how to fix this also. I don't know of anyone else that knows how to cure this. The usual cure is to spend $400 on a new expensive circuit board. But listen, I show you how to fix it- and it will please you. Save a bundle here.

What if my TV set doesn't fit any of the things mentioned? Should I still get the CD?
A complete service manual is included covering models 43FDX01B 53FDX01B 53UDX10B 43FDX11B 43FDX10B 61UDX10B (If you have a completely blown TV and are an Electronics Technician this will help you troubleshoot it. The CD and the videos and the description DO NOT COVER ANYTHING ELSE. 99% of the Hitatchi Projection TV issues are Convergence related and that is that this CD-ROM covers. Don't worry it covers it VERY WELL.

Why should I buy from you and not the other Guy?
What you get is a step-by-step repairman's (and women) view of taking it apart, desoldering, replacing, and adding the simple cooling system. You need to view and study the contents. You will feel like your own set is the second one you have ever fixed. It is that detailed and thorough.

What Other products do you offer?
I have a CNC Conversion CD-ROM that shows you how to take a Milling Machine or Drill Press and make it computer controlled (not included here see my other listings)
I have a full line of Yamaha Virago parts/service (not included here see my other listings) including a CD-ROM showing step-by-step how to fix a motorcycle starting system. More on its way.

Do you reveal any secrets? You know, stuff I can't learn anywhere else?
The chips that I use to fix the set pictured are NOT off-the-shelf type. I show you where to get them. They work better and are stronger than the factory installed ICs. Don't worry the replacements ARE FACTORY Chips- just not used in production. The chips (you will have to buy the CD to find out the part numbers) are Hitachi's own recommended replacements and your mainboard will love it. From what I understand, during production the blown chips (good at the time) were put in due to a scarcity in getting the-ones-I-use-now. You will just be making it how it was originally designed. I am a BIG advocate of leaving everything 100% factory original and 100% factory stock. This TV repair is no different. I invented a very simple cooling system that really and truly looks as if it were designed to fit. For example, even the aluminum sheet metal inside the case surrounding the flyback transformer is angled. Why did they angle it? There is no reason for it to be angled. Now there is a reason- the cooling system goes there and it is a perfect fit. I show you how to enter service mode from the remote control (as applicable- some models do not have this shortcut- don't worry I show you how to access service mode on all models).
Most Hitachi Projection TVs have a "Magic Focus" button for self alignment. Model 43FDX01B does not have this button. I show you step by step how to manually realign your set. I also explain how NOT to have to realign it at all. After all, the purpose of this CD to save you money and avoid pitfalls along the way? You will know how.
You will love this CD-ROM. It comes with a 3day money back guaranty. Return it for a full refund if it doesn't teach you a single thing. Buy with confidence. I am sooooooo sure you will love it I am offering this guaranty.


Who is this CD NOT MADE FOR:
If you are a total KLUTZ without any electronic experience.If you have not soldered or fixed any tv sets in your life. If you are likely to kill yourself or blow out your TV just by being around it. Remember TV sets have very high voltages in them- always unplug them and make sure it is fully discharged before beginning to work. If you are totally PC illiterate and unable to install CD-ROM drivers or read a text file. You will need to download or install the DIVX player software (a standard PC video viewing Codec to view the videos) The videos are a popular/new type of AVI file which play on new style DVD players (about $50-$100 at Walmart, Radio Shack, Electroni retailers and PCs (using downloadable software players or my included codec on the CD) Many cell phones, portable music players, video players and camcorders use the DIVX format. It is nothing unusual. Make sure you have an up-to-date PC.
This CD is not made for someone not willing to put ANY money into the repair of your set. It will cost you an average of $50 to fix. This is assuming you already have a small fan and some sheet metal. The $50 will cover your repair parts in most but not all cases.
If you have a cell phone ringing constantly, have constant distractions and are always on the go. This isn't for you. You must be willing to drop everything else and fix it. Some people can't sit still for any amount of time and work on something. If this is you, this isn't for you.

Which models of Projection TV does this CD-ROM cover?
This CD is specifically made for Hitachi model 43FDX01B ULTRASCAN HD. This is a 43" 4:3 which has RCA inputs and outputs, Svideo, and HDTV inputs. The remote operation is covered in regards to major functions in service mode. The service modes are accessible from the remote. I DO NOT ADVISE YOU TO PRESS THE INTERNAL SERVICE BLUE BUTTON AT ANY TIME (If you didn't follow my advise I still show you how to fix it- but that was a knucklehead thing to do). Otherwise, you will have all of your data lost. I show you how to go in, take care of business, cleanly and effectively.
Since the 53FDX01B has the same chasis and most of the same circuitry this CD will also be applicable. There are many many features including service mode which are similar to the above models and will be applicable to many Hitachi models although I make no claims of suitability. Guaranty does not cover other models only the 43FDX01B.

New bonus videos and instructions added cover the repair to these additional models and includes Service Manual AND Operations Guide also:
53UDX10B
43FDX11B
43FDX10B
61UDX10B
Remember, these are EXTRA videos and the 43FDX01B content which started the revolution in do-it-yourself repair has been unchanged and is the basis for all of the above television solutions. Not only that- bonus screen jig templates are included on this CD for the 43FDX11B and 43FDX01B models.
Not specifically covered on CD but similar enough to have benefitted owners of sets:
50UX57B
51F500
43FDX20B
53UDX10B
60SDX88BA
43FDX15B
51SWX20B
43UWX10B
53UWX10BA
If you are unsure whether this will help your particular model- just email me and ask.


What about the video quality?
The video segments are mostly quiet. Silent movies? No. Quiet movies? Yes. Some video segments have sound. For example it is important for you to see and hear the "Chirp Chirp" sounds. The videos have no narration. Let me say it again. There is no narration- you will need to read and study. This is a CD-ROM which requires you to do some effort to be able to view and understand how to do it. No dumbxxxes please.

The videos are shot with high quality cameras using a tripod. There are no Hollywood style effects. No explosions, no smoke, etc. Why should there be? We are fixing it not destroying it? The videos are low budget meaning the equipment and time cost me several thousand dollars and countless hours. There are no multi-million dollar effects. You will see step-by-step how to perform this repair and will require you to be patient and be able to concentrate. No 10 minute attention spans please.
What about shipping?
Mainland USA -Pay Now Button is all ready for you to click.
Canada - email me for your total including shipping
International - email me for your total including shipping
(I personally answer all questions promptly and thoroughly. I value your business and you will value having a working beautiful picture.)

Enjoy watching the clearest, sharpest, brightest picture Ever. Many people say the picture quality is better than ever because they can make it ever so perfect where the factory would do a fast production style calibration. Get ready for the best picture- you'll love it.


This is what ten recent buyers had to say:
1)very fast delivery of hitachi repair cd and very informative, Thanks
2)hitachi conv repair cd, quick arrival, excellent cd, cust. svc exc, highly recom
3)Excellent seller and quick shipping
4)Good stuff, very helpful
5)"Hitachi Projection TV Repair"Great service would def buy again.
6)good information.
7)Hitachi repair CD was great. Excellent product
8)Hitachi repair disk
9)TV Woked Great.
10)W/your Hitachi CD I repaired my tv for less than $50-I've never desoldered before.Thanks.



No special tools required only standard soldering equipment found at your local Radio Shack or other electronics source. The parts I recommend are aquired by mail-order. Allow ample time for this repair as it can take awhile to aquire parts (no parts are included in this listing only CD-ROM disc)





It's not time for a new set.



Most Hitachi sets have S-video and Y PB PR component level inputs. Either of these inputs is Wonderful and you'll love the picture quality and restored correct picture deflection. State of the Art image quality gives you picture quality that
equals or rivals that of a new set. Save your money by fixing the small repair yourself. No, you don't need a new set. Hitachi was way ahead even years ago. The new sets are just catching up now.


Sincerely,

Dr Virago Pete

Email drviragopete@att.net
Telephone (847) 454-7858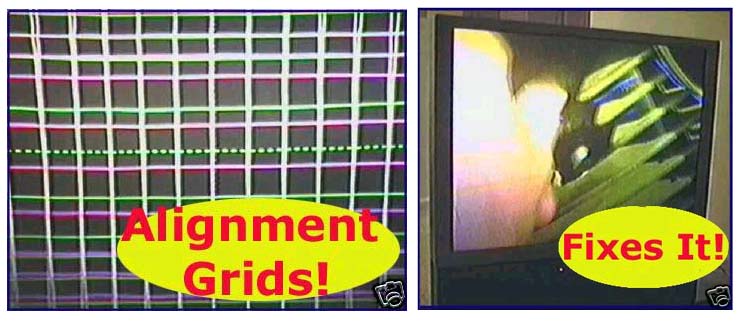 Price


$14.99 plus shipping.


HOW TO PAY
Use The
PAY NOW
Button Below to Purchase Hitachi Convergence Repair CD for USA buyers.
CD will be sent to you in a double cardboard package. Within the cardboard- the CD will be protected by a paper CD Envelope.
Note: If you prefer to send a money order or have a question, send a standard email message to drviragopete@att.net
All other countries send email for shipping quote.
USA Buyers
click
PAY NOW
button
$14.99 plus $4.99 shipping
.