Dr Virago Pete's
Used TV Circuit Boards 4 Sale
In 2016 I fixed a local buyers 60" LG TV and he had already purchased 1ea board as a replacement and wasnt sure if he had gotten a faulty replacement or not. I ordered one myself and it didnt work either - so I contacted the vendor and they sent me another one at no charge. Well that still didnt work. So I ended up with 2 extra boards that I personally tested on this finally working TV- after I changed out a totally different board. Although I had originally thought it was a power supply issue turned out to be an issue with the backlight inverter board pair (which fooled me pretty good into thinking it was a power supply issue but was not - I purchased this PSU even after I checked component by component and nothing was bad - that was a mistake on my part and costed me money and here I am trying to sell these boards ordered for nothing). The model of TV I was working on was LG 55LD650-UA 65" TV. This power supply board will also fit the following TVs
The 2ea boards I have for sale are exactly alike and you can buy Quantity one or both
Both in tested working good condition.
The circuit board has the following item numbers and model number printed on the board
EAY6086900 LCD TV PSU LGP5260-10P

Here are the 2ea leftover Backlight boards (I used a fine tip magic marker "L" and "R" to signify left and right. Im not sure which one is the bad one as I didnt swap them after getting it up and running. Maybe both are bad? This is from the very same LG 55LD650-UA 65" TV. Changing out the inverter boards was ultimately what was it took to get the TV up and running. It was not a power supply issue at all.

I am selling these 2ea inverter boards the buyer knows full well that one or both are bad. Maybe one is good or maybe none are good.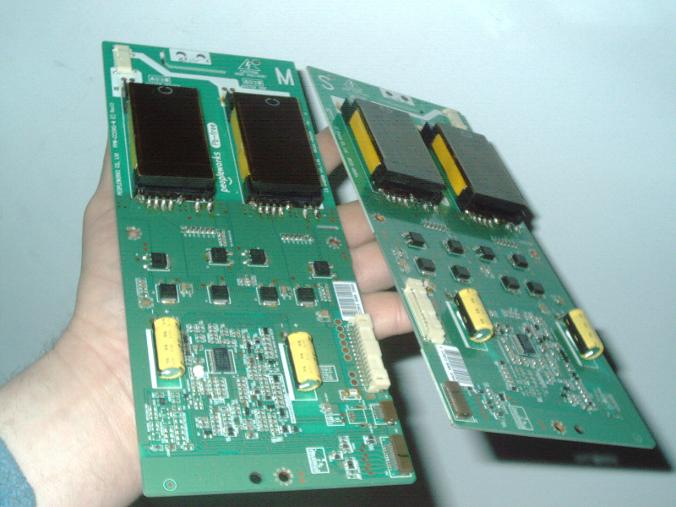 Here is a Power Supply board that I purchased to repair a Zenith 42" Plasma TV but which I didnt end up needing. I did swap this board to test it fully after getting the TV up and running so I know it does work. The model of TV Z42P3 42" was one I found on the curbside and decided to fix it for myself and sat on the side for awhile as I originally thought the issue was the YSUS board IC chip. I ordered the chip but must have sat as an undone project for over a year. Then when I finally snipped off all of the legs of the chip and soldered all of the legs of the new chip and reinstalled - it still didnt work.
Well I decided to change the other chip on the ZSUS board too - you know while Im at it might as well do that one too. The chip itself didnt cost much. But when I removed the ZSUS board I found the backside had two Cold Solder joints where the solder was completely missing around the pin. When I carefully soldered those col solder joints and reinstalled -then I had a working plasma TV. Really and truly thats all it was a cold solder joint. I didnt need to change any chips or boards- just apply solder there. So here I am trying to sell a boards I purchased for nothing.
I still like my Zenith 42" plasma TV and use it regularly. 480P Plasma TVs give a very good picture while watching DVDs and I especially enjoy the very dark black levels. This is my second plasma TV (I also own a Ambilight 42" which I replaced the broken screen also another curbside find years ago and fixed for my own use)
What baffled me about the Zenith 42" Plasma TV repair is that when I brought it home - it worked. Then after a couple of sparing uses and tests for a few minutes (months apart) I heard a loud POP while watching and then the set went dead. This must have been the small bit of solder evaporating. Maybe the TV didnt work at all for the previous owner which threw it away. It is entirely possible that the pin just so happen to be touching where it should when I brought it home.
Im glad that loud POP wasnt the end of that really nice TV.
It will fit the following models
LG 42" 42PB4DA-UA AUSYLJR
42PC3D
42PX7DC-UA 42PC5DC 42PC5DC-UL
LG 50PT85-Z

LG 42pc7dh
LG 42PC55
The Power Supply board is EAY32927901 and is a sticker and also printed on the board.
I have written on the heatsink "Zenith 42" Plasma Good" in fine tip magic marker.
"1H371W PKG1 PSC10190E M" is printed on the board and is for sale. Here is a photo of this board.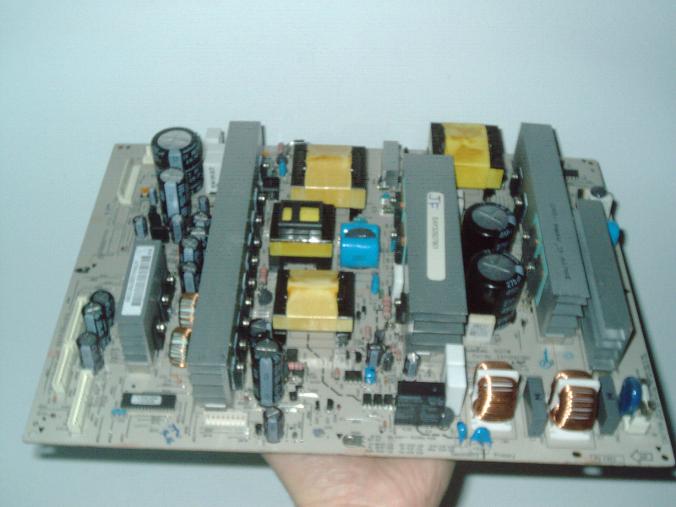 I have quite a collection of TVs that are curbside finds. Most of them are fixed and working but some are in need of replacement parts that I hope to someday complete.

I am open to negotiation and trades for parts that you have that I need.
--------------------------------------------------------------------
Vizio 60" SmartTV 1080P WiFi LED LCD TV model E600i-B3 (curbside find)
which looks complete but has a cracked screen (never attempted to power it up)
I either need to find a replacement LCD screen for it or part out the boards.
I dont have a remote and I see no power or channel buttons on the TV so it apears that a remote is needed for all functions.
I dont know if the boards are good or bad as I have not opened the case.
I suspect that this TV broke for the previous owner when the base developed a crack and then one bottom corner which is slightly mashed in hit the floor or table and cracked the internal LCD panel in that corner.
I fixed the cracked base (tightened screws) so it is sturdy and no longer wiggles as found.
Every once in a while I save a cracked screen TV from doom because sooner or later old TVs die a normal death due to the age of the internal boards. It is possible that someday I will find the replacement screen from another set which uses the same LCD panel and then swap out - or find the exact TV and just swap out the boards from this one.
I own a RCA universal remote control and will probably need to go through the code search to see if I can get the set to power on - to test the boards to see if it will power on even with a cracked screen - I should get a portion of the screen to make an image.
--------------------------------------------------------------------
Emerson 42" LCD TV model (curbside find)
LTDN42V68
which looks good cosmetically and has no sound and picture only works on composite out. I believe that the only issue with this TV is the very compact size mainboard. Baking this board may solve the issues although I have never tried it on this board. I like the composite picture so much that I would like to keep this TV as I have never seen a better composite picture. This has got to be one of the best most detailed composite images especially for text readability. So I would like to find a replacement mainboard (as a trade) for it and keep it for VCR playback etc. I do not have the remote but the buttons on the right side control all of the basic functions.
-----------------------------------------------------------------------
Samsung 56" DLP TV model (curbside find)
HL56A650C1FXZA
which looks good cosmetically and had a "free works" sign on it and the remote control had been chewed up by a dog (remote does work despite the chewmarks and missing plastic piece)
The TV actually works but has thousands of white dots and black dots which interfere with the image. I have only powered this TV up for a minute or so because the fans and dust need to be cleaned out or risk further damage to the otherwise working set. It just needs the DLP chip replaced which can be one of the following
1910-6143W
4719-001997
276P595010
There are quite a number of brands and models of sets which use this same DLP chip from Samsung, Mitsubishi and other brands. I am hopeful to someday find a perfect condition no-dots replacement chip for it - possibly from a curbside-find-seller who is parting out.
I have a hunch that black dots and white dots are caused by "cooking the chip" due to accumulation of dust and cooling fans which turn slowly or not at all due to lack of oil or jammed by dust. My hunch is that once the dust is cleaned and fans are oiled or replaced as needed - then the set will have a long second-lifespan. I would like to find a replacement DLP chip for it and would be willing to trade something on this page for a chip with no dots or just a few dots.
What I like about this TV is it is 3D capable and has a good picture (hypothetically speaking of course) despite the huge number of dots and seems to have no other issues.
------------------------------------------------
Zenith 57" Rear Projection HD CRT TV model R57W46 (curbside find)
which does not function and the front panel button lights up or blinks - I forgot as it has been a long time since I have tested it) and represents one of the best rear projection TVs of the era. I have not made any attempt to fix it or disassemble it. It has no remote control.
Physically in excellent condition.
My hunch is it has a bunch of bad electrolytic capacitors which needs replacing. I dont see too many parts or boards for sale on big-auction-site for this model so this may be a rare model.
-------------------------------------------------
Funai Sylvania 32" LCD TV model LD320SS1 with built-in DVD player (curbside find)
This was somewhat gutted by the previous owner as it is missing the
A) 2ea speakers
B) some ultra thin flat-style ribbon cables
C) stand
D) power supply.
E) plastic pieces which hold the speakers in place and covers over the speakers
I would imagine that the previous owner rigged something up with the speakers and discarded the rest. Why wouldnt they have taken out the DVD player? Makes no sense.
I may someday find a source to complete this set or part it out.
------------------------------------------------
Mitsubishi WD-62627 DLP Rear Projection TV 62" (curbside find)
This is quite a project as the previous owner left it outside for awhile and has the original issue plus corrosion on connectors etc. I had a seller of parts renig and so have not acquired needed parts.
I dont have the remote. I purchased a new lamp because the old lamp was shattered internally. Replacing the lamp had no effect. When I power it up I can get the sound to work (just static because no audio source) and no picture. There are strange symptoms probably due to internal corrosion and bad capacitors.
The seller who renigged was going to gut his machine and send me all internal parts to swap out- but fell through. This TV represents one of the best of that era although it does not have 3d. It uses a wobble-style DLP for line doubling and has built in DV port (not HDV) to connect a mindv camera for direct viewing. That Standard definition DV port is not found on most TVs. HDMI and YPBPR ports built-in.
My hunch is it has alot of bad electrolytic capacitors and bad connections. Maybe it is something simple to fix or maybe I will need to replace boards. Im sure a solution will present itself.
This link (copy and paste into your address bar) chronicles what I have done to it so far
http://www.drviragopete.com/hard-problem-easy-solutions.php
I have a CDROM for sale here in this link which is about repairing CRT projection TVs

(copy and paste into your address bar)
http://www.drviragopete.com/hitachi.php

Bookmark my page so you can come back.



Dr Virago Pete
(847) 454-7858 between 11am and 7pm daily
Illinois, USA

drviragopete@att.net