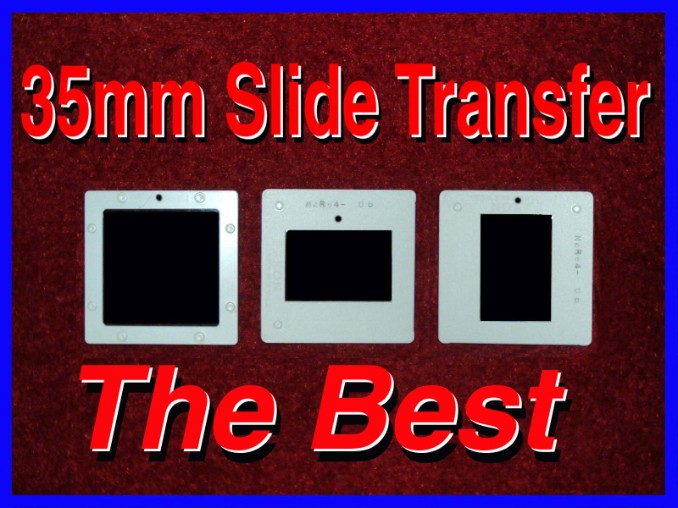 The buyer to ship your 35mm slides in a well padded package or envelope. A single DVD created containing the slideshow is provided to the buyer. Every box of slides will have its' own DVD chapter. All slides will be returned to buyer along with the single DVD. This listing is for the transfer of carousel of slides to DVD.
35mm Slide Film Transfer to DVD Service
C
o
l
o
r
&
B&W
All questions answered personally and promptly
It is wise to have a backup of your slides on DVD for several reasons:
1 It is easier to watch slides on a standard DVD player
2 Your projector may not be available anymore but you still have slides
3 Give copies to your loved ones
4 Deterioration, aging, discoloring
5 In case of theft or loss
6 DVD players have features projectors didn't have
Features:
Studio quality film transfer.
High quality, namebrand DVD disc at the highest quality setting for the standard 4.7GB DVD disc (capable of 1 hour at highest quality per disc)
Press PLAY on your DVD player will give you a menu and then you can choose which video you want to watch. The slides fill the whole screen (just like a "Full Screen" store bought DVD).
Your films in the best quality possible.

No music track added.



Your DVD is playable on standard TV-top DVD player
Magic marker title on DVD face, no fancy disc face
All work done on Professional Kodak equipment - only professional equipment used

Flicker-free, evenly lit fames, clear and sharp
color corrected as much as humanly possible (some films badly discolored and beyond full restore)
DVD is provided in a basic white paper 5" x 5" standard envelope with round clear window
Please - All of your slides should be pre-oriented properly before shipping to me.
Please view your carousel - making corrections to upside down slides - so the slides are all oriented correctly (no upside-down slides please)
This listing is for film transfer of 1 carousel of 35mm slides to DVD.
Multiple carousel orders are welcome.
Phone or email for quote
Sincerely,
Dr Virago Pete
Questions?
Phone # (847) 454-7858
drviragopete@att.net
Illinois, USA