Got No Engagement and just
Horrendous

Clatter Clunking Noise?

What you get:
1ea Flywheel / Rotor Assembly complete - (#2 Idler gear is not

included in this price- if you need a #2 Idler gear, ask for quote

for both.

- used, remanufactured, near pristine

- razor sharp teeth
- balanced

- Dr Virago Pete's very own Pull-in Tooth design
- Teeth pull-in #2 Idler gear while it spins

- no core charge

- no core required with purchase
- nothing to trade-in
- ready to install
- due to level of difficulty in installing, have a pro shop install
Got awful, chewed up, rounded over, ground down, gouged,

banged up, tinkered with, beat up, battered, broken, worn out,

no good teeth?

Lucky for you, I have a good one in stock. Let me know about

your bike and I'll let you know if it is a perfect match.
1. Make
2. Model

3. Year
4. Mileage
5. Symptoms
6. Number of starting attemps before bike runs
7. Your location for shipping quote

Questions? Send email with answers to all 7 of my questions above.

$399 plus shipping
email me to purchase and specify the year, make and model of your bike.

I have in stock several models of flywheels. I do not have all years in stock. No they are not universal fit. No they are not interchangeable. Let me know and I'll check if I have your flywheel in inventory.


I answer all questions personally and promptly.
Dr Virago Pete
Telephone (847) 454-7858
Email drviragopete@att.net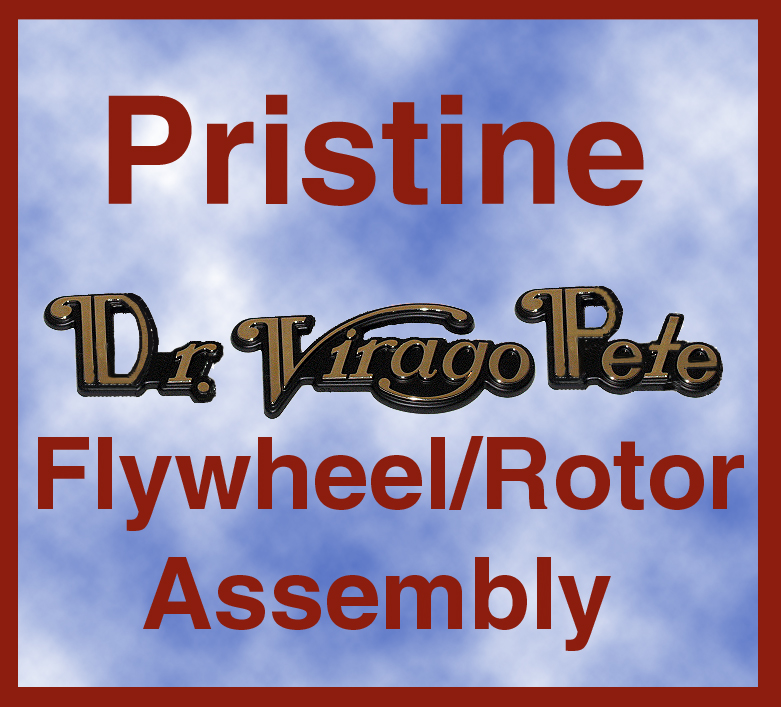 Payment buttons below are all set for you to click and pay

USA buyers = click on Pay Now Button ($399 plus $14.99 shipping)
Canada Buyers = click on Buy Now Button ($399 plus 26.99 shipping)

All other countries send email request